Not Returning: Sam Raimi Not Planning To Direct 'Oz' Sequel, Nicolas Cage Won't Be In 'Ghost Rider 3'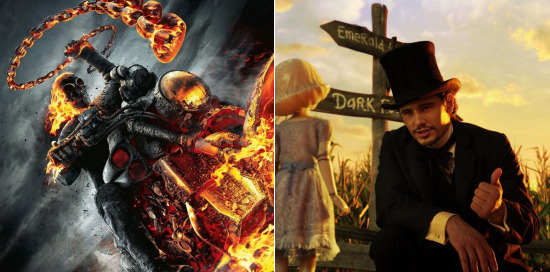 There are days when it feels like all anyone does in Hollywood anymore is make sequels. But today, two folks have decided to opt out of their respective franchises' next steps.
Though Disney's reportedly eager to move forward on an Oz The Great and Powerful sequel, director Sam Raimi says he has no plans to direct it. Over at Sony, meanwhile, Nicolas Cage says Ghost Rider 3 could still get made — but not with him. Hit the jump to keep reading.
I haven't planned on directing the sequel. I did leave some loose ends for another director if they want to make the picture. I tried to make it a complete ending, so that the audience would be fulfilled, but I also let Evenora and Theodora get away.
I was attracted to this story but I don't think the second one would have the thing I would need to get me interested.
It's not clear if Raimi knew at that point that Disney had already begun prepping Oz The Great and Powerful 2 (or whatever), but it's probably safe to assume the topic came up at some point while he was working on the first movie. Raimi's not averse to doing sequels in general, and it's always possible that further talks could change his mind about Oz. But I wouldn't hold my breath.
Moving on, Cage revealed his thoughts on Ghost Rider 3 while discussing The Croods with Collider. Asked whether a third Ghost Rider would be coming down the pipeline, Cage said the following:
It's possible, but it won't be with me. I've said what I have to say. I don't want to say never... anything's possible. But I doubt, highly, that I would be in a third installment of that.
Directors Neveldine/Taylor said last year there had already been some discussion with Sony about Ghost Rider 3, and that Cage was "very pumped" about it. Now that Cage is apparently uninterested in reprising the title role, though, the odds of the project ever coming to light may be a little bit weaker.
Discuss: Are you disappointed Raimi and Cage aren't returning to Oz and Ghost Rider, respectively, or are you excited to see them pass the baton?