Japanese 'Monsters University' Trailer Shows Spoilers Of Mike And Sully's Transformation From Rivals To Partners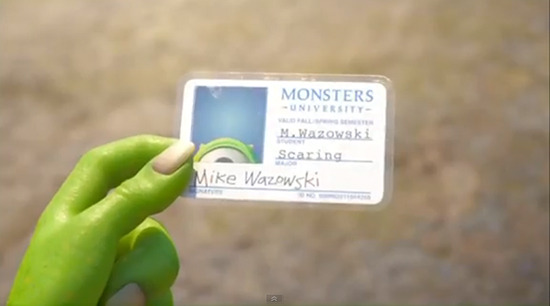 Pixar's Monsters, Inc. prequel Monsters University shows Mike and Sully in their college days, and illustrates how their friendship evolved out of an early rivalry. That's stuff we've known for a long time, but a new Japanese trailer features some footage that illustrates more of how a couple of the character transitions take place. Plus, it features some great Japanese voice acting for the main characters.
Despite the fact that none of the trailer audio is in English, it's pretty easy to tell what's going on thanks to Pixar's strong visual style. And we're told that this trailer, unfortunately, has a few big spoilers in it. For some, given that we know generally how this story turns out, that won't be a big deal. But if you're cautious about knowing too many specifics of any movie beforehand, might want to steer clear of this one.
Just to make it clear, here's a warning from one Pixar animator:
NOTICE: THE JAPANESE MONSTERS UNIVERSITY TRAILER SPOILS THE ENTIRE MOVIE.

— cat hicks (@cathicks) March 8, 2013
If those don't dissuade you, please carry on:
Monsters University opens on June 21. Upcoming Pixar pointed the way to this trailer.
Mike Wazowski and James P. Sullivan are an inseparable pair, but that wasn't always the case. From the moment these two mismatched monsters met they couldn't stand each other. "Monsters University" unlocks the door to how Mike and Sulley overcame their differences and became the best of friends. Screaming with laughter and fun, "Monsters University" is directed by Dan Scanlon ("Cars," "Mater and the Ghostlight," "Tracy") and produced by Kori Rae ("Up," "The Incredibles," "Monsters, Inc.").