POTD: Kevin Smith Is Writing 'Clerks III'
Friday morning, Kevin Smith got out of bed and started writing Clerks III. We know this because he posted the cover page on Facebook and Twitter. The Facebook post is particularaly enlightening because Smith reveals today is the 20th anniversary of the first day of shooting on Clerks. He also vows that Clerks III will be "the best film I've ever made." Read more and see the cover page below.
Here's the cover page for Clerks III via Smith's Facebook (and Instagram) account.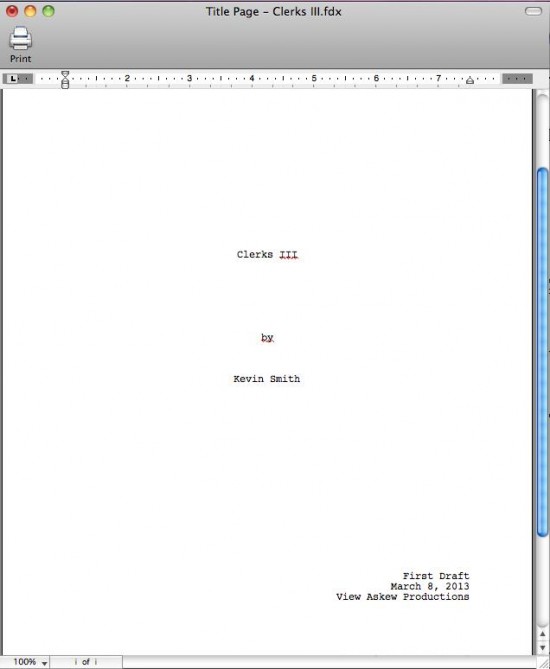 Here's Smith's comment on the image:
THE BEGINNING OF THE END20 years ago today, we started shooting CLERKS.20 years later, with no plan or provocation, I jumped out of bed at 4:20 this morning and started writing CLERKS III.It's been like hanging out with old friends.And after 2 hours of tapping the keys and giggling, I have come to a conclusion...CLERKS III will be the best film I'll ever make.
Yes, he started at 4:20.
"Best film," though? Does that mean Clerks III is now back to being a film? (If you remember, Smith had been thinking about doing it as a book or web series.) Well, if you watch the interview that news came from, I don't think Smith was ever NOT going to make Clerks III as a film. The only question would be how would people first digest the story.
It does seem however, with that above image, Smith is inspired, writing and once he finishes, we'll obviously have a much better idea of what Clerks III is going to be.