New 'The Incredible Burt Wonderstone' Promo Sells The Film From Inside A Casino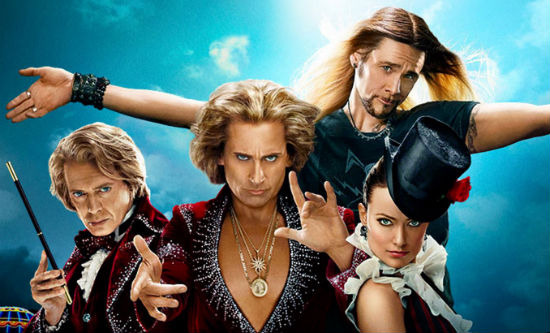 Having not yet seen The Incredible Burt Wonderstone, I can't comment on the quality of the film. But the marketing has been awesome. How could it not be, really? You've got a stellar cast (Steve Carell, Jim Carrey, Steve Buscemi, Olivia Wilde) and the world of magic to play in. The posters, billboards and trailers have all been flashy and eye-catching, selling a movie that feels fun and surprising. Come March 15, we find out if it was real or all an illusion.
The latest promo, cleverly masked as an in-casino ad, is probably the best part of the entire campaign, showing Buscemi and Carell doing some truly wacky stuff. Check it out below.
Here's the Casino Ad/promo for The Incredible Burt Wonderstone via Apple:
If you'd like to learn more about The Incredible Burt Wonderstone, which opens March 15, read our visit to the set and interviews with the cast. And keep checking back for more.
Superstar magicians Burt Wonderstone (Steve Carell) and Anton Marvelton (Steve Buscemi) have ruled the Las Vegas strip for years, raking in millions with illusions as big as Burt's growing ego. But lately the duo's greatest deception is their public friendship, while secretly they've grown to loathe each other. Facing cutthroat competition from guerilla street magician Steve Gray (Jim Carrey), whose cult followingsurges with each outrageous stunt, even their show looks stale. But there's still a chance Burt and Anton can save the act—both onstage and off—if Burt can get back in touch with what made him love magic in the first place.