Sequel Bits: 'Anchorman: The Legend Continues', 'Star Trek Into Darkness', 'Transformers 4', 'The Muppets... Again!', 'G.I. Joe: Retaliation', 'Machete Kills', 'Star Trek', 'Alice In Wonderland 2'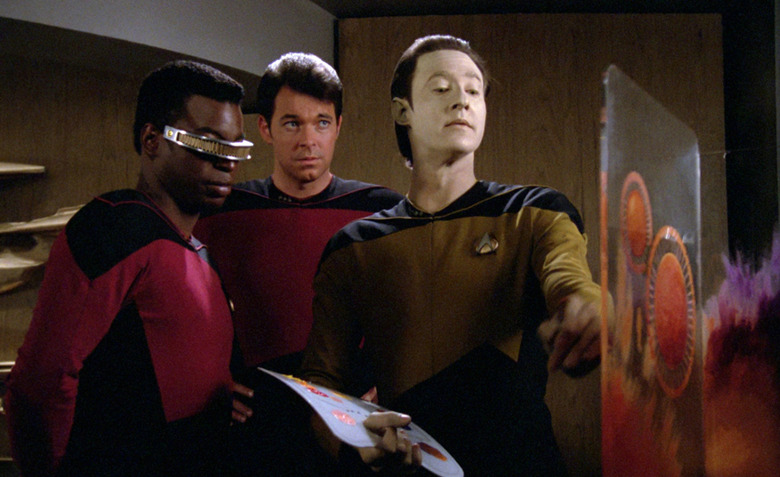 LeVar Burton has some issues with J.J. Abrams' attitude toward the Star Trek franchise, and no, it doesn't have anything to do with that Star Wars gig. Also after the jump:
Producer Joe Roth talks a bit about Alice in Wonderland 2
Transformers 4 will be darker and grittier, says Mark Wahlberg
Benedict Cumberbatch's John Harrison is a "warrior" like Nero
Steve Carell thinks it's better that Anchorman 2 took so long
Sofia Vergara literally has a killer bod in the Machete Kills poster
Kermit gets a doppelganger or two in The Muppets... Again
G.I. Joe: Retaliation unveils new character-centric featurettes
It's a whole new cloth. In that case, I went to the writer, Linda Woolverton, who came up with a story that takes place in a different time, but has the same characters.
Not exactly a detailed synopsis, but at least now we know to look forward to a time jump. [Collider]
Though it's set in the same universe as the first three Transformers films, Transformers 4 will see some changes to the franchise. According to star Mark Wahlberg, that involves a shift in tone.
Asked whether it'd be darker and grittier, the actor responded, "Yeah...I don't want to get fired before I get started, but you're on the right track!" If that means fewer of Michael Bay's groanworthy jokes, I'm all for it. Transformers 4 comes to theaters June 27, 2014. [Total Film via Comic Book Movie]
It took Paramount the better part of a decade to green light an Anchorman sequel, much to the irritation of comedy fans everywhere. Star Steve Carell, though, thinks that delay may ultimately be to the film's benefit.
We always wanted to do it. From the day we finished the first one. All four of us were on board to do a second. It just took a while for the studio to think it was worthwhile. And it might have been a good thing, too, because it's also had all that time to gestate in the mind of Will and Adam so I think the sequel's — it's a really funny script. So I think maybe it's gonna be best that we did wait that long.
Anchorman: The Legend Continues opens December 20. [The Playlist]
Star Trek: The Next Generation star LeVar Burton is a fan of J.J. Abrams' Star Trek — but not so much of the way Abrams talks about the franchise. In fact, he says, he's "calling bullshit" on Abrams' comments.
[Abrams' Star Trek] was a great movie, and he brought a whole new generation to Trek. But I'm a little disquieted by things I hear coming out of his camp, things like he would like to be remembered as the only Trek – which would discount everything before he got there.
There's 'breaking the canon,' which he did [by reinventing Star Trek's timeline]. But there's also honouring the canon. And to pretend to be the only one is really egocentric and immature.
I just came from a conference in San Francisco with Advanced Micro Devices, and they're working on technology towards building a holodeck. That was Next Generation. And that's part of what Star Trek has brought to the culture. So when JJ Abrams says, There should be no Star Trek except the one I make,' I call bullshit, J.J.
Honestly, I don't recall Abrams saying any such thing. (I know you'll set me right in the comments if I'm wrong.) But maybe Burton's heard something we haven't, or perhaps he misinterpreted something Abrams actually said. [Toronto Sun via Nerd Bastards]
The intense speculation surrounding Benedict Cumberbatch's Star Trek Into Darkness character John Harrison continues, fueled by intriguing but vague quotes by the film's cast and crew. Like this one from J.J. Abrams, comparing the villain to Nero.
[Nero] was just a raging, vengeful lunatic. All he wanted to do was destroy Vulcan, Earth and the Federation...He had backstory but was kind of irrational. The beauty of Benedict's [John Harrison] is that he's completely rational. He's someone that you can have conversations with. You couldn't sit down and talk to Nero – he'd bite your head off!
And this one from Cumberbatch, describing John Harrison as a "warrior."
I did a lot of close combat training. He's a kick-ass warrior, as masterful with his hands and body as he is with weapons...You will have a great discovery during this film, which I think is great...[My costumes] look great. Some of them were (no pun intended) cumbersome and heavy, but some were very snug; you can almost see what religion I am...
Whoever John Harrison is, and whether or not LeVar Burton approves, Star Trek Into Darkness opens May 17. [Total Film via Comic Book Movie]
The ladies of Robert Rodriguez's Machete Kills are as deadly as they are lovely, and Sofia Vergara's Lady Desdemona is no exception. In a new poster, the character straps on a bustier with some very lethal-looking cups.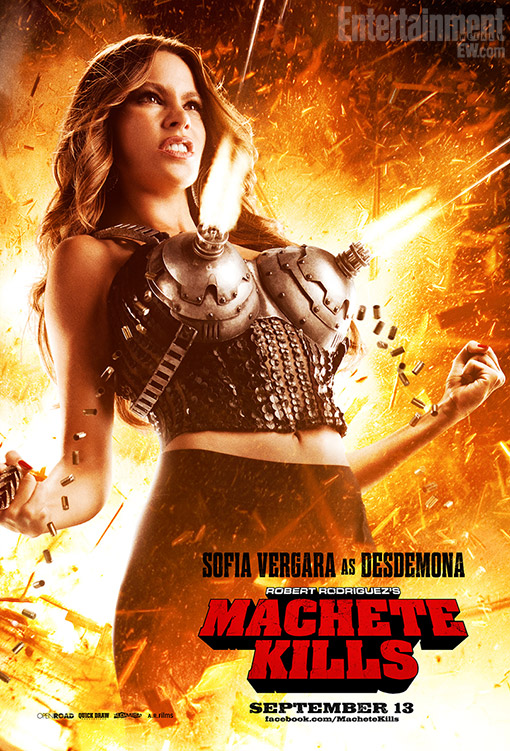 Machete Kills premieres September 13. [EW]
Kermit will have some amphibian company in The Muppets... Again! Warwick Davis just posted this photo of himself in frog costume, on set with Ricky Gervais.
Exclusive! On set photo from the new Muppet movie with @rickygervais. #ManOrMuppet pic.twitter.com/fthbJnBgCp

— Warwick Davis (@WarwickADavis) March 5, 2013
Only not really, because Davis quickly clarified that it had been a joke.
Some of you seem to have taken my last Tweet & photo of me dressed as a frog seriously. I am NOT in the Muppet movie. http://t.co/LTlctL45Xn

— Warwick Davis (@WarwickADavis) March 5, 2013
But Kermit really will have a doppelganger in the sequel, as he previously revealed. "He's the world's number one criminal, Constantine, and he happens to look an awful lot like me. I won't tell you any more than that, but let's just say mayhem ensues." Get a first look at Constantine in these snapshots from the Tower of London set below.
The difference is subtle, but it's there if you look. The scene in question seems to be the one of Miss Piggy's wedding at the iconic landmark. According to the Daily Mail, Constantine (whom they refer to as Kermit) uses the event as a cover to gain entry into the building and steal the Crown Jewels. See how that plays out when The Muppets... Again! lands March 21, 2014. [via Bleeding Cool]
Get to know G.I. Joe: Retaliation's characters with a new pair of featurettes. The first delves into the backstory of Storm Shadow, played by Byung-hun Lee, while the second looks at Bruce Willis' Joe Colton, the original Joe.
G.I. Joe: Retaliation finally sails into theaters on March 29. [MegaTrailer.TV via Collider]