Alex Winter Explains Why We Haven't Seen 'Bill And Ted 3' Yet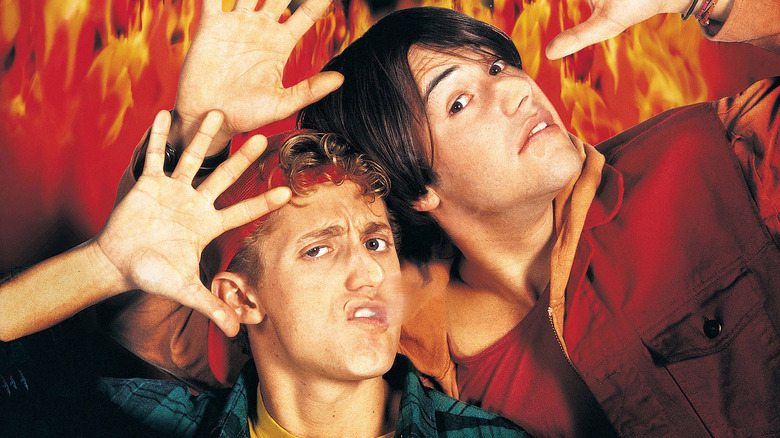 South by Southwest is starting this week and one of the more surprising, and exciting, films playing is the Napster documentary Downloaded, directed by Alex Winter. Yes, the same Alex Winter who starred in The Lost Boys and Bill and Ted's Excellent Adventure. The movie is an engaging and entertaining tale of a culture milestone and we'll have a full interview with Winter talking about the film later this week.
But when you've got Alex Winter on the phone, you have to ask him the question: "What's up with Bill and Ted 3?" We know both he and co-star Keanu Reeves are interested and director Dean Parisot (Galaxy Quest) is attached. But what's the latest?
Winter explained that while it might feel like there's some major hold up with the sequel, that's simply not the case. He and his co-stars just started talking about the project prematurely and it's still going through its natural development. Read his quotes below.
/Film: We know that there's a director attached [to Bill and Ted 3], you guys are both interested and people working on the screenplay. At this point, what's the hold up? Do you think it's actually going to happen?
Alex Winter: Well the funny thing is there really isn't a hold up. Nothing held it up other than it got leaked really early in the process, so these things take a shitload of time to get bobbed around and we are really just in the process. It's really mundane to report the day-to-day process of trying to get a movie made. "Right now they're doing a rewrite?" You know? That's my news, "they are doing a rewrite." That will take a while and then we will look at it and that might need another rewrite and that will be my next bit of news. So it's just like... The short answer is it got leaked way too early. It got leaked just as we started, me and Keanu and Chris and Ed, the two writers just started to put it together. Then you've got the whole genesis of putting it together in front of you still, which is where we are at now.
And we were just talking about media and Napster as sort of the whole reporting of films has sort of changed.
Well completely. I mean absolutely. There's such a constant... The flow of information... The comprehension of how things work has not caught up with the flow of information. Do you know what I mean? So that often leads to confusion, because people are just like "Well I read about this four years ago" and I'm like "Well yeah, but it takes four to six years to get most of this stuff made." It's just where we are at, and look I don't have any problem with the fact that it got leaked, because it's nice that people are interested in talking about it. It's not like you could complain that people are interested and we all feel kind of jazzed that people give a crap frankly. We're just off trying to make sure that if we do it, it's good.
So don't fret Bill and Ted fans. Your heroes will most likely return. It's just taking a while to make it good.
Winter's latest film, Downloaded, premieres at SXSW later this week. We'll have much more on it soon.