Cool Stuff: 'Oz The Great And Powerful' And Product Placement Art Shows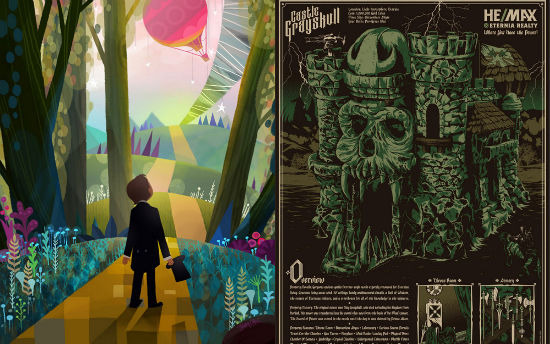 We've got two art shows to tell you about today. One is movie specific, second is more subtle and pop culture centric, both are very cool.
First, tied in with this weekend's huge new release, Disney is releasing some Oz the Great and Powerful art by Joey Chou at their WonderGround Gallery at Downtown Disney in Anaheim, CA. The gallery will also have a bunch of props from the film on display.
Next up, Los Angeles's Gallery 1988 is opening their latest show, Product Placement, on March 9. It features works based on different products in movies and TV. What does that mean? Well how about Dapper Dan in O'Brother Where Art Thou, Oceanic 815 in Lost, Shark Repellent in Batman, Neo Tokyo Customs in Akira, Morrie's Wigs in Goodfellas and much, much more. Check images out below.
Here are Chou's images that are now on sale at the WonderGround Gallery at Disneyland. The artist will be on hand March 9 for a signing.
For information on the prop display at the gallery, which will be until March 31, visit the official Disney Parks Blog.
Onto Gallery 1988's Product Placement show, it opens at the new Gallery 1988 East, 7021 Melrose, Los Angeles, CA from 7-10 p.m. March 9. It'll remain on display through March 30.
Here's a small sampling of work in the show, all of which will be screenprinted. Mouse over each for the artist and property.
Prints that don't sell out on Saturday will likely go on sale Sunday March 10 at gallery1988.com.