'Iron Man 3' Theatrical Trailer: Lots Of New Armors, And Problems For Tony Stark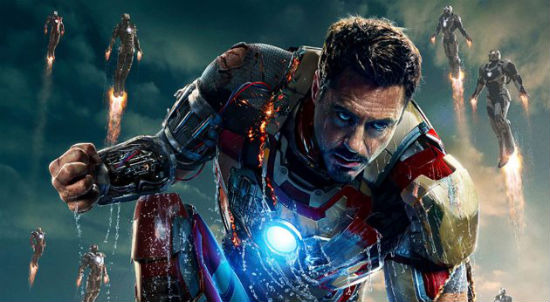 The final trailer for Iron Man 3 is here, and it raises expectations for Shane Black's film to dizzying heights. Here we get a good idea of Tony Stark's mindset in a post-Avengers world, and see how the Mandarin (Ben Kingsley) will pose some crazy new problems. We also start to discover how Stark (Robert Downey, Jr.) will combat those. Mainly, his solutions involved dozens of new kinds of armor, including a Hulkbuster and Extremis.
Co-written and directed by Black and also starring Gwyneth Paltrow, Don Cheadle, Jon Favreau, Guy Pearce, Rebecca Hall and James Badge Dale, Iron Man 3 opens May 3.
Thanks to Yahoo Movies the trailer. Check back later today for a video blog about 15 minutes of footage from the film as well as interviews with Downey Jr., Black and Marvel President Kevin Feige.
Later this week, you're going to learn much more about Iron Man 3, in our coverage of its early-lead junket. We saw 15 minutes of footage and talked to the principals. For now though, there's more than enough in that trailer to keep us all talking. Hulkbuster! Extremis! Iron Men!
Marvel's "Iron Man 3" pits brash-but-brilliant industrialist Tony Stark/Iron Man against an enemy whose reach knows no bounds. When Stark finds his personal world destroyed at his enemy's hands, he embarks on a harrowing quest to find those responsible. This journey, at every turn, will test his mettle. With his back against the wall, Stark is left to survive by his own devices, relying on his ingenuity and instincts to protect those closest to him. As he fights his way back, Stark discovers the answer to the question that has secretly haunted him: does the man make the suit or does the suit make the man?