Battle Brews Over Completion And Sale Of Long-Delayed Joe Lynch Film 'Knights Of Badassdom'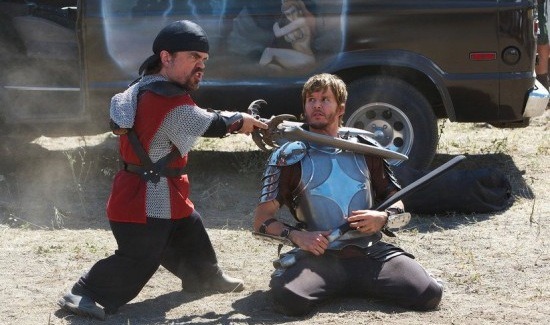 Over a year and a half ago, at Comic Con in 2011, we saw footage of Joe Lynch's film Knights of Badassdom. With a cast that features Peter Dinklage (Game of Thrones), Danny Pudi (Community) and Summer Glau (Firefly), and a story about LARPing fantasy fans who are pressed into action against a real magical threat, the movie did well at Comic Con. The trailer got more attention online, and we thought a late 2011 or mid-2012 release might be in the cards.
But there has been no official word on Knights of Badassdom in a long time.
Turns out that Joe Lynch hasn't had input on the film since just after Comic Con '11. One of the producers is set to screen a cut of the film tomorrow, presumably in the hopes of attracting interest in buying the existing cut. The film's website, badassdom.com, has been revamped to feature an open letter to "what remains of the Board of Directors of IndieVest, the production company and manager of the film known as Knights of BADASSDOM." (Update: there has been a second update, so the text on the site is now changed.)
The story that follows is one that doesn't yet have an ending, but it does explain why we have yet to see Knights of Badassdom.
I've spoken with a few people today about the claims on badassdom.com. The site's claims are, in short, that producer Wade Bradley removed Joe Lynch from the film, and also fired other producers. He allegedly oversaw the editing of a new cut, for which he is now attempting to secure a buyer.
According to the website's original text, that cut is 70 minutes long, "and includes significant changes to the original story and concept." There are suggestions that the transfer of the film as an asset from original production company IndieVest to a new organization, Media Society, is part of a power play to take total control of the movie as a business asset, and that IndieVest investors have not been privy to business decisions and deals.
(A similar allegation of the behavior of IndieVest and Media Society was made last year at the site Ripoff Report, and were vehemently denied by Bradley.)
I contacted Wade Bradley today. He said the entirety of the accusations presented earlier today on badassdom.com are "absolutely false," and that he'll release a statement at some point this week. He said tomorrow's screening is still on.
Joe Lynch has been mostly silent on the issue, but has spoken up cryptically on Twitter over the past few days, using the hashtag #NotMyCut.
— Joe Lynch🖕 (@TheJoeLynch) March 2, 2013
Where does all this leave the film? The original open letter on the Badassdom website made clear the desires of one set of involved parties: they want the film back in Joe Lynch's hands, and are hoping to raise the last money needed to complete the effects and other post-production elements that will allow the film to be finished to Lynch's specifications. The hope is that anyone interested in the film thanks to the screening tomorrow will bring Lynch back into the fold.
We'll report further if news comes out of tomorrow's screening, or if any further public statements are made on either side.