/Film Visits David Copperfield's Secret Warehouse/Museum To Learn The Magic History Behind 'Burt Wonderstone'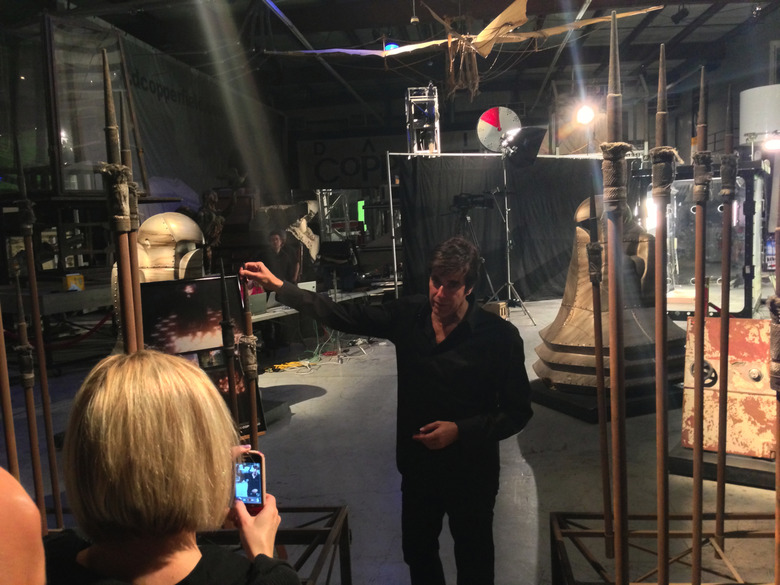 I'm in a black bus traveling south west of the Las Vegas strip to an undisclosed location. Even if I knew where the destination is, I am sworn to secrecy — I am unable to disclose the address.
We finally arrive at a large building with a very unusual small storefront: Korby's Men & Boys, a clothing/tailor shop which advertises the "Finest Since 1964". The store might appear to be from a different time and place, because it is. It is a replica of a New Jersey store once owned and operated by David Copperfield's father. Many people probably drive by this building, having no idea the wonders and magic housed inside the unsuspecting exterior.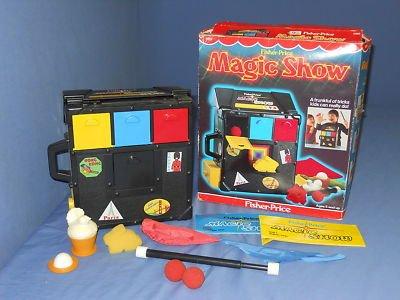 I love magic. I'm not sure how my obsession with it started, but it probably was a plastic Fisher Price magic kit I grew up with as a child (pictured above). When a new David Copperfield television special was announced, my father and I would look forward to it like it was the Super Bowl. We would record all of the specials on VHS tapes, and I rewatched them over and over. We watched other magic specials when they came on, but Copperfield was steps above any of the others. Sure, he danced a little too much in the lead-up to some illusions and his humor was cheesy at times, but he brought an artistry and production value to big stage illusions usually reserved for the world of film. He didn't just do magic, he told stories — full of wonder and heart.
My love for magic shares many attributes with my love for film. The set-up and payoffs of the best screenplays are comparable to the complex misdirection employed by great magicians. I also grew up watching the movie magic specials which would reveal how the amazing special effects sequences in my favorite movies were pulled off. (At the time largely with practical wizardry — think of them as a good version of Fox's Masked Magician specials but with much more artistry.)
In one of David's specials, he performed an illusion where he tore and restored a Honus Wagner baseball card. (Worth millions of dollars at the time.) Copperfield performed the mini-miracle inside his warehouse for the owner of the rare card, Wayne Gretzky. You can watch the illusion below:
It never occurred to me before that moment that Copperfield needed a warehouse to collect all of of the huge illusions he has performed throughout his career. The fact that decades of magic existed under one roof somewhere, someplace, blew my mind. I remember asking my Dad if we could actually go there, and he broke the news to me that it was probably not open to the public (it wasn't, and still isn't) and that with so many highly guarded secrets in one building, it was probably kept secret from everyone but David's closest of confidents.
Over the years I read about the warehouse in various articles about Copperfield. He used the warehouse as a location in future television specials, and briefly in a couple TV interviews with the likes of Oprah. I've always wanted to visit the warehouse, but never thought I'd have the opportunity.
Writing about movies has afforded me the opportunity to travel the world and visit some amazing places. I've been able to cross some cool things off my bucket list, like visiting Pixar Animation Studios, talking to Kermit on the set of a Muppet movie, and walking through Hogwarts. But I never thought I'd ever get to step inside Copperfield's warehouse. I mean, why would I?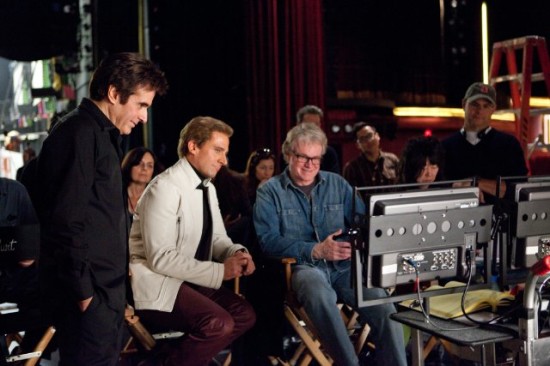 As it turns out, in recent years David Copperfield and his team have been working as consultants on feature films, including The Prestige, The Illusionist, Paranormal Activity 4, and upcoming films Now You See Me and The Incredible Burt Wonderstone. I've also heard he might be involved in developing a secret unannounced project at JJ Abrams' Bad Robot. It is thanks to Burt Wonderstone and Warner Bros that I got the chance to make this trip.
Being a magic fan and a hobbyist, you might expect that I was excited for Burt Wonderstone, but that was not the case. I was very underwhelmed by the trailers, and just didn't care about the movie. I'm embargoed from writing a review of the film at this time, but I will say this — it surprised me, and I'm betting that you too will find its much better than you expect it to be.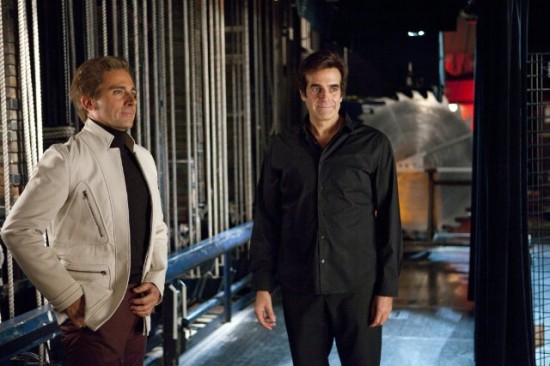 The film stars Steve Carell and Steve Buscemi as a Vegas-headlining magician duo ala Siegfried and Roy but less flamboyant. Copperfield appears as himself briefly, and also designed an illusion that appears in the film which involves a transposition during a traditional 19th century hanging. More on that later.
Below you can read about my trip to Copperfield's warehouse, but you can also watch some brief video from our tour thanks to Luca Celada and VideoScope:
Copperfield's secret Las Vegas warehouse isn't as secret as it used to be. Gone is the large retro Korby's sign; a copper-colored COPPERFIELD sign now appears in its place. A replica of Copperfield's Hollywood Walk of Fame star is implanted into the sidewalk infront of the storefront (he was the first magician to receive a star). You might also see a couple big mac trucks covered with "The Magic of David Copperfield" graphics hooked into the warehouse's docking bay.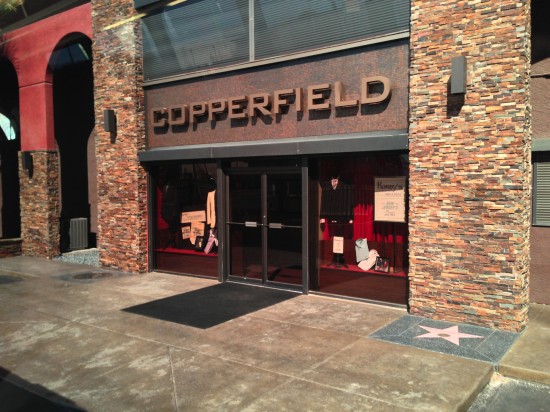 The building was formerly the Nevada Nuts and Bolts factory, where the Statue of Liberty was restored. David Copperfield greeted us outside and soon gave us a tour.
"Stories are really important to me beyond magic, this whole tour is baseed in a story, the story of how I began. My first memories of anything wondrous were in my parents store. Korby's Men Shop, a clothing store in New Jersey, my father's store.
When I started doing specials, my parents would use the store to advertise my tv specials: "Please watch David Copperfield, he's my son. They would pass out shopping bags that said please watch our son's show, hoping it was a family named Nielsen so that it would help the ratings. They were awesome."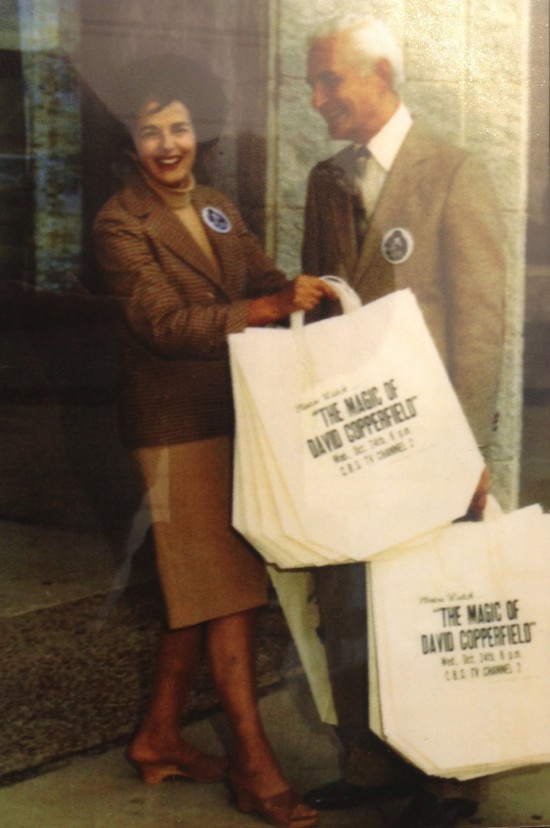 David's replica of the storefront even features a small display with newspaper clippings advertising one of Copperfield's early television specials, as it was back in that time. The inside of the store is very small, much too small for the building it occupies.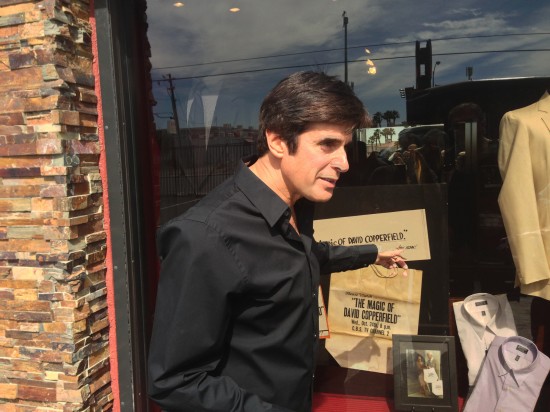 The store is faithfully recreated, judging by a small photo that shows the real thing. On the counter sits a business card for "Davino, Boy Magician," which his father set up to help young Copperfield land gigs at children's birthday parties.The card features a drawing by young Davis and the word "Children" is not spelled correctly. Copperfield jokes, "we were not writers." He hands me a copy of one of his old business cards before saying "Thanks you for the nice tweets last night, by the way."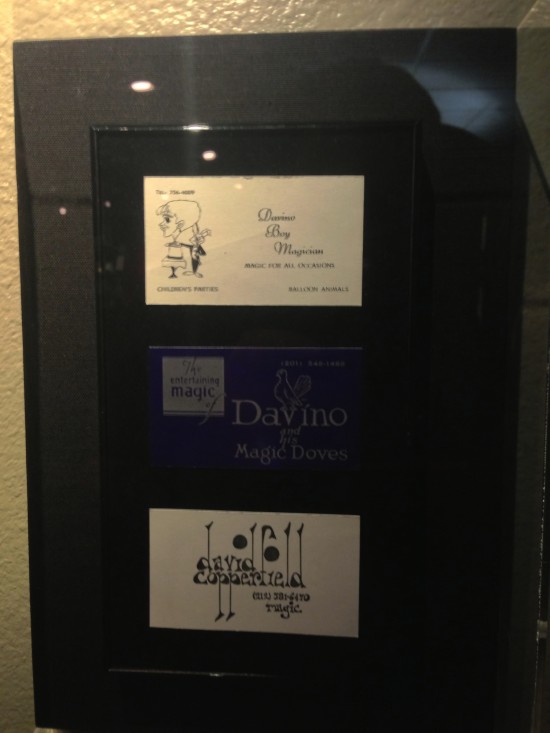 The night before this visit, Warner Bros had taken us to David's show at the MGM, entitled "An Intimate Evening of Grand Illusion." I had seen the show 15 months earlier on a previous trip to Vegas, and it was kind of a "best of" presentation of Copperfield's modern stage illusions. I was surprised to find that Copperfield is testing a lot of new material, with almost half the show being completely new magic.
The new performances include an illusion where David travels through time; an effect where David e-mails all of the audience members a prediction which later comes true; he levitates "a twitter follower" above the middle of the audience; displays a new ability to pop balloons with his mind in impossible situations; and performs an impossible prediction that takes place on every member of the audience's wrist.
With over a half million Twitter followers, Copperfield has recently been trying to find a way to mix magic with the wonders of modern technology. When I was a kid he would do illusions which would require people watching at home to get up and touch the television, and experience magic on the individual level.  Copperfield is finding new innovative ways to make his magic interactive and involve every single audience member in the wonder. When the magic happens on the television or stage it is amazing, but when it happens in your own hands, it is mind-blowing.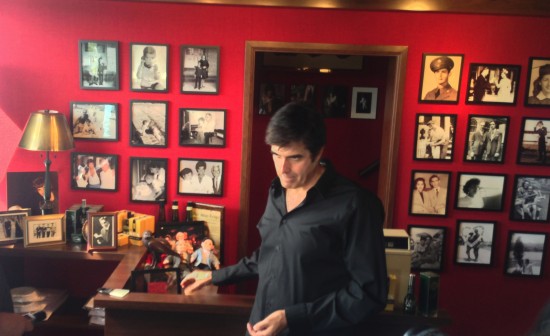 The old store feels period accurate, down to the small black and white television in the corner of the store playing an old tv show. Copperfield presses a button on a small remote and the theme music starts playing on the television.
"The first magical memory I had with my father was watching the tv show The Man From U.N.C.L.E.. Ian Fleming was one of the writers believe it or not, the man who created James Bond."
The Man From U.N.C.L.E. had a secret lair which inspired David to build one in his father's shop. David took us into the back changing room where men would have their suits tailored. When you pull the tie down on the dress shirt hanging on the wall the mirror wall opens to reveal a secret entrance to David's lair.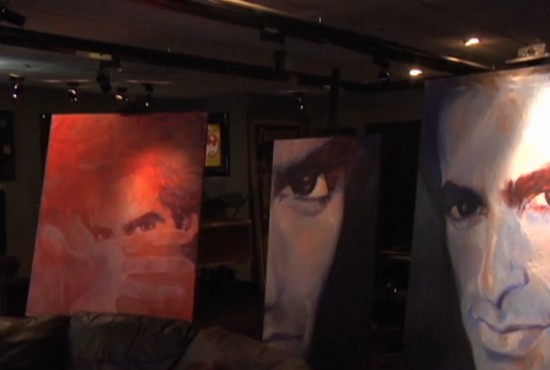 The large room is an old school-style celebration of success and self, covered with posters and magazine covers from throughout David's career. David points to the walls and says "This is a plethora of bad haircuts." Famous artist Al Hirschfeld has created three caricatures of Copperfirled throughout his career, which are hung on one wall. Oversized paintings used for commemorative Copperfield stamps in different countries separate the room from a couched hang-out area.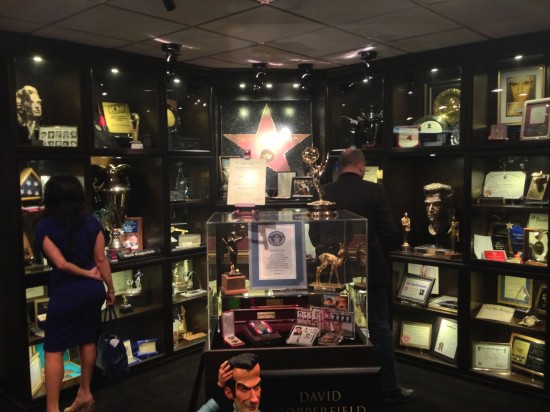 There is a trophy room displaying his 21 Emmy Awards (he was nominated 38 times), his Living Legend Award from the Library of Congress, a metal from being knighted by the Queen of England, the Bambi Award (the German Oscar), and a ton of other accomplishments.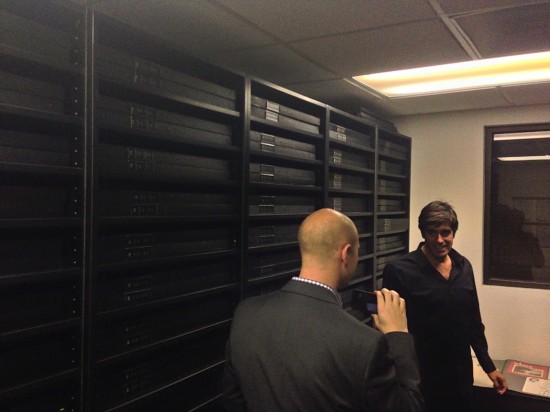 A small room to the side features wall to wall drawers of news clippings collected throughout his career. Almost anything that is printed by a publication is saved. Copperfield estimates over 30 thousand clippings in all, but the most important are at the end of the room in an old scrap book which was kept by his parents at the beginning of his career.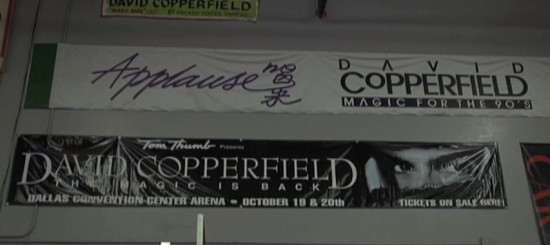 Copperfield guides us through another door into his huge warehouse. The walls are lined by big banners from all of his world tours. Huge illusions from all of his television specials are on display.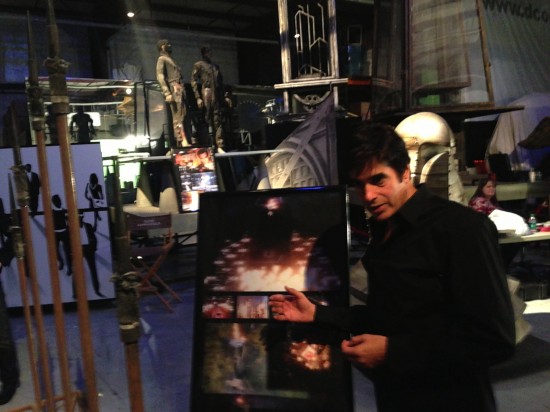 We walk through a set of the charred spikes which he hung over in straight jacket for his Fires Of Passion special.
Near by is the door to a steel safe which has seen better days. The remnants are from an illusion which involved Copperfield being handcuffed and locked in a safe inside a building which was set to be imploded. Copperfield would have only two and a half minutes to escape the safe and the building before the demolition. Of course, things don't go as expected and it appeared that Copperfield was unable to get out in time, before appearing out of thin air on a steel board outside in the parking lot.
David explains the the safe door was found within the rubble of the building after the special aired, somehow mostly intact.
"Steel was turned to dust, but that safe door was somehow in the right spot and they were able to pull it out."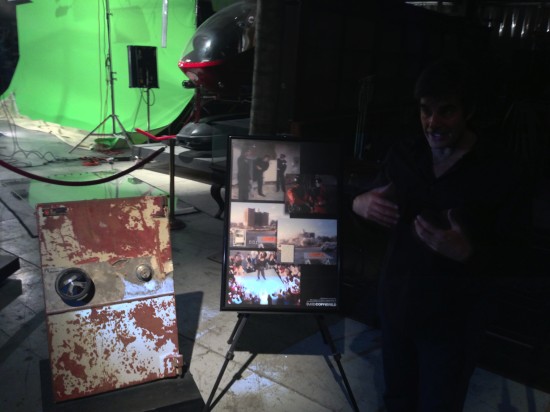 The escape was shot in one long Steadicam shot. Employed for the implosion escape were the McConkey brothers, who have worked as Steadicam operators on many of the famous one-shot takes in cinema history, including Goodfellas, The Bonfire of the Vanities, Kill Bill and more recently Hugo.
"Part of the reason we're involved in so many films is that because you can do literally anything in cinema today, there is really an effort to make the magic credible. And my career was spent trying to make the magic as credible as possible. How do you make the home viewer believe they are seeing something for real, and not a camera trick? We sometimes accomplished this with long camera shots. In Burt Wonderstone, my team and I designed this Hangman illusion. And if you notice, it is presented in this long technocrane shot that doesn't cut away — it lasts forever, until the very end. You see the audience, you see him, you see everything in one long camera shot — which is something that is really hard for the actors. You can't just fix it in post, thats how its really done. And my whole career is that."
Film projects that have come here in the past include Christopher Nolan's The Prestige, and The Illusionist with Ed Norton. Copperfield is a huge film buff.
 "My passion for movies supersedes my passion for magic. I happened to be good at magic when I was a kid, but movies really inspired me. Magic is what I happened to be skilled at but my real idols were Gene Kelly, Frank Sinatra and directors like Frank Capra and Victor Flemming."
Many other illusions are seen in the distance of the large warehouse, including remnants of Tornado of Fire, the Elevator appearance prop for "Heaven On The Seventh Floor", the death saw illusion and many others.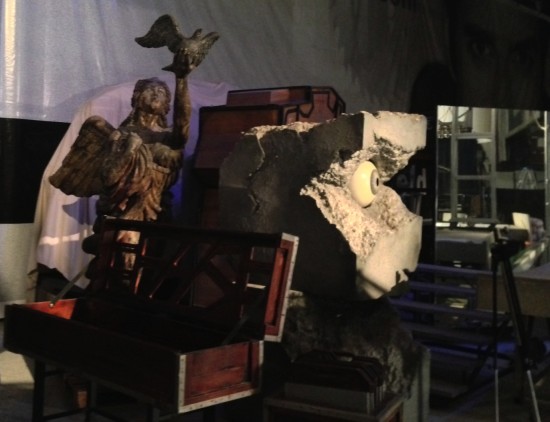 Copperfield also has artifacts from the world of cinema. The Da Vinci flying machine from Hudson Hawk hangs from the ceiling. Copperfield points over to the side at the mast from The Black Pearl (seen above), the ship that Johnny Depp's character Captain Jack Sparrow sails in Pirates of the Caribbean. David had nothing to do with these movies. He just collects many different things. He says he just liked the look of the flying machine prop. Its also likely that it aesthetically fits in with the  "Flying – Live The Dream" illusion, which is probably the greatest magic "trick" ever created.
"I just found out that Leonardo Da Vini wrote a magic book, a book of card tricks and mathematical puzzles" Copperfield enthusiastically tells us. "I definitely think he's a magician, he even did some of the magic I do. This is a guy who is one of my idols, he inspires all of us on so many levels. The renaissance man, probably named after him. Da Vinci kinda dabbled in my kind of work? That makes me feel really good. He made people dream, with his art and his creations."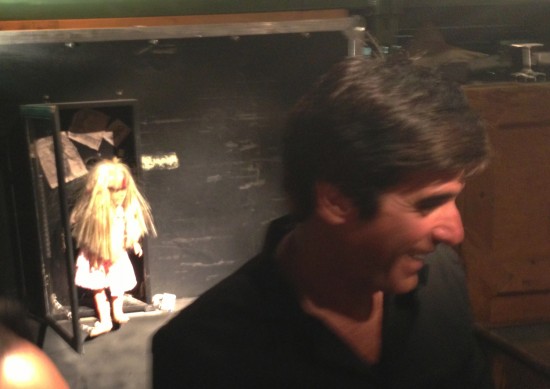 At another point he shows us a box on a wall containing a small children's doll he claims is from the Child's Play movies. We all examine it as he quickly counts down, 5, 4, 3, 2, 1. The doll jumps out of the glass box at us, scaring some of the journalists on the tour. David has a good laugh.
When asked if he believes that magic is art, David responds "If its done right, I think it is."
"If it moves people and is done right... Is movie art? Sometimes not at all, but sometimes it really is and it touches us. Its about the level of craftsmanship you put into it and how it effects people."
He walks us into another huge room of the warehouse which contains isles and isles of crated boxes. Think about the last shot in Raiders of the Lost Ark... if not quite as big.
"This is where we store all the things. This is 20 hours of material. 20 hours of material for a magician is ridiculous. Houdini had about an hour of material. Contemporary magicians who are famous probably have an hour and a half of material. This is 20 hours of material, that I was forced to do for television. I wanted it all to be really good, its really rehearsed. I once heard a story about Irving Thalberg, he was the head of MGM and Louis B. Mayer was his partner. He ran the studio very artistically and died in his 30's. He pushed the Marx Brothers to go on the road with the material for their movies. Do it in a theater, find out whats funny, whats not. Work at it, and then we'll shoot it. I loved that, so every single special I'd take on the road before any cameras were even involved. I'd do it, and it would suck, it would become okay, then good, and finally I'd learn what worked. I would make it review-proof. And this represents 20 hours over 20 years of that stuff."
He points to a giant old couple crates containing statues. They're movie props, not Copperfield illusions. He asks if we can figure out where these were from. Met with silence from the group, he looked over to me  and said, "King blogger, where would you say these are from?" I guessed "Not Raiders of the Lost Ark?" David responded "A very good guess, as it took inspiration from this movie. AFI Top 3 movie..."
"Citizen Kane" I quickly responded. Yes, David Copperfield owns some of the crated statues from Charles Foster Kane's Xanadu estate in the ending of Citizen Kane. "Orson Welles was a real inspiration to me," says Copperfield. Many of you might not know, but Orson Welles was also a magician. A couple years ago Copperfield was outbid for Welles' 1942 Oscar statue. Welles appeared in one of Copperfield's first tv specials and assisted David with a trick in a tv special taped after his death:
In this corner Copperfield performs a bit of close-up magic. He hands a journalist a bolt and a nut and tells the journalist to  examine them and then twist the nut on the middle of the bolt. He puts the bolt on a table and covers it with a plastic drinking cup and explains that he is going to turn back time. He then asks another journalist to slowly pick the cup off the table, revealing that the nut is no longer on the bolt.
As far as I can recall, David Copperfield has never played around with time travel in his magic. But as I mentioned earlier, we saw a new illusion at his Vegas show that involved traveling to the future and brining back a prediction. Time travel is something he's been thinking about recently for sure. As we walk to the other side of the warehouse, David is asked if he would like to time travel.
"Yes, wouldn't you? Well you saw the show and saw that piece where I went forward in time and came back, its only part of something we're developing. But I would love to go back in time and meet Da Vinci. So I'd probably want to go back. The future we build..." David stops himself as he realizes he was beginning to go into a line from his show. "If you could go back in time with the knowledge you have now, it would be really cool and probably unfair — you could take over the world. But... let me take you back in time."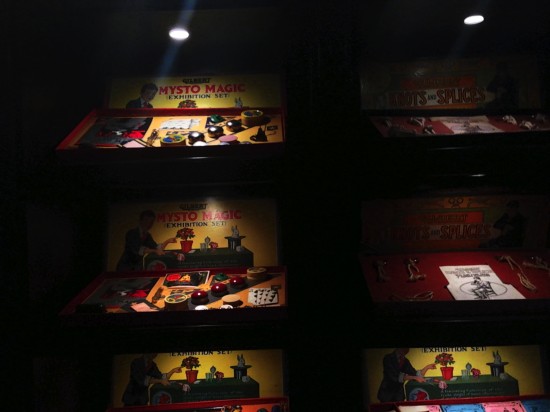 Copperfield then guided us into his personal museum of magical history.  He started collecting and preserving about a quarter of a century ago, and has been preserving this history for future generations.
"These guys lived my life, the same stories. Just as there are writers out there before that had the same jealousies and problems that you had. The same magicians stole stuff from each other. Its not just objects to me — these are stories..."
Copperfield guided us through many rooms, each focusing on different eras or collections of different specific magicians throughout the history of magic. We start in a room which is wall to wall shelves of old magic sets from the early to mid twentieth century.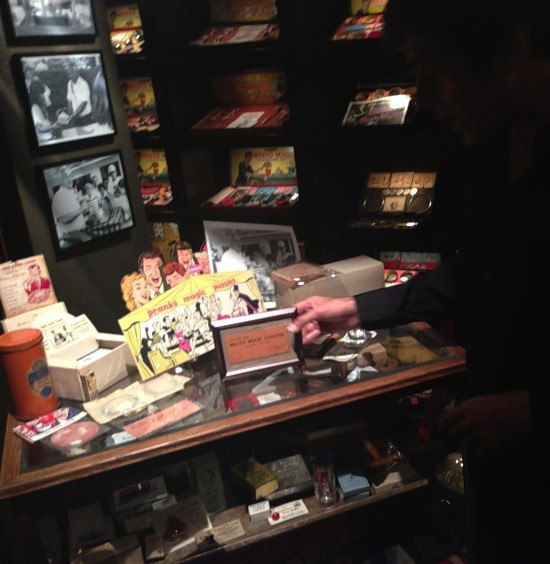 Copperfield begins the tour grounding it in his personal backstory.
"I started as a ventriloquist, I was a very crappy ventriloquist. I went to Macy's magic counter to buy a better ventriloquist dummy and I fell in love with magic. So I stopped doing ventriloquism and started doing magic. The Macy's magic counter was on the fifth floor in the toy department. I bought my first magic trick... The guy who sold me my first magic trick came to my show 20 years later and gave me the counter that Macy's gave him, the counter where I bought my first magic trick."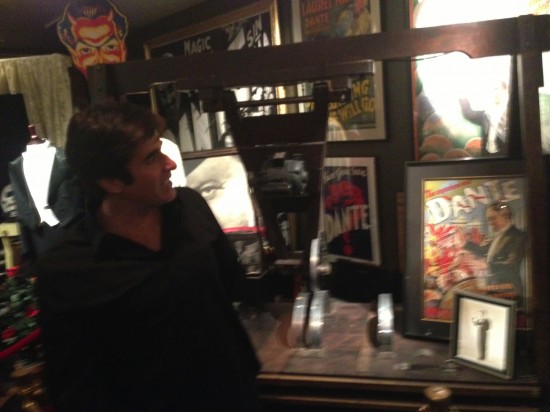 Yes, Copperfield even owns the counter that began his love of magic. I'm not going to bore you with a tour through magic history, but David's museum is both huge and amazing. He showed us Carter's vanishing girl illusion, magic from Cardini, Doug Henning' Metamorphosis trunk, Orson Welles' saw in half illusion, Props from Thurston's shows in the 20s and 30s, and much more.
In Burt Wonderstone the story centers on the rivalry of an old school stage illusionist played by Steve Carrell, and a new school street magician/stunt man played by Jim Carrey. (Think Criss Angel meets David Blaine meets Jackass). Copperfield is the rare stage illusionist who has always included a bit of close-up magic and slight of hand in between the big prop-filled spectacles and endurance/escape stunts.
"I like to do both. I've been doing street magic for years. On the China special, half the magic was done on the streets. But I think there is room for both of that. In my show I do close-up magic and I also do big magic. There is something wonderful about making magic happen in your hands, and there is also something wonderful about... you know my inspirations were the big directors and films, so using magic to move people... Doing close-up magic, you're moving them just with wonder — 'Wow, how'd you do that, that's amazing.' But I think Magic as a tool can be used for many more things — it can make you laugh, make you cry, can make you feel certain things. There is an illusion I do with the car in the show, for that one moment, I look in people's faces, you could start a religion, a cult. And when the boy levitating in the audience, some totally brand new stuff... its very rewarding to see people react like that. It's beyond just the wonder of it, its the journey that you can take with it. Films: It was a magic trick with the train coming toward the screen, but the storytellers took it further and thats my job. I took the trick that is magic, the wonder of Magic and add other stuff to it. That's my contribution to it and probably why I've lasted."
David's ability to tell stories out of his illusions are certainly what drew me to his performances. He alluded to an illusion he performs now. In my opinion, it's the best piece of magic in his current act. It is framed by a very personal story about learning magic from his grandfather. When he decided he wanted to make magic his profession, his grandfather stopped talking to him. His grandfather had dreams that were unfulfilled, and didn't want his offspring to face failure. His grandfather never got his dream car, and never spoke to David before his death.
The story involves a set of license plates that his grandfather had for the car, which were found in his dresser after his death. Copperfield uses this set-up to randomly find audience members to choose numbers, a prediction that ends up being the numbers on the plates. And in the end, he impossibly makes his father's dream car appear, while being surrounded by audience spectators both around and below.
I've seen this illusion a couple times in person, and Copperfield is right. Look around the theater and people are in tears. It's a beautiful, touching moment. The illusion isn't just a magic trick, its a combination of a few magical effects, structured in story, and rises to the level of high art.
"My parents told me I couldn't do this. My mother said... you know the story about my grandfather in the show? It's not about my grandfather, its about my mom. That piece was created while they were alive so I couldn't really talk about her. My Mom was really tough with me, and said "You can't do this" and it was the greatest thing in the world for me, because I wasn't the type to get shot down with that. I had to prove to myself that I could do this, so I found ways of making magic current and I have to continue doing that."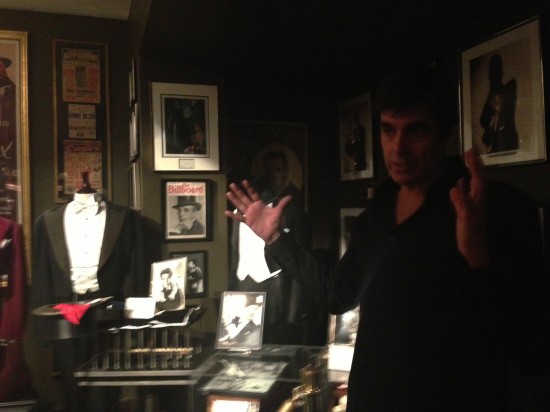 Copperfield told historical stories surrounding some of the items, relaying things he learned from this magic history. The deep concern to stay current and be relatable to his audience might stem from Jean Eugène Robert-Houdin, widely considered the father of modern magic.
"Magicians use to be guys in wizard hats, but then Robert-Houdin said 'lets dress like common people, so he dressed in a Tuxedo, he dressed like his audience. Magicians didn't get that, so magicians kept dressing in tuxedos even though the guy in tails is based on Houdin. But Houdin's point was to dress like you. ... I don't wear a tuxedo."
We walk by 10 foot flat files of old magic posters, beautiful carny looking artwork, sometimes over-promising the spectacles.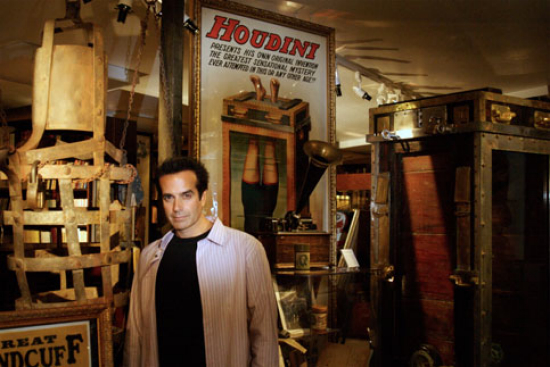 (photo from WildAboutHoudini)
The highlight of the tour is Copperfield's collection of Houdini items, an entire room upstairs.
"If Houdini were alive today he would see his entire life surrounding him," Copperfield proudly exclaims.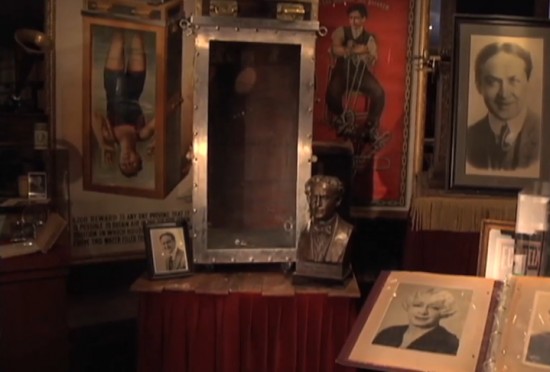 Every Houdini movie or book has come to visit Copperfield's collection for research. The room is filled with all of Houdini's famous illusions, the metamorphosis trunk, the milk can escape, the water torture cell, the  Daily Mirror handcuffs, Houdinis scrapbook with photos of him with all of the stars of the time, including Buster Keaton, Gloria Swanson, Charlie Chaplin, Fatty Arbuckle and Cecil B Demille, Houdini's first magic wand, and even his first baby show. David walks over to an old record player and plays us one of two known recordings of Houdini's actual voice. David owns half of Houdini's library of books, the other half is in the library of congress.
Another room houses a bunch of magical automatons, self-operating machines like the one you saw in Martin Scorsese's Hugo. One of the machines performs a "cups in balls" trick; another levitates a mechanical woman assistant in the air; and another performs a rising card trick.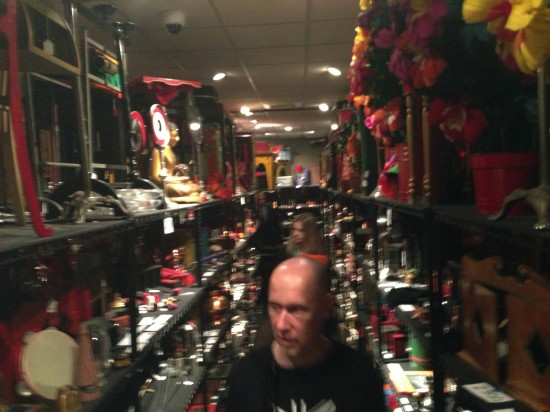 Another upstairs level houses isles and isles of magic props. Because David started as a ventriloquist, Copperfield has a small room dedicated to ventriloquist dummies and puppets, including some famous additions like the dummy from the famous Twilight Zone episode "The Dummy." He's got Lamb Chop and Hush Puppy, a real Howdy Doody dummy, a replica used in the movie Man on the Moon, and many more.
David says he is currently putting a lot of money away to keep his magic collection for future generations.
"I'm going to create a center for all this stuff, from a legacy stand point I'm going to keep this all together rather than being sold off."
When asked if he would ever house his collection in a public museum on the Las Vegas Strip, Copperfield quickly responds "No, but I would hold exhibitions." I wish everyone had an opportunity to see this amazing collection, and that could happen some day. Copperfield told me that he might open sections of the material that don't give away guarded magic secrets to the public, but there is still is still trying to catalog and organize this extensive collection.
I was only in the Museum for 45 minutes (we were on a marathon tour, David claims tours of his museum usually take at least 3 hours) but I could have easily spent the whole day looking at every item in every room. So much magic and wonder in one building, but alas, not enough time.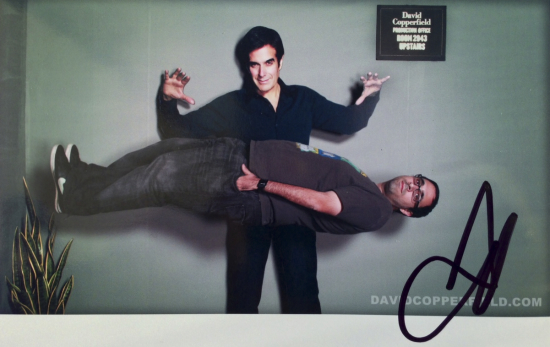 Our tour ended shortly afterwards with Copperfield signing photographs we took at the begining of the tour of us being levitated by the master illusionist — a fun illusion not created by a green screen or even photoshop.
You can view a couple more videos from inside David's museum, from Copperfield's twitter account: