Sequel Bits: 'Anchorman 2', 'Dawn Of The Planet Of The Apes', 'The Girl Who Played With Fire', 'The Last Exorcism Part II', 'Star Trek Into Darkness', 'Paranormal Activity 5', 'Super Troopers 2'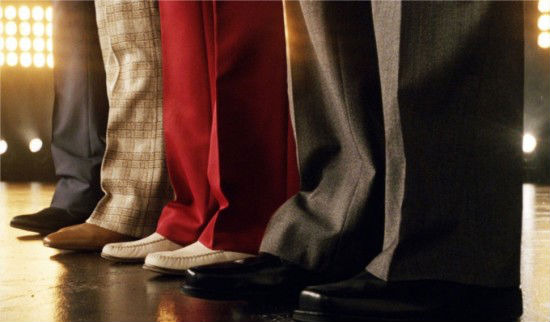 Stay classy, New York City? Director Adam McKay reveals that Anchorman: The Legend Continues will take the Channel 4 News Team to the Big Apple. Also after the jump:
Jason Clarke comments very briefly about his Apes character
Rooney Mara "definitely" wants to do the Dragon Tattoo sequel
Super Troopers 2 will "hopefully" shoot sometime this year
Looks like a second Star Trek Into Darkness trailer is coming soon
Producer Eli Roth is "very proud" of The Last Exorcism Part II
Speaking of, check out the film's terrifying beauty shop prank
Paranormal Activity 5 might have special ghosts for 3D glasses
The plot reportedly focuses on two groups of characters, the apes led by Caesar (Andy Serkis) and a team of scientists struggling to survive in San Francisco. This likely means Clarke is one of those scientists. We'll find out for certain when Dawn of the Planet of the Apes opens May 23, 2014. [MTV]
Over a year since the release of The Girl With the Dragon Tattoo, there hasn't been much movement on The Girl Who Played With Fire. But Rooney Mara is still waiting for the call.
"It's definitely something I'd want to do. I've love to do it, I really would," she said. "We've definitely been talking about it, but I don't have any solid news on it, you know. It's definitely being talked about, but I'm really not sure."
And if it happens, she hopes her old director will return. "Of course the ideal situation would be to do it with David [Fincher]," she added. [via Total Film]
The long-gestating Super Troopers 2 ran into a spot of legal trouble last year, but it sounds like the Broken Lizard team has since gotten over that speed bump. According to member Kevin Heffernan, the sequel could shoot by the end of this year.
There will be a Super Troopers sequel. We put it off for a while and then came back to it. We wrote the script and handed it in to Fox and now we're just negotiating the time and the place and hopefully shoot it some time this year. I have to start growing my mustache now.
Of course, he said the same thing in 2012 and that didn't pan out. So maybe take it with a grain of salt. [Guy Speed via The Wrap]
Get ready for another Star Trek Into Darkness trailer. Alberta Film Ratings has just classified the new trailer, which generally means it's about to land in theaters — perhaps with Oz: The Great and Powerful or G.I. Joe: Retaliation, both of which hit in March.
Interestingly, the board lists the runtime as 1:10, which is more teaser-sized than trailer-sized — in which case, we can probably expect another, longer trailer to debut shortly after that. [via Comic Book Movie]
What happens when a ghostly apparition appears in the mirrors of a beauty shop? Obviously, customers jump, scream, and get generally freaked out. Less obviously, CBS Films' The Last Exorcism Part II gets a bit of viral exposure.
The prank is entertaining, but mostly I'm just impressed by the ghost girl's athleticism. Holding that pose can not be easy.
On a less goofy note, producer Eli Roth spoke about how the second film came together.
People liked the story and I thought we only want to do it if we have a strong reason to continue it. We spent two years on the script, Damien Chazelle and Ed Gass-Donelly turned in an amazing draft. I loved Ed's movie Small Town Murder Songs, I thought it was really well done for low-budget. I wanted another director like Daniel Stamm that had made a movie that maybe had been seen in critical circles, but hadn't been seen by mass audiences, and who was really hungry to sink their teeth into the subject matter and really approach it in a very smart, intelligent way.
While the new movie will expand on the previous movie's mythology, Roth says it won't strip away all the mystery.
Yeah, there are some answers, but I also hate the moment in a movie where someone says here let me explain to you exactly what happens. So we had to have some of that — the answers, but we don't want to answer everything. Part of it is creating the mythology and unraveling it, but still leaving some of the mystery and some of the questions. Part of the fun of the first film is we had a very, very specific internal logic of the first film of exactly what happened. [...] One of the great elements of the supernatural is having that mystery and letting people's imaginations run wild with it.
The Last Exorcism Part II opens March 1. [Collider, Bloody Disgusting]
Ghosts have haunted the Paranormal Activity series since the first installment, but Paranormal Activity 5 could allow us to see them in a whole new light. Rumor has it that the studio is considering specialized 3D glasses that allows viewers to glimpse a little something extra in the image, depending on whether or not they're wearing specs. Bleeding Cool has more details.
The first Anchorman may just be the most famous San Diego-set film in recent memory, but director Adam McKay has revealed that the Channel 4 News Team will leave behind the whale's vagina in Anchorman: The Legend Continues. "San Diego is too close to Ron's heart to go away, but we feel that New York City is the holy grail for all newsmen," he said.
There, Ron Burgundy (Will Ferrell) and his colleagues will try to deal with cable news networks and the 24-hour news cycle — and mostly fail at first, thanks to Ron's own jerkish ways. "If he wasn't a giant A-hole, everything would be okay," McKay said. "By the end he's got to be a little less of an A-hole, but that's still a little hard for him to do."
As for the newest cast member Kristen Wiig, McKay wouldn't reveal exactly what he had in store for her but he gave few hints. "Brick's so far gone that you can't have a relationship with him," he laughed. "It takes a special someone to get a rope snare around his heart. She is dangerous!" [Empire]