Noomi Rapace Confirms 'Prometheus 2' Script Is In The Works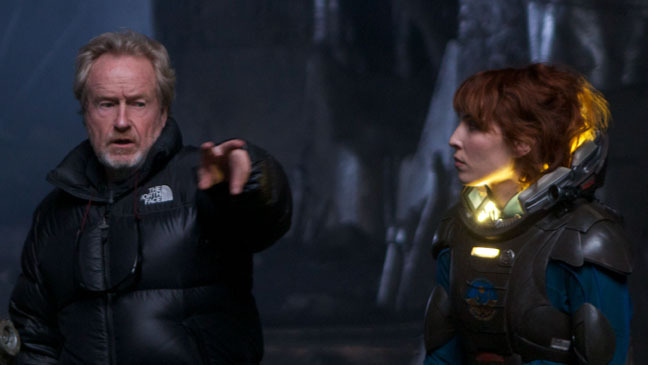 One of 2012's most bickered about films was Ridley Scott's Prometheus. We started the year debating whether or not it was an Alien film. By the time we saw the movie we debated if it was good or not. Now that it's on Blu-ray, we're debating if it's worth revisiting. Two people who certainly think it is are director Ridley Scott and star Noomi Rapace.
Doing interviews for her latest film, Dead Man Down, Rapace confirmed she recently met with Scott to discuss a sequel and that ideas are being formed. She would not say who would be writing it (not Damon Lindelof, we know) but had some strong thoughts on where she'd like it to go thematically. Read her quotes below.
Talking to The Playlist, Rapace said the following about a sequel to Prometheus:
They're working on the script. I met Ridley in London a couple of weeks ago. I would love to work with him again and I know that he would like to do another one. It's just like we need to find the right story. I hope we will.
She was then asked about all the debate the film spawned and Rapace said she really thought that was a great place to start with a sequel, which would likely see her and David (Michael Fassbender) following the star map they discover at the end of the film:
It's interesting because people, most people I've talked to who see the movie, see things that are quite different. Some people who see the movie many times and discover new things. There are all these religious aspects and there are very interesting conversations. And for me, if we do a second one, there are a lot of things to explore in there and to continue. I would love to do it.
Sounds promising, even though she would not say who was writing.
But here's something interesting. Movies.com remembered this tweet from a few days ago by Celebuzz's Todd Gilchrist.
Noomi Rapace told me today the script for PROMETHEUS 2 is "incredible." My fingers are crossed.

— Todd Gilchrist (@mtgilchrist) February 26, 2013
So which is it? Is it done? In story stage? Her mentioning it in two interviews, though, proves she was okayed to release this news. A sequel to Prometheus is definitely in the works.