Seth MacFarlane Says There's "No Way" He'll Host The Oscars Again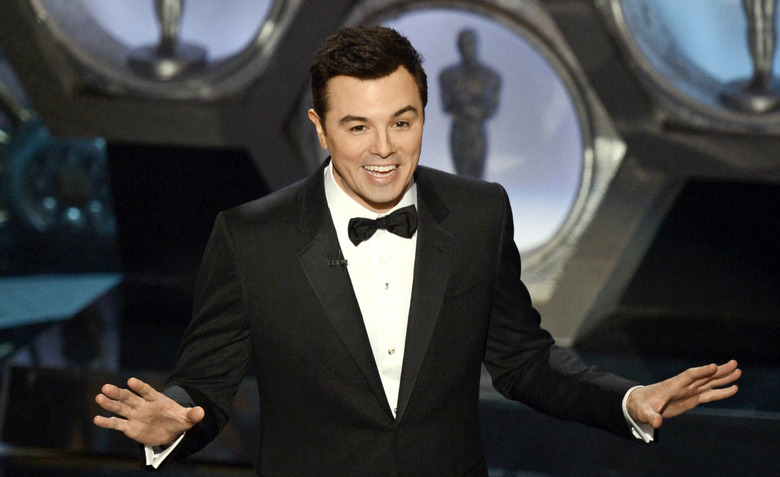 Two days after the Oscars, it's still tough to say whether or not Seth MacFarlane's performance as Oscars host was a success. On the one hand, he's been roundly criticized for his reliance on sexist humor; on the other, he succeeded in attracting the young male audience, just as the Academy had hoped.
But whatever the verdict, it's looking unlikely he'll make a repeat appearance at next year's festivities. Asked by a fan whether he'd host again, MacFarlane gave an unambiguous "No way." Hit the jump to keep reading.
The Ted director did not say precisely why he was uninterested, but it shouldn't come as too much of a surprise. Even before Sunday's event, MacFarlane had told press that hosting would likely be "a one-time thing for me," citing his very busy schedule. "I just don't like working 150 hours a week," he explained. Add in all the negative responses he's gotten, and it's easy to understand why he might not be eager to return.
But fans of his needn't mourn. That same hectic schedule that's preventing him from stepping back up to the Dolby Theatre stage is also keeping him in the spotlight for the next couple of years. MacFarlane is juggling several current TV series, including Family Guy and American Dad, and has a few more in the works. On top of all that, he's preparing to direct his second feature film, A Million Ways to Die in the West, and Universal is antsy for a Ted sequel.
Discuss: I'm already on record as being unimpressed by MacFarlane's performance, so I'm not too sorry to see him go. But I know several of you disagreed with me — so what do you think? And who do you think they should get to host next year?