TV Bits: 'Hannibal', 'Veep', 'Arrested Development', 'Achewood', 'Hannibal', 'Beverly Hills Cop', 'American Horror Story', Ken Jeong, Gillian Anderson, And More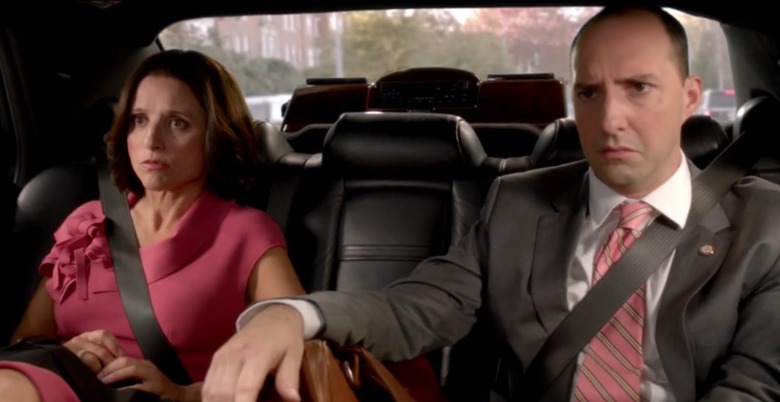 HBO's other big spring premiere, Veep, debuts a new teaser today. Also after the jump:
Gillian Anderson, Ken Jeong, Jorge Garcia, and more land new series
Lindsay Lohan will woo Charlie Sheen on Anger Management
Kathy Bates will face down Jessica Lange in American Horror Story
Ben Stiller returns to Arrested Development; Netflix hopes for more seasons
TBS hopes to be king of the nerds by renewing King of the Nerds
Web comic Achewood is being turned into a TV series
NBC releases a series of character posters for Hannibal
Emmy winner Margo Martindale joins Will Arnett on the CBS' multicam comedy by Greg Garcia
Brit Jamie Bell will fight for America's independence in AMC's Revolutionary War drama Turn
Every buddy cop comedy needs a captain. Christine Lahti will be Beverly Hills Cop's on CBS
Alicia Silverstone boards Lifetime's HR, about a corporate exec with a life-changing head injury
Lost's Jorge Garcia will be another "easygoing, hot dog-eating guy" on ABC's The Ordained
Pitch Perfect's Brittany Snow finds a new job on Fox's comedy pilot To My Future Assistant
Hamish Linklater (The Future) has been cast as one of David E. Kelley's Crazy Ones on CBS
Former Hero(es star) Greg Grunberg has Doubt in ABC's new legal drama by David Shore
Gillian Anderson will run up against still more conspiracy theories in NBC's untitled thriller
Lindsay Sloane (Horrible Bosses) finds Happiness with Better Off Ted creator Victor Fresco at NBC
If Community gets cancelled, Ken Jeong will play Rob Corddry's Secret Service boss on ABC's Spy
Tyler Labine becomes Ron Weasley's big brother on CBS' superpowered comedy Super Clyde
Yogurt pitchman John Stamos lands the title role in NBC's divorce attorney drama I Am Victor
Dawson Leery — I'm sorry, James Van Der Beek — is a gyno on CBS' Friends With Better Lives
Mad Men's Michael Gladis and The O.C.'s Cam Gigandet are getting Reckless for CBS
And once again, we'll cover some non-pilot casting next:
Lindsay Lohan is jumping back into bed with her Scary Movie 5 co-star Charlie Sheen. The tabloid-fave actress has just signed up for a guest role on the tabloid-fave actor's FX comedy Anger Management, playing herself. The episode, which will air in April, sees Lohan romancing Sheen's Charlie Goodson after she's ordered to see him for therapy. [NYT]Jessica Lange will find herself up against a powerful enemy in the next season of American Horror Story. Kathy Bates is nearing a deal to join the Ryan Murphy-created horror anthology, in the role of Lange's BFF turned nemesis. Season 3 will once again reset the story to a new time and place, with new cast members as well as returning actors in new roles. [TV Line]
Here's one more to add to the long, long list of returning Arrested Development guest stars. Ben Stiller will reprise his role as Gob's magician rival Tony Wonder in one of the fourteen episodes coming up this spring. No word yet on what form his appearance will take, but keep an eye out for any suspicious-looking giant sandwiches. [EW]
Speaking of Arrested: Though we got word yesterday that Netflix didn't expect to make more than one season of the cult comedy, a spokesperson has clarified that it's not as cut and dried as all that. "I think we all knew it was lightning in the bottle that we pulled it all together," said the spokesperson. But they haven't given up on repeating the trick (er, illusion):
We're hopeful there will be more seasons. If anyone can pull it together, it's going to be [Netflix chief content officer Ted Sarandos]. But by by no means is this the end of it. We're definitely planning to do more with them. We have first rights, so it's not like you'd see it anywhere else. We're absolutely hopeful there will be more.
So maybe instead of mourning, we should get a headstart on another "save the show" campaign? [HitFix]
TBS is renewing its commitment to the nerd community. The reality show King of the Nerds has just been renewed for a second season, to debut in 2014 with eight episodes. The current first episode ends on March 7. [Variety]
Beloved web comic Achewood could bounce back from its hiatus in an entirely new form. Creator Chris Onstead has revealed that he has been looking toward the small screen, "working with a team of artists, engineers, and producers to bring Achewood to life. To give it the voices, richness, and opportunities it never had as a comic strip." Among that group is Emmy winner Josh Lieb, a former Daily Show and Simpsons producer.
While the developing series is not yet set up at a network, that could change soon. "I'm flying to Los Angeles today to begin a week of network pitch meetings," Onstad said. "If things go well, we'll find a home for our show." [Vulture, Wired]
NBC has released a new poster and a whole bunch of character portraits for Bryan Fuller's Hannibal. Mads Mikkelsen plays the iconic man-eating serial killer, who strikes up a professional relationship with FBI agent Will Graham (Hugh Dancy). The new pics show off the pair as well as some of the several of the supporting players.
Hannibal premieres April 4. [Shock Till You Drop]
HBO's spring season won't be all medieval gloom and doom. Two weeks after the Season 3 premiere of Game of Thrones comes the Season 2 premiere of Veep, which takes a much, much lighter-hearted approach to national politics.
Selina Meyer (Julia Louis-Dreyfus) and her team return to your television on April 14. [via Cinema Blend]