Dates And Locations Revealed For Kevin Smith's 'Jay & Silent Bob's Super Groovy Cartoon Movie' Tour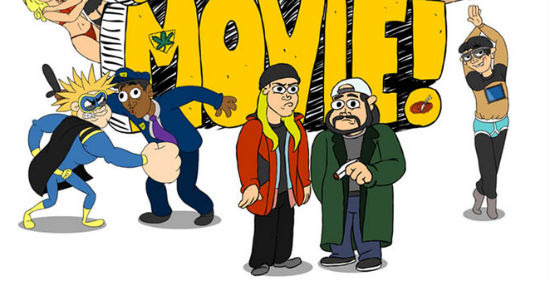 Jay & Silent Bob's Super Groovy Cartoon Movie is coming to a city near you. Kevin Smith and Jason Mewes are hitting the road with their latest film, an animated comedy directed by Steve Stark. The movie follows the title characters in the guise of their superhero counterparts, Bluntman & Chronic, as they fight the forces of evil. The tour starts April 20 in Atlanta and then hits about two dozen locations over the following weeks. Attendees will get to see the film and then listen to Smith and Mewes record a raunchy, off-the-cuff live podcast. Later, those podcasts will be available to download on the Smodcast Network.
All the dates and info are below.
Here are the dates and locations for Jay & Silent Bob's Super Groovy Cartoon Movie Tour.
April 20 Atlanta, GA Center Stage Theater
April 21 Washington, DC Warner Theater
April 22 Tarrytown, NY Tarrytown Music Hall
April 23 New York, NY Best Buy Theater
April 24 Boston, MA House of Blues
April 25 Philadelphia, PA Keswick Theater
April 29 Santa Barbara, CA Lobero Theater
April 30 Sacramento, CA Crest Theater
May 2 San Francisco, CA Warfield Theater
May 5 Los Angeles, CA The Wiltern
May 9 Portland, OR Bagdad Theater
May 15 Seattle, WA Moore Theater
May 17 Kansas City, MO Midland Theater
May 18 St. Louis, MO The Pageant
May 19 Chicago, IL The Vic Theater
May 20 Indianapolis, IN Clowes Memorial Hall
May 21 Royal Oak, MI Royal Oak Music Theatre
May 22 Milwaukee, WI Pabst Theater
Fans in Texas, New Jersey and Canada will also have shows, which will be added in a few weeks. Check the official site for updates.
Tickets go on sale March 1. Here's the full press release:
Jay and Silent Bob are back! Kevin Smith and Jason Mewes are hitting the road with their new animated film, JAY & SILENT BOB'S SUPER GROOVY CARTOON MOVIE – which blazes across America in a series of one-night-only shows starting April 20, 2013 in Atlanta at the Center Stage Theater. The legendary best buds from Jersey are back to dispense weed and wisdom in cartoon form and audiences will have the opportunity to watch the new movie and stick around for a rip-roaring Q&A afterwards. Tickets go on sale Friday, March 1, 2013 at http://seesmod.com/groovymovie.
Produced by Mewes and directed by first-time filmmaker Steve Stark, JAY & SILENT BOB'S SUPER GROOVY CARTOON MOVIE features the voice talents of Eliza Dushku, Tara Strong, Ralph Garman, Neil Gaiman, Ben Gleib, Jon Lovitz and the podcast stars of Smith's SModcast Network! When they can no longer stomach the ever-growing weed of suburban crime, Jay & Silent Bob take on the mantles of costumed avengers Bluntman & Chronic, smashing super-villains they accidentally create! Can the Doobage Duo save their beloved Jersey 'burbs from their new arch enemies, the League of Shitters? While clearly not the comic book movie the world wants, GROOVY MOVIE is the comic book movie the world needs!
"This is what can happen when you put the plug in the jug, kids!" said screenwriter and SModCo head honcho Kevin Smith of Producer (and friend of Bill W.) Jason Mewes. "I'm crazy proud of Jay for turning the soul-crushing bummer that is sobriety into productivity, making something as funny and fun as GROOVY MOVIE in the process!"
"As an actor, it was awesome to play Jay again," said producer and voice talent Jason Mewes. "But as a producer, I sweated every nickel because I wanted to keep the budget low... And dirty."
The budget for GROOVY MOVIE: $69,000!
"That budget figure not only makes us proud, it makes us giggle," Smith went on to say . "We live in an age of wonder where you can make a whole cartoon movie for well under a hundred grand! And the super hero who made miracles happen for next to nothing in cost was our genius director, Canadian animator Steve Stark!"
"A few years back, Steve was a Jay & Silent Bob fan who Tweeted us a YouTube cartoon he made from an episode of SModcast," Mewes explains. "Now the guy's directed an entire Jay & Silent Bob cartoon movie! And since we're using Twitter, Facebook, Google+ and YouTube to sell tour tickets, it's like the whole cartoon's made possible by the power of social media! SNOOTCH!"
Forgoing a standard theatrical release, SModcast Pictures (a division of SModCo) will repeat the city-by-city, one-night-only structure of their groundbreaking RED STATE USA Tour and cap each Groovy Movie screening with a performance of their Jay and Silent Bob Get Old podcast – the wildly popular live show which has sold out tours across the US, Canada, the UK and Australia. All 103 live shows recorded to date are available for download at SModcast.com and iTunes. Mewes has also produced home video versions of the show entitled, Jay and Silent Bob Get Old: Teabagging in the UK, Jay and Silent Bob Get Irish: The Swearing o'the Green, and Jay and Silent Bob Go Down Under.
Complete ticket and tour information is available at http://seesmod.com/groovymovie and the trailer can be seen at http://youtube.com/seesmod. "Like" Jay and Silent Bob on Facebook athttps://www.facebook.com/JayandSilentBob.