'Game Of Thrones' Season 3 TV Trailer: Death Is Coming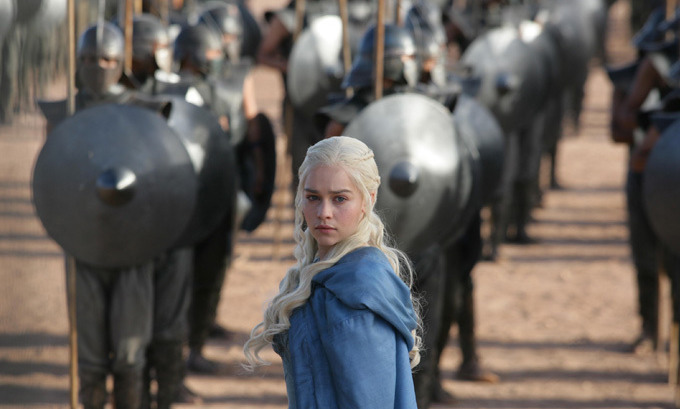 In the first season of Game of Thrones, the Stark motto was the recurring refrain: "Winter is coming." As we enter the third season, the warnings have gotten even more ominous: "Death is coming, for everyone and everything."
After months of teasers, behind-the-scenes featurettes, still images, and posters, we finally have our first real look at some footage from the third season of the HBO fantasy series. A new trailer premiered on Jimmy Kimmel Live Friday night, and while it's only 60 seconds long it's certainly enough to get fans excited all over again. Check it out after the jump.
Varys (Conleth Hill) could be talking directly to us when he says, "It's been a long time, my old friends." Indeed it has.
Set to MS MR's haunting tune "Bones," the new trailer offers tantalizing glimpses of the events to come. Daenerys (Emilia Clarke) and her dragons are slowly growing in power. Jon Snow (Kit Harington) finally gets a bit of romance. And of course, Joffrey (Jack Gleeson) is as loathsome as he ever was. In addition, we get to see several fresh faces in action including Ciarán Hinds as Mance Rayder, Kristofer Hivju as Tormund Giantsbane, and Paul Kaye as Thoros of Myr.
If I have any complaints, it's that we don't get nearly enough of Tyrion (Peter Dinklage) and that Davos (Liam Cunningham), Brienne (Gwendoline Christie) and Margaery (Natalie Dormer) are nowhere to be found. Hopefully the next full trailer will remedy that.
Game of Thrones returns March 31.
Summers span decades. Winters can last a lifetime. And the struggle for the Iron Throne has begun.
It will stretch from the south, where heat breeds plots, lusts and intrigues; to the vast and savage eastern lands; all the way to the frozen north, where an 800-foot wall of ice protects the kingdom from the dark forces that lie beyond. Kings and queens, knights and renegades, liars, lords and honest men...all will play the 'Game of Thrones.'
A new original series based on George R.R. Martin's best-selling 'A Song of Ice and Fire' series. Winter is coming soon to HBO.