Rumor: 'Star Wars: Knights Of The Old Republic' Also Being Considered By Lucasfilm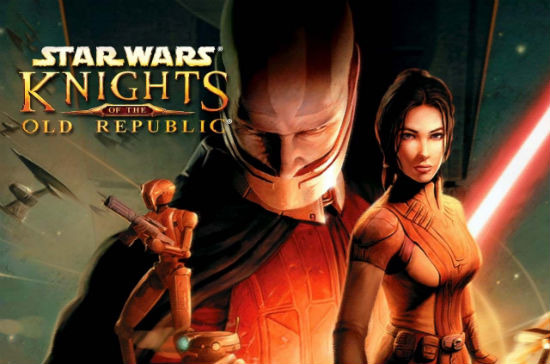 UPDATE: Drew Karpyshyn has responded to this rumor. Read his response below.
And you thought we were going to get through a week without a juicy Star Wars rumor? Think again. Ain't It Cool News is reporting one of the many (many) ideas currently floating around Lucasfilm (such as the Han Solo, Boba Fett and Yoda movies) is a movie version of Star Wars: Knights of the Old Republic. Yes, the popular role playing video game set 4,000 years before the rise of the Galactic Empire. The primary writer on the series, Drew Karpyshyn, transitioned into screenwriting last year and is reporting his first script is nearly done. Is it Knights of the Old Republic?
According to the Ain't It Cool News rumor, Karpyshyn left Bioware — the main developer of Knights of the Old Republic — last February to pursue screenwriting and since then, hasn't really made much news. (He has, however, written five Star Wars novels proving he has a nice "in" at Lucasfilm.) His personal website says the following:
I don't have any produced or sold screenplays yet. I have one script that's nearly complete, and I will be looking for an agent soon to help me market it to major Hollywood studios.
That statement has no date on it so it could have been updated yesterday or six months ago. Besides the rumblings reported to AICN, there's no actual evidence Karpyshyn is writing a Knights of the Old Republic screenplay. It's very possible, probable even, that his screenplay is something different. But we know he has contacts at Lucas film and when the merge happened, who better to call than he to talk Knights of the Old Republic? Or maybe none of this is true at all. Karpyshyn also wrote Mass Effect, which is being developed by Hollywood, and his name never came up there.
The only Star Wars title that's 100% happening is Episode VII. Lawrence Kasdan and Simon Kinberg are also, 100%, working on spin-offs, but what we don't the subjects. It could be Han Solo, Boba Fett or Yoda. It could be this Knights of the Old Republic rumor or something totally different. (Though Kasdan did say he wasn't looking at the Expanded Universe for inspiration and Episode VII wouldn't use that material either.) At this point, almost anything that's whispered with the word "Star Wars" gets people talking.
But, just maybe, Lucasfilm will embrace one of their most successful and popular extended universe franchises and turn it into a movie. And maybe that movie will be written by the man behind the game.
UPDATE: Drew Karpyshyn addressed this rumor on Twitter, saying he hasn't heard anything but would be open to it.
@AgentJaspor @headgeek666 this would be awesome, but I haven't heard anything about a #KOTOR movie. But I'm not at #bioware anymore so...

— Drew Karpyshyn (@DrewKarpyshyn) February 23, 2013