First Look: Robert De Niro And Sylvester Stallone In 'Grudge Match'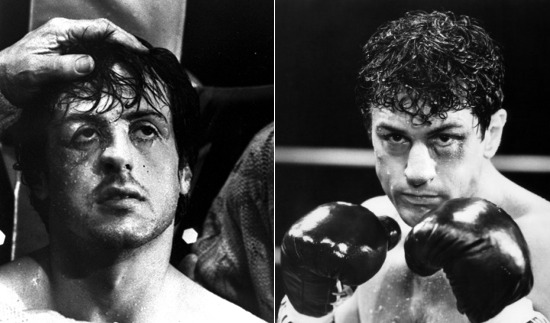 Two silver-screen boxing icons are currently filming a boxing comedy for Warner Bros. and your first view of them comes via a basketball player. Robert De Niro and Sylvester Stallone star in Grudge Match, director Peter Segal's comedy comedy about two over-the-hill boxers who return to the ring for one last match. We haven't seen what either actor will look like in the film, until now. Check out the image below.
Thanks to @W_Whitehurst on Twitter for the heads up.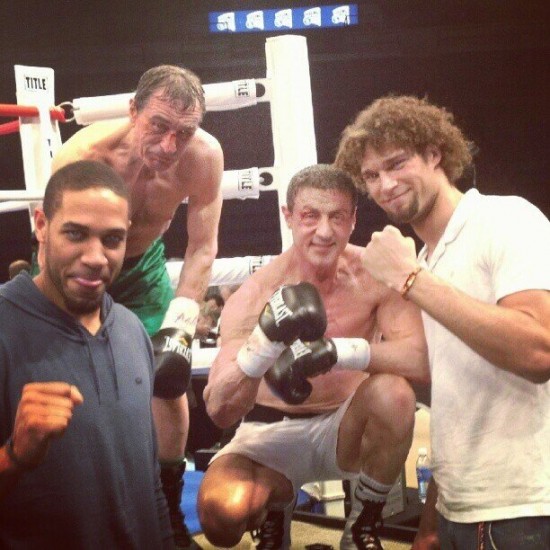 I'm not sure who the gentleman on the left is, but we know the two in the middle, and the one on the right is NBA player Robin Lopez of the New Orleans Hornets. It seems like the photo originated from him. And it seems like both De Niro and Stallone are in pretty great shape.
Tim Kelleher wrote the original the script, but several other writers have since had a hand at it, with Entourage creator Doug Ellin behind the latest draft. The story follows two 60-something boxing rivals, Billy "The Kid" McGuigan and Henry "Razor" Sharp, who get back into the ring for a rematch decades after their last title fight. The film will be De Niro and Stallone's first together since 1997?s Cop Land.
Kevin Hart co-stars as a fight promoter.
How do you think De Niro and Stallone look?