'Hunger Games: Catching Fire' Victory Tour Posters Revealed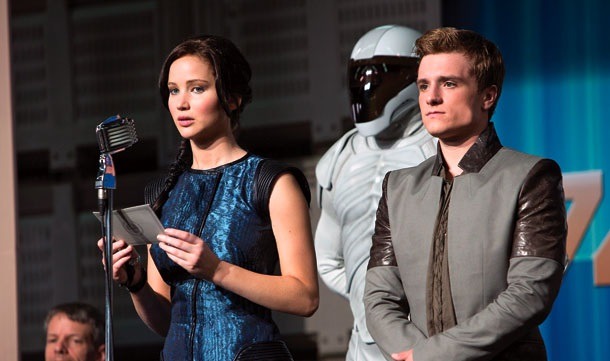 Just because Katniss (Jennifer Lawrence) and Peeta (Josh Hutcherson) survived the 74th Hunger Games doesn't mean they're living happily ever after. The Hunger Games: Catching Fire will reveal that they've left the frying pan only to jump into the, um, fire, as they're forced to travel around Panem as smiling mascots for the Games.
Lionsgate has just unveiled two new posters for the pair's Victory Tour, showing the pair in heroic poses. Unfortunately for them and the Captiol, though, it's clear they don't take to their new position easily. Hit the jump to check them out.
The most absurd part of these posters might be the way Peeta is made to look ever so slightly taller than Katniss in high heels. As anyone who's seen pics of the actors standing side-by-side can attest, Lawrence is a good couple of inches taller than Hutcherson in real life, and practically towers over him when she's in heels.
Aside from that, though, these are pretty great posters — sleek, striking, and different enough from the other Hunger Games marketing materials to be attention-grabbing. I also love Lionsgate's strategy of treating us, the viewers, like the citizens of Panem watching at home. The strategy comes with some disturbing implications, since most of the Games audience is either infuriatingly oblivious or desperately impoverished, but it's a neat way of working in the film's themes.
The Hunger Games: Catching Fire opens November 22.
THE HUNGER GAMES: CATCHING FIRE begins as Katniss Everdeen has returned home safe after winning the 74th Annual Hunger Games along with fellow tribute Peeta Mellark. Winning means that they must turn around and leave their family and close friends, embarking on a "Victor's Tour" of the districts. Along the way Katniss senses that a rebellion is simmering, but the Capitol is still very much in control as President Snow prepares the 75th Annual Hunger Games (The Quarter Quell) – a competition that could change Panem forever.