Fourth 'Iron Man 3' Character Poster Features Ben Kingsley As The Mandarin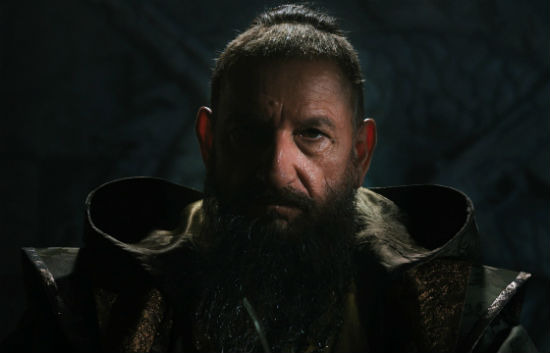 Yet another Iron Man 3 character poster has been revealed and it's the worst one yet. But only in terms of mental stability. Sir Ben Kingsley graces the latest Iron Man 3 poster as the villainous, criminal mastermind The Mandarin. He's the major bad guy in the film, co-written and directed by Shane Black. Not only can you check out the new poster below, but the original art as well. Iron Man 3 opens May 3. 
Thanks to Empire for the poster (as well as the more revealing, uncropped art)
Here are links to the previous character posters: Robert Downey Jr., Don Cheadle and Guy Pearce.
For fans, this Mandarin poster has to be the most revealing of the bunch. It's pretty obvious this is not the Mandarin of the comic books. The sunglasses, the Captain America helmet, the attitude. This doesn't look like a mystical Mandarin. The Mandarin of Iron Man 3 is a terrorist with a nose for culture. For symbolism.  How he'll interact with Guy Pearce and cause havoc for Tony Stark is going to be the crux of Iron Man 3.
Marvel's "Iron Man 3? pits brash-but-brilliant industrialist Tony Stark/Iron Man against an enemy whose reach knows no bounds. When Stark finds his personal world destroyed at his enemy's hands, he embarks on a harrowing quest to find those responsible. This journey, at every turn, will test his mettle. With his back against the wall, Stark is left to survive by his own devices, relying on his ingenuity and instincts to protect those closest to him. As he fights his way back, Stark discovers the answer to the question that has secretly haunted him: does the man make the suit or does the suit make the man?