VOTD: 50 Movie Spoilers Of 2012 (Oscar Edition!)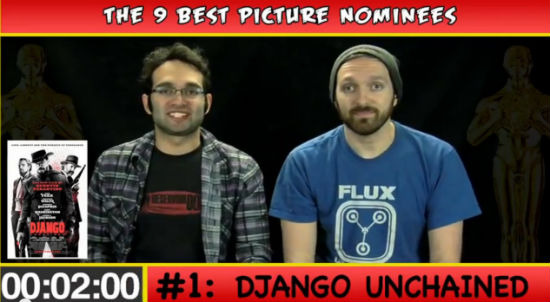 There are two times in the year when people typically recap the previous year's movies: At the beginning of the new calendar, and right around the Oscars. The former makes logical sense but the latter works too. It is, after all, the official end of the year in film. When Best Picture, Actor, Actress, Director and more are crowned at the Academy Awards, it's time to move on to the next thing.
That's where we find ourselves now, with this year's 85th Annual Academy Awards mere days away.
The Fine Brothers, notorious spoilers of movies through YouTube videos, have just released their Oscar edition spoiling 50 of the biggest movies in 2012. That might sound boring but these guys do it in one take and under five minutes. It's an impressive feat of writing, speech and acting. Check it out below but, of course, beware of spoilers.
Here's the list of movies spoiled in the video. If you haven't seen one of these, and want to, you should probably be careful or just be aware of the order.
Django Unchained, Beasts of the Southern Wild, Life of Pi, Silver Linings Playbook, Les Miserables, Amour, Argo, Zero Dark Thirty, Lincoln, Abraham Lincoln: Vampire Hunter, The Avengers, The Dark Knight Rises, The Amazing Spiderman, Total Recall, The Hunger Games, Moonrise Kingdom, The Bourne Legacy, Skyfall, Looper, Madagascar 3, Ice Age: Continental Drift, Hotel Transylvania, The Lorax, Rise of the Guardians, Brave, Wreck It Ralph, The Dictator, Ted, The Twilight Saga: Breaking Dawn Part 2, Perks of Being a Wallflower, The Hobbit, Men in Black 3, Journey 2: The Mysterious Island, Taken 2, The Expendables 2, Snow White and the Huntsman, Promotheus, Safe House, Wrath of the Titans, The Vow, Magic Mike, Flight, The Campaign, John Carter, Cloud Atlas, Chronicle, This is 40, The Master, 21 Jump Street and Tyler Perry's: Madea's Witness Protection
And thanks again to the Fine Brothers.