'The Reluctant Fundamentalist' Trailer: Mira Nair Explores Post-9/11 Tensions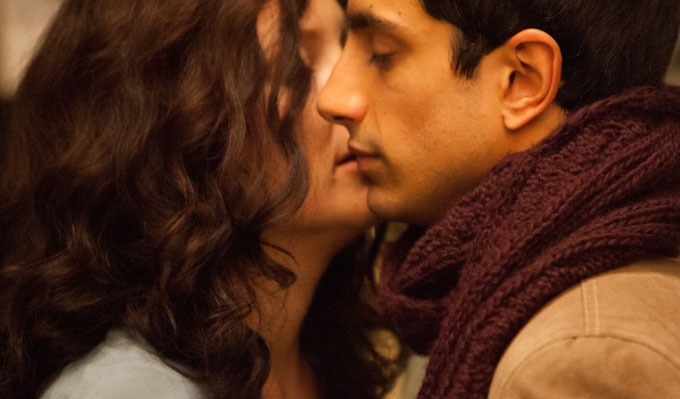 The tensions that sprung up between America and the Middle East in the wake of 9/11 had wide-reaching political and economic ramifications, of course, but Mira Nair's The Reluctant Fundamentalist takes a more intimate approach to the topic.
Riz Ahmed (Four Lions) stars as Changez, a Pakistani man living the American dream in New York City with a plum Wall Street gig and a gorgeous girlfriend (Kate Hudson). But when 9/11 hits, he suddenly finds himself alienated in his adopted country. Liev Schreiber and Kiefer Sutherland also star. Watch the trailer after the jump.
Looks good, if a bit blunt — I get the feeling that this might be one of those movies where each use of symbolism is italicized, bolded, underlined, and highlighted for good measure. The Reluctant Fundamentalist debuted at Venice last year and received mixed reviews. Ahmed's performance was singled out by several critics as a highlight, but overall this doesn't quite sound like the return to form we wanted for Nair after Amelia.
IFC Films has The Reluctant Fundamentalist scheduled for theatrical release on April 26.
We begin in 2011 in Lahore. At an outdoor café a Pakistani man named Changez (Riz Ahmed) tells Bobby (Liev Schreiber), an American journalist, about his experiences in the United States. Roll back ten years, and we find a younger Changez fresh from Princeton, seeking fortune and glory on Wall Street. The American Dream seems well within his grasp, complete with a smart and gorgeous artist girlfriend, Erica (Kate Hudson). But when the Twin Towers are attacked, a cultural divide slowly begins to crack open between Changez and Erica. Changez's dream soon begins to slip into nightmare: profiled, wrongfully arrested, strip-searched and interrogated, he is transformed from a well-educated, upwardly mobile businessman to a scapegoat and perceived enemy. With time, he begins to hear the call of his own homeland. Taking us through the culturally rich and beguiling worlds of New York, Lahore and Istanbul, The Reluctant Fundamentalist is a story about conflicting ideologies where perception and suspicion have the power to determine life or death.