Meet The Cast Of 'Monsters University' With Character Posters And ID Cards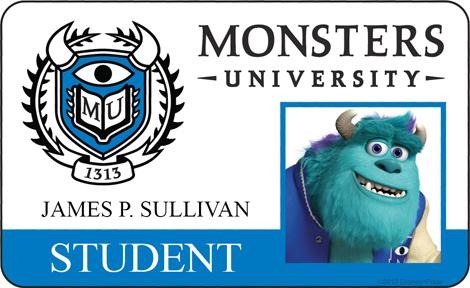 When Mike and Sulley head to Monsters University on June 21, they're going to have a whole new collection of wild-looking friends. The film, a prequel to Monsters Inc., finds the main characters joining a fraternity to try and get into the prestigious scare program. Like any frat, this one is comprised of people of all shapes, sizes and colors, a statement that's even more pertinent when talking about monsters.
After the jump, check out a bunch of character posters for Mike, Sulley and their new monster friends. There are also ID cards (like the one above) for their characters, as well as some of the MU faculty members.
Thanks to Total Film (via Pixar Times) for the heads up.
Mike Wazowski and James P. Sullivan are an inseparable pair, but that wasn't always the case. From the moment these two mismatched monsters met they couldn't stand each other. "Monsters University" unlocks the door to how Mike and Sulley overcame their differences and became the best of friends. Screaming with laughter and fun, "Monsters University" is directed by Dan Scanlon ("Cars," "Mater and the Ghostlight," "Tracy") and produced by Kori Rae ("Up," "The Incredibles," "Monsters, Inc.").
Monsters University, featuring the voices of Billy Crystal, John Goodman, Steve Buscemi, Dave Foley, Julia Sweeney and Joel Murray, opens June 21.