Sequel Bits: 'Toy Story 4', 'Monsters University', 'Mama 2', 'Kick-Ass 2', 'The Last Exorcism Part II', 'Fast & Furious 6', 'Star Trek Into Darkness'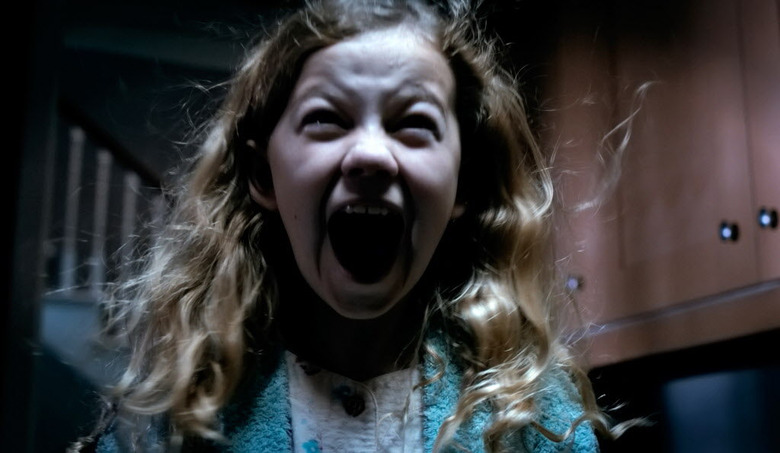 Don't believe everything you hear on the Internet — that Toy Story 4 rumor, for one, is simply not true. Also after the jump:
Will Monsters University feature a cameo from Boo?
Universal wants to turn Mama into a franchise
Kick-Ass 2 seems to be doing reshoots in Toronto
The Last Exorcism Part II unveils a new poster
Paul Walker gets his own Fast & Furious 6 poster
J.J. Abrams discusses Klingons and Carol Marcus
Watch a new Star Trek Into Darkness featurette
That doesn't rule out the possibility of the studio making another follow-up at some point, of course, but now is not that time. The studio has so many other projects on their plate already that a new Toy Story by 2015 simply isn't feasible. [HitFix]
We know roughly how Monsters University and Monsters Inc. are linked — the new prequel explains how the old movie's Sulley and Mike came to be pals — but that seems to be about as detailed as Pixar is willing to get right now.
Asked whether there was any overlap between the two films, director Dan Scanlon responded, "Well I don't want to say that, I think you should wait and see. I will say that it's teeing up to the original film nicely."
One possibility is that Mary Gibbs, who voiced Boo, could return in some form. But Scanlon wouldn't confirm that, either, saying only "There's lots of fun cameos here and there, so... yeah, keep an eye out." Monsters University debuts June 21. [Stitch Kingdom]
Mama proved a solid hit, grossing almost six times its $15 million production budget. So of course Universal is looking into the possibility of a sequel. "We think there's potential for a Mama franchise," studio exec David Kosse said.
However, director Andres Muschietti seems to feel differently. In an earlier interview, he stated his lack of interest in a sequel.
We sort of wore out the subject matter...I never thought this could continue. Sequels are always tricky. I know how studios think but I don't see 'Mama' as something you can exploit because you're screwing with the original. I'm really hoping to jump into some other movies right now.
My feeling is that Universal will move forward without Muschietti if they need to. No concrete decisions have been made, though, and Kosse says talks about another Mama are still in the early stages. [Screen Daily]
Jeff Wadlow and his team are putting the final touches on Kick-Ass 2. A tipster indicated that the comic book sequel has gone in for reshoots in Toronto, after wrapping principal photography in Toronto and London last year. The film premieres June 28. [On Location Vacations]
Most of the posters released for The Last Exorcism Part II have been straight out of the standard horror movie marketing playbook, so it's refreshing to see artist Rich Knepprath taking a more unusual approach in the latest one.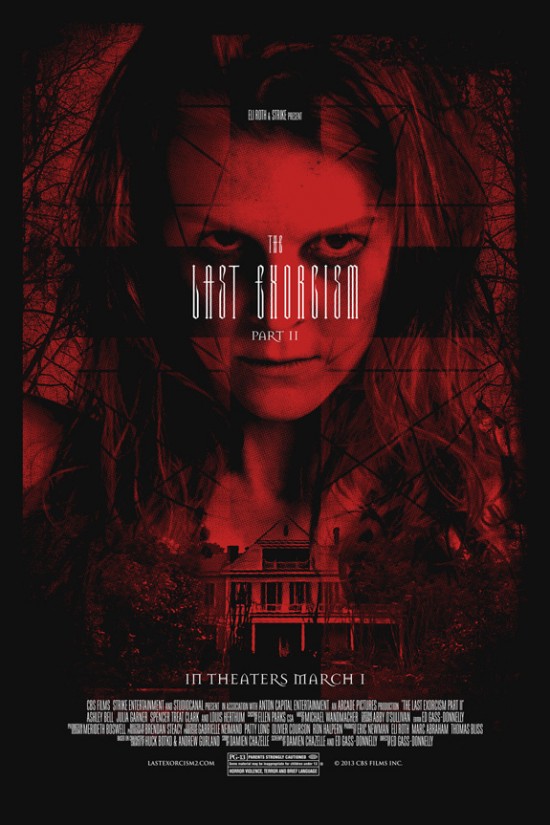 The Last Exorcism Part II opens March 1. [MTV]Vin Diesel's Dominic Toretto got the first Fast & Furious 6 teaser poster, and now the second features his BFF Brian O'Conner (Paul Walker) staring off into the distance.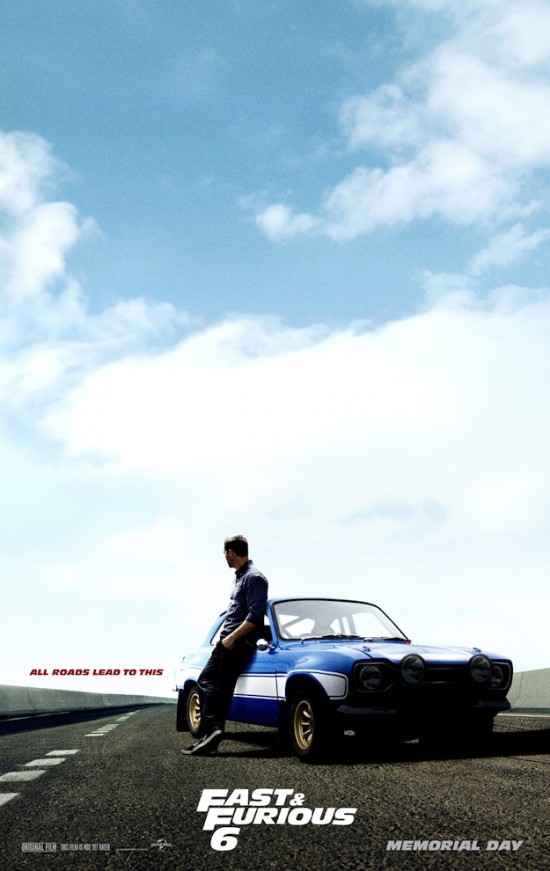 Fast & Furious 6 hits theaters May 24.J.J. Abrams being who he is, he's still not revealing too much about Star Trek Into Darkness. But he did talk a bit about two of the sequel's new elements in a recent interview. While Klingons failed to make the cut in the 2009 film, he hinted that they'd appear prominently in this one. "Their role in this is definitely that of adversary, and you'll see how that'll play out," he teased.
The sequel also introduces (or re-introduces, for longtime Trek fans) the character of Carol Marcus, played by Alice Eve. While we'll have to wait and see just how she fits in, Abrams stresses that she has a key role that goes above and beyond that of a mere love interest for Kirk (Chris Pine).
[Kirk] meets her fairly early on and again she plays a science officer, she's someone who is a part of the adventure. I think Chris is right, because it's very much an action adventure movie and once that gets going it's a very difficult thing to park the story. So it's very difficult to do a romantic interlude. Her role is important, she wouldn't be in the movie otherwise.
Star Trek Into Darkness lands May 17. [MTV]
And while we're on the subject of Star Trek Into Darkness, we also have a new featurette that teases some of the heart-pounding action in store.
Abrams has been enthusiastic about the film's use of 3D, but it's tough to think of a better sell than the one Zoe Saldana offers: "This is the kind of film that 3D is made for." [Screen Rant]