'6 Souls' Trailer: Julianne Moore And Jonathan Rhys Meyers' Long-Shelved Horror Finally Gets A U.S. Release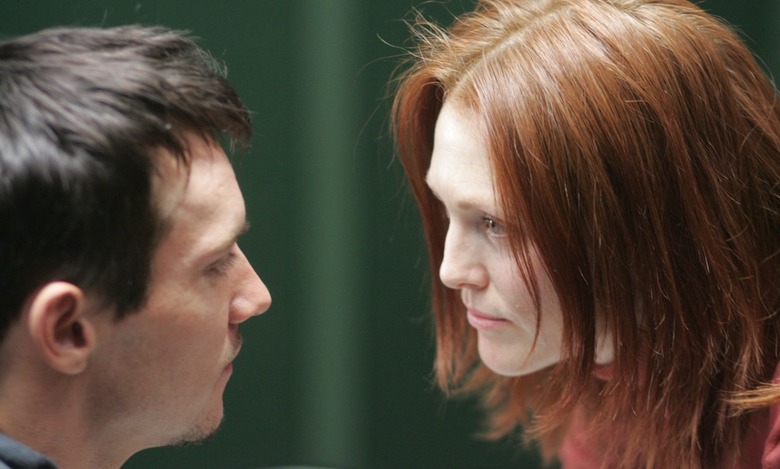 It's not always a bad sign when a film gets shelved. Sometimes a perfectly good film gets tangled in legal woes, or becomes the casualty of a studio's financial setback. Other times, though, the delay is exactly the vote of "no confidence" it appears to be.
I don't know precisely why The Weinstein Co. decided to delay Måns Mårlind and Björn Stein's horror thriller 6 Souls indefinitely in the U.S., but the new trailer suggests it may be in the latter category. Julianne Moore stars as a psychiatrist whose patient Adam (Jonathan Rhys Meyers) suffers from multiple personality disorder. But his case is unusual in that his extra personalities are people who actually existed — murder victims, to be exact. Watch the video after the jump.
[via The Playlist]
This certainly isn't the worst horror trailer I've ever seen, but it's mediocre enough that I'm bummed to see Moore and Meyers wasting their time on this. 6 Souls made its initial debut all the way back in 2009 at the European Film Market, and hit Australia, Europe, and Asia (under the title Shelter) over 2010 and 2011. Why the Weinsteins have chosen this moment to dust it off in the U.S. is beyond me, but if it piques your curiosity you can catch it on VOD March 1 and theaters April 5.
After the death of her husband, Dr. Cara Harding's (Julianne Moore) faith in God has been shaken, but not her belief in science. In an attempt to open her up to accepting unexplainable psychiatric theories, her father introduces her to Adam, a patient with multiple personalities who takes on some of the physical characteristics of his other personalities. But, Cara quickly discovers that Adam's other personalities are murder victims and the more she finds out about him and his past, the closer she and her loved ones are to becoming murder victims themselves.