TV Bits: 'Luck', 'Arrested Development', 'House Of Cards', 'Zombieland', 'Bates Motel', Alfonso Cuaron, James Gandolfini, Chris Hardwick, Judd Apatow, And More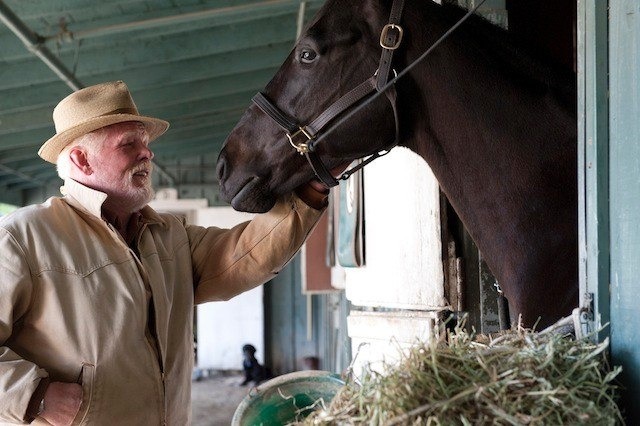 The pilot casting blitz isn't over yet. Also after the jump:
Kristen Wiig's Arrested Development role revealed
Yeah, NBC is probably going to cancel Up All Night
HBO decides not to go with James Gandolfini's pilot
HBO's cancelled drama Luck finds new life as a blog
Survey says House of Cards is a success for Netflix
Nerdist's Celebrity Bowling could head to AMC
Judd Apatow's Simpsons script is getting a rewrite
Watch the full-length trailer for A&E's Bates Motel
Matthew Goode and Kyle Chandler have boarded the Ridley Scott's Showtime drama The Vatican.
Sarah Michelle Gellar will be Robin Williams' daughter on David E. Kelley's Crazy Ones at CBS.
Heisenberg hunter Dean Norris nabs a key role in CBS' Stephen King adaptation Under the Dome.
Michael Peña is the obsessive yet "oddly charismatic" lead of Ruben Fleischer's Fox pilot The List.
Argo's fake director Tate Donovan joins Toni Collette on NBC and Jerry Bruckheimer's Hostages.
... while Minnie Driver picks up the Toni Collette part in Jason Katims' About a Boy pilot for NBC.
Kirk Ward completes Zombieland's central quartet, signing on to play Tallahassee on the Amazon show.
Ari Graynor is the new Cameron Diaz in CBS' Bad Teacher, about a divorcee teacher seeking a man.
Number Six, Texas Ranger? Tricia Helfer has booked the lead in ABC's drama pilot Killer Women.
Peyton List, best known as Roger Sterling's ex, will be a superhero in The CW's The Tomorrow People.
The B— of Apt. 23, Krysten Ritter, has a new job on NBC's Will Ferrell-produced pilot Assistance.
Jason Isaacs is bouncing back from the death of Awake with the title role in CBS' Surgeon General.
Jake McLaughlin (Savages) will play a convict in J.J. Abrams and Alfonso Cuaron's Believe.
In other, non-pilot casting news, Kristen Wiig's role on the new season of Arrested Development has been revealed. (Spoilers follow; skip to the next item if you don't want to know.) While the producers have been keeping plot details under lock and key, it's now being reported that Wiig will play the younger version of Bluth matriarch Lucille (Jessica Walter). Season 4 debuts on Netflix this spring. [Vulture]
The odds of survival for Up All Night seem to be getting slimmer by the day, as NBC's initial order for five multi-cam episodes has now been scrapped completely. On the bright side, however, the likely cancellation frees up Will Arnett and Maya Rudolph for new roles, and both are fielding plenty of offers.
Arnett has entered talks for Greg Garcia's new CBS comedy pilot about a recently divorced man, while Rudolph is poised to star in NBC's untitled comedy by Better Off Ted creator Victor Fresco. Neither of those could be worse than whatever zombified version of Up All Night NBC could possibly pull off at this point, right? [Deadline]
Sopranos star James Gandolfini won't be returning to HBO after all. The premium cabler has decided to pass on Criminal Justice, which featured him in a starring role. The New York-set crime drama was a loose adaptation of Peter Moffat's 2008 BBC series of the same title. [Deadline]
HBO's cancelled horse racing drama Luck has found a new life, of sorts, on the Internet. Writer John Perrotta has begun a weekly blog on America's Best Racing, in which he details scenes involving the characters of Luck. The first installment went up last week, and you can read it here. [THR]
Netflix chief content officer Ted Sarandos may not be eager to share numbers on House of Cards, but one outside survey indicates that the series really is a boon for the service. Almost 80% of subscribers who saw the series called it "good" or "exceptional," while 86% of those surveyed said that the show made them less likely to cancel Netflix. [Deadline]
The Talking Dead host Chris Hardwick is continuing his relationship with AMC. His company Nerdist Industries has just signed a multi-platform deal with AMC. The new agreement will bring bonus Talking Dead footage to Nerdist's YouTube channel, and puts into development a TV version of Nerdist's web series All Star Celebrity Bowling. [Deadline]Judd Apatow is a comedy king these days, but that doesn't mean his 22-year-old Simpsons script is perfect. Series producer Mike Reiss confirmed that "as great as Judd is," his spec will be tinkered with. Once it's "retooled and rewritten, as all our scripts are, it'll be 30 percent his script, 70 percent everyone else's. That's how The Simpsons works," he explained. "Everybody gets a rewrite. It's not their fault. That's just the machine." [Vulture]
A&E's Bates Motel has released a new trailer. The series follows the notorious Norman Bates (Freddie Highmore) in his teen years, chronicling the relationships and events that pushed him to the dark side.
There's a new clip as well:
Bates Motel premieres March 18. [Coming Soon]