Star Wars Bits: 'Episode VII' Will Star The Skywalker Kids, Plus Boba Fett, Lego X-Wing, Olivia Munn And Slave Leia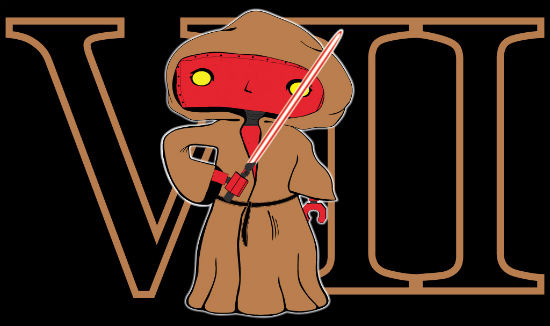 Another day, another edition of Star Wars Bits. This week's biggest news, so far, is the rumor that not only is Harrison Ford returning for Star Wars Episode VII, but that Carrie Fisher and Mark Hamill will too. Plus some combination of their kids (hopefully not Mark and Carrie's) may be the protagonists of the film. Of course, this is about as good an educated guess as one could make considering all the facts, but now it comes from an actual source.
After the jump, read more about that as well as the following:
The original Boba Fett, Jeremy Bulloch, is excited and willing to return in a Boba Fett spin-off or Episode VII.
Check out footage from a cancelled Star Wars fighting video game.
Director Bryan Singer thinks Nicholas Hoult would be a great young Han Solo.
A new web series called Death Star PR has just launched.
Olivia Munn reveals what she'd do to be in a Star Wars movie.
Lego will soon release their most realistic looking X-Wing Fighter to date.
A new photo of Carrie Fisher as Leia in the Return of the Jedi "slave" costume has surfaced.
Last week, a well-sourced rumor circulated that Harrison Ford was definitely returning for Star Wars Episode VII to reprise his role as Han Solo. That pretty much went along with every other rumor we've heard about the J.J. Abrams directed film but, of course, there's still no official work on anything from Disney or Lucasfilm.
In response to the rumor, respected journalist Roger Friedman of Showbiz 411, wrote the following:
I was told some time ago that Ford, Carrie Fisher, and Mark Hamill would be reprising their roles in Episode 7. Obviously this new movie won't pick up where "Return of the Jedi" ended. It's some time in the future. Han, Princess Leia (with a presumably better hairstyle), and Luke Skywalker will be a lot older. Their children will be the new main characters. RsD2 and C-3PO will be unchanged, I would guess. since they are not human. But suffice to say, the three main actors are definitely coming back.
As I stated above, considering we know George Lucas spoke to Hamill and Fisher about the series, and that Ford has been contacted, plus the events are taking place after Return of the Jedi, the idea of the film being about their kids is easy to believe in. So while this is a rumor, it's also an educated guess. The actual interesting bit is that this journalist was told "some time ago" that was the direction the story was going in. Whether or not the addition of Abrams, screenwriter Michael Ardnt or others has changed that, remains to be seen.
Polygon recently posted about a short Vimeo clip uploaded three years ago that appears to be footage from an in development Star Wars fighting game. It was being created in 2005 by now defunct company  Studio Gigante. Check it out below and read more details at Polygon.
The joke these days is it's probably more interesting to report on who doesn't want to be in Star Wars Episode VII than who does. But when the interested party in question is a cast member of the original trilogy, it holds a bit more weight. Yahoo UK caught up with Jeremy Bulloch, the actor who played Boba Fett in The Empire Strikes Back and Return of the Jedi, and – not surprisingly – he was extremely enthusiastic about coming back either for Episode VII or a Boba Fett spin-off. Read more at the link.
Speaking to Moviefone, Jack the Giant Slayer director Bryan Singer said he felt his co-star, Nicholas Hoult, would be a great young Han Solo if a spin-off movie comes to life.
I literally would not be surprised if something like that happened. I almost said something to Nick today about it, like, "You know, I wouldn't be surprised if you find yourself in one of those." But I have no idea, even though I'm working with Simon Kinberg every day and he is involved with that franchise, I have no information about that. It's just my own intuition.
Based on a Twitter account of the same name, a Star Wars-based comedy series, Death Star PR, has just begun. Thanks to Topless Robot for the heads up, here's Episode I.
Doing a Twitter interview for Vanity Fair, geek-chick and actress Olivia Munn was asked what her dream role would be in the new Star Wars movie:
I'd do anything on Star Wars, even craft service.
Lego has long been making great, great Star Wars products but their latest one, the Red Five X-Wing Starfighter, just might be the best yet.Geekrest (via Comic Book Movie) somehow found this behind the scenes shot of Carrie Fisher in Return of the Jedi – one that most people probably haven't seen before.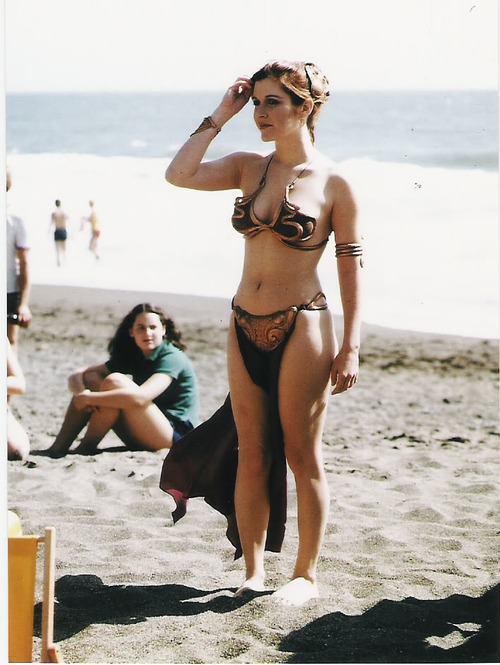 Finally, a huge thanks to  Zort.co.uk for the awesome Bad Robot Jedi image at the top.