Behind The Scenes Videos For 'To The Wonder' Lift The Veil On Terrence Malick's Process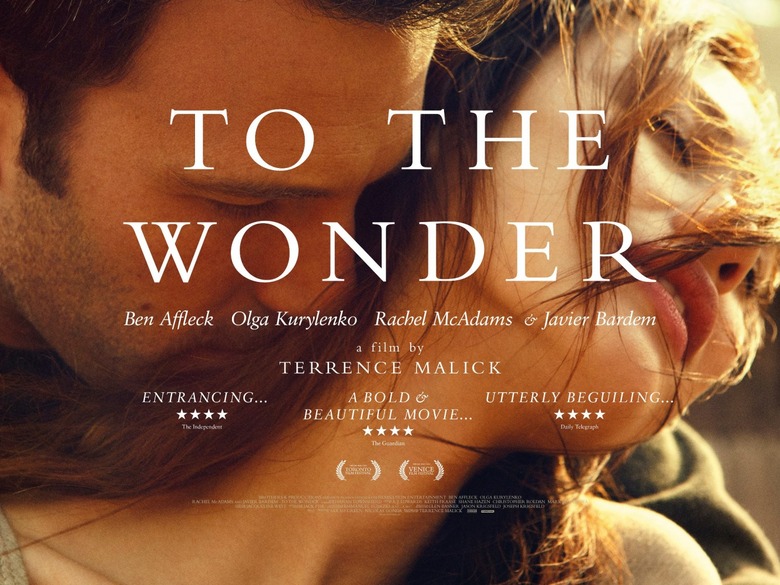 Terrence Malick has traditionally been one of the most reclusive American filmmakers. He does few interviews, and makes his films shrouded in as much secrecy as possible. But it's very difficult to make a movie in a vacuum of late, and so we see occasional behind the scenes glimpses.
For To the Wonder, his most recent film, we've now got behind the scenes footage released through official channels ahead of the film's opening. Here the actors, (Ben Affleck, Olga Kurylenko, Rachel McAdams, and Javier Bardem) discuss how there was really no script, and that their characters were shaped by Malick describing them, and that there was essentially a syllabus that included novels and philosophy.
There's a lot here about shooting on location and the way the director likes to use light. One thing is noticeably absent in this footage, however: Terrence Malick. If you're hoping for interviews with the still-reclusive director, forget about it. Still, this long featurette is worth a look.
Finally, here's the latest French TV spot, which features a bit of new footage:
To the Wonder opens in the US on April 12. (But will hit the UK tomorrow, February 22.)
TO THE WONDER tells the story of Marina (Kurylenko) and Neil (Affleck), who meet in France and move to Oklahoma to start a life together, where problems soon arise. While Marina makes the acquaintance of a priest and fellow exile (Bardem), who is struggling with his vocation, Neil renews a relationship with a childhood sweetheart, Jane (McAdams). Bold and lyrical, the film is a moving, gorgeously shot exploration of love in its many forms. Written and directed by Terrence Malick.