'Hannibal' TV Trailer: Break Out The Chianti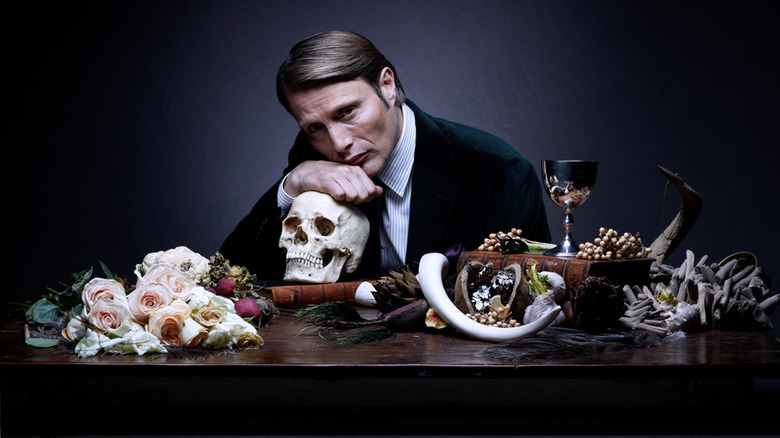 Bryan Fuller's Munsters reboot Mockingbird Lane didn't quite work out as planned, but luckily for his fans NBC has another macabre project from him ready to go.
Hannibal follows Will Graham (Hugh Dancy) and Hannibal Lecter (Mads Mikkelsen) in their early days — back before the FBI profiler knew that the famed psychiatrist was actually a cannibalistic killer. Watch the first trailer after the jump.
Only on a show about cannibalism could the image of a man putting food in the freezer be so stomach-turning.
Mikkelsen has the splashier role here, and anyone who saw him weeping blood in Casino Royale knows he's more than up to the task. But despite the title, he and Dancy seem to get equal billing here, so the question is whether Dancy will be strong enough to keep that equation from getting imbalanced. It's too soon to tell, but this teaser shows just enough to keep me intrigued.
Between this and A&E's Bates Motel, horror prequels seem to be having a mini-moment right now. But they both look genuinely good, so I'm not about to complain. Hannibal's first episode even gets some help in the form of director David Slade, whose credits include Hard Candy, 30 Days of Night, and the riveting first episode for NBC's Awake.
Also starring Caroline Dhavernas and Laurence Fishburne, Hannibal kicks off its 13-episode first season on April 4.
One of the most fascinating literary characters comes to life on television for the first time: psychiatrist-turned-serial killer, Dr. Hannibal Lecter. In this new drama from Bryan Fuller ("Pushing Daisies," "Heroes"), based on the characters from Thomas Harris' classic novels, we see where this incredible story began.
Will Graham is a gifted criminal profiler who is on the hunt for a serial killer with the FBI. Graham's unique way of thinking gives him the astonishing ability to empathize with anyone – even psychopaths. He seems to know what makes them tick. But when the mind of the twisted killer he's pursuing is too complicated for even Will to comprehend, he enlists the help of Dr. Lecter, one of the premier psychiatric minds in the country. Armed with the uncanny expertise of the brilliant doctor, Will and Hannibal (known as a serial killer only to the audience) form a brilliant partnership and it seems there's no villain they can't catch. If Will only knew...
Starring brilliant young actor Hugh Dancy as Will Graham, "Hannibal" will breathe new life into a deadly classic.