Rumor: Harrison Ford Will Return As Han Solo In 'Star Wars Episode VII'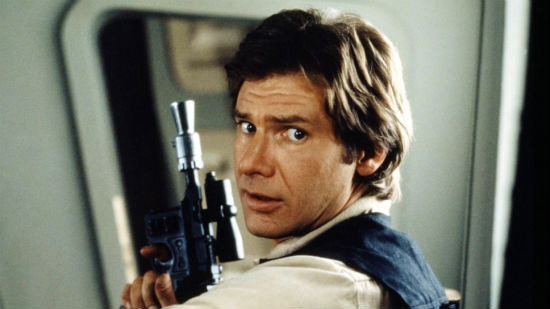 Latino Review, the site known for dropping major scoops about superhero movies, has moved on to Star Wars, and their latest finding is a biggie.
They're reporting that Harrison Ford will return as Han Solo in Star Wars Episode VII. Now, we knew that he was interested in returning and we've heard that LucasFilm is interested in doing something with Solo, but this is the first time we've heard that Ford will, in fact, return. How will he fit in? Is this news legitimate? Discuss below.
Until Disney and LucasFilm release a press release, I understand how people will take this piece of news with a grain of salt. But Latino Review would not report it unless they heard, from a very reliable source (or sources), that Ford, director J.J. Abrams, screenwriter Michael Ardnt and LucasFilm's Kathleen Kennedy had discussed this and agreed on it.
While there isn't a finished script for Episode VII just yet, those four people all have an idea of what's going to happen, what characters are going to appear and what they're going to need to make it happen. Ford's participation is something we assumed but now it sounds like the word is out. And the deal is "done" and  "significant."
It's still early on the West Coast, so Disney hasn't released an official response yet, but we've asked and will update when they're in touch. Head to Latino Review to watch a video of @elmayimbe explaining this scoop and the process.
So now that we've addressed the information itself, let's take it and run. If Han Solo is in Star Wars Episode VII, how big a role do you want him to have? I have a strong feeling that it won't be a large role, but an important one. His appearance would likely serve both as a passing of the torch to a new generation but also to link the original trilogy with this sequel trilogy.
This is big, exciting news don't you think? Discuss below.
UPDATE: We have yet to hear from LucasFilm or Disney but Geoff Boucher of Entertainment Weekly, who broke the original Solo news, said the following:
Harrison Ford deal? My source says not yet. "It will not be for weeks and perhaps months."

— Geoff Boucher (@geoffboucher) February 15, 2013