Star Wars Bits: Ewan McGregor's Obi-Wan Movie Idea; Kevin Smith Talks Over-Saturation; Plus The Kessel Run, Pinball, And More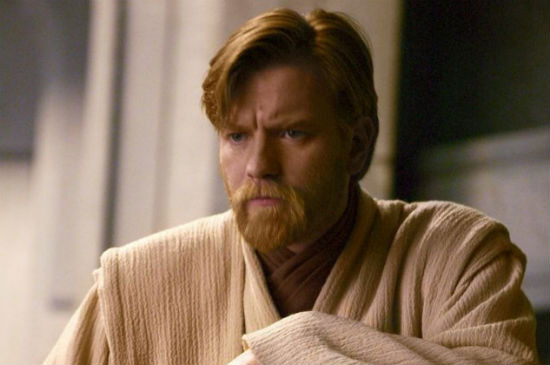 Lots of randomness in this edition of Star Wars Bits. We've got debate, video games, standalone talk, real science, humor and more. After the jump. Read about the following:
Kevin Smith thinks a new Star Wars movie every year is a good thing.
Ewan McGregor has an idea for an Obi-Wan Kenobi stand-alone movie.
Zen Pinball has released an Empire Strikes Back map for PS3 and Vita.
Several Star Wars Expanded Universe authors reveal what they'd like to see in new Star Wars movies.
J.J. Abrams' production designer Scott Chambliss will not work on Star Wars Episode VII.
Exactly what does a 12 parsec Kessell Run mean about Han Solo?
Is George Lucas feeling good now that he's not in control of Star Wars?
One of the biggest debates right now in the Star Wars community is whether or not a Star Wars movie every single year is going to water down the franchise. The Hollywood Reporter spoke to a few famous fans about it, including Kevin Smith. Smith, a noted Star Wars nut who has been referencing the trilogy since Clerks, had some interesting comments on the topic of a Star Wars movie every year:
Now part of the Disney empire, Star Wars will become as ubiquitous as Starbucks. It's now as American as baseball and apple pie and as universal as Coca-Cola. In our current business climate of outsourcing, Star Wars may be America's last remaining dependable export.
He then said this:
You can't call it the commodification of Star Wars because the creator himself first commodified Star Wars a long, long time ago in a decade far, far away with toys and bed sheets and inflatable light sabers. Star Wars has always been big business. It's a roller-coaster ride in a theme park: thrilling, fun and good for repeat business. And as you leave the ride, you're compelled to buy a T-shirt and snow globe memento. Disney paid billions for Star Wars, but with the JJ news and now this subsequent info about the spinoff flicks, they're gonna make double what they paid in the first 10 years alone. After that, the financial Force will be with them. Always.
That should start some interesting debate in the comments below. Read more from Smith at the THR link above.
MTV spoke to Ewan McGregor about the new Star Wars spinoffs and he came up with a film he'd love to be in.
Get More:
Movie Trailers, Movies BlogWired has an awesome, nerdy article explaining that, if Han Solo and the Millennium Falcon really did the Kessel Run in less than 12 parsecs, Solo would be able to travel through time. Very cool.Scott Chambliss, who is the production designer on J.J. Abrams' current film, Star Trek Into Darkness, spoke to TrekWeb and confirmed that he will not be returning for Star Wars Episode VII. He's got another big time Disney sci-fi movie to work on: Tomorrowland.Zen Pinball 2, for PS3 and Vita, just revealed an Empire Strikes Back pinball game. They're doing Boba Fett soon, too. Read more at VG24/7 and watch the video here.Hollywood.com talked to eight noted Star Wars Expanded Universe authors about what they'd want to see in the new Star Wars movies. Head to that link to read what Drew Karpyshyn, Paul S. Kemp, Troy Denning,John Jackson Miller, James Luceno, Michael Reaves, Christie Golden, and Aaron Allston want to see in the movies.
UGO (via Da7e) created this funny video about George Lucas's sad Valentine's Day without his true love: Star Wars.
Finally, artist Dog Hollywood (via Comic Book Movie) created this nice fan poster for Star Wars Episode VII.