'Detour' Trailer: 'Buried' In A Car, With A Little '127 Hours' Sprinkled On Top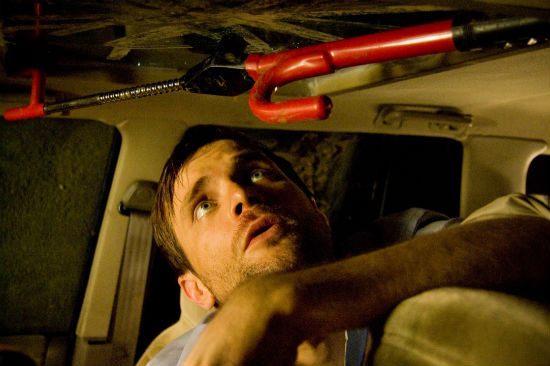 One thing worse than being buried alive has to be being buried alive with plenty of time underground to think about the situation. The claustrophobic dread of knowing there's no escape, coupled with a realization of impending doom is bad enough. Those feelings excruciatingly stretched over what feels like eternity, are pretty much the scariest thing imaginable. Which is exactly what director William Dickerson wants us to feel with the trailer for his feature debut, Detour.
While driving home from a meeting, a man named Jackson is swallowed into the Earth by a massive mudslide. Trapped in his car with no way out, he begins to fight for his life. Neil Hopkins (Lost, Skyline) plays Jackson and Brea Grant (Heroes, Friday Night Lights) plays his wife. Check out the trailer for the film, which hits limited theaters and iTunes March 29, below.
The trailer for Detour is in HD on Apple, or watch the embed below via First Showing.
Looks like Buried, in a car, but with a bit of the narrative of 127 Hours added in. What do you think?
On the road to a high-powered lunch meeting, smooth-talking ad man Jackson Alder is brainstorming his next big pitch when he is blindsided by Mother Nature. Swallowed up by a devastating mudslide, he awakens to darkness. Alone underneath an avalanche of mud, his certainty of rescue gives way to a horrifying reality—no one is coming. With oxygen and time running out, Jackson clings to the unfinished life he left behind. Shedding his suit and surveying the limited tools he has at his disposal, Jackson refuses to go down without a fight. Pushing himself beyond his physical and mental boundaries, he must ask himself the ultimate question: What would you do to survive?