'Guardians Of The Galaxy' Effects Team Explains Plans To Create Alien Heroes Rocket Raccoon And Groot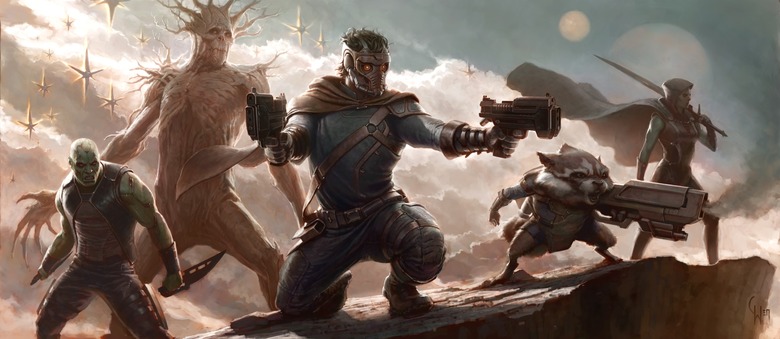 There is a laundry list of huge questions fans have in regards to James Gunn's upcoming Marvel movie, Guardians of the Galaxy. The space-based film goes into production this summer and Chris Pratt was just cast in the lead role. But how are the cosmic heroes of the story  – some of whom are far from human – going to blend in with The Avengers? Who will play the other roles? And how will Gunn and company create the team member who is an animal, and another who is a tree?
In a new interview, two members of the Oscar-nominated team behind The Avengers answered that last question. Rocket Raccoon and Groot will be created with a blend of full computer graphics and motion capture. Read the quote below.
Cinema Blend spoke with Avengers Executive Producer Victoria Alonso and ILM Visual Effects Supervisor Jeff White about The Avengers and, in the end, brought up Guardians of the Galaxy:
Cinema Blend: What makes me fascinated by the project is that you have five members of this team, and one of them is Rocket Raccoon, a talking raccoon, and another one is Groot, who is quite literally a walking tree. You're obviously not putting a person in a costume for those parts. Are those going to be fully CG characters? Are there plans to use motion capture again?
Victoria Alonso: We're going to do a combination. You can't do any motion capture with a raccoon – they won't let you put the suit on [laughs]. But we will do rotomation, probably, for some of the behavior. Rocket will have his own personality, of course, and clearly we can't do mocap on a tree, per say, but we definitely will have performers to emulate what James Gunn will lead to be the behavior and the performance. He's very clear on where he wants to take the characters.
Alonso also confirmed that while Gunn has just arrived in London, production has been going on for some time:
Production has already started! Completely. It started months ago and we have an entire team in London already – we start shooting in June. Our director [James Gunn] travels next week and it's going, baby! It's a fast train to a beautiful place.
Blending CG and mocap is the most obvious choice to create these characters. A film like Rise of the Planet of the Apes proved that humans can act like an animal and make it look realistic, but once you have that movement, additional effects will need to be layered on top to make it look like the Rocket Raccoon people love. As for Groot, the obvious comparison would be The Two Towers, though he'll likely move more fluidly than Treebeard did. And that was full CG.
How do you envision each of these characters? Guardians of the Galaxy will be released in 3D on August 1, 2014.