Page 2: Star Wars, Totoro, Alien, Die Hard, Matrix, Joseph Gordon-Levitt, Back To The Future, Oz, Breaking Bad, Walking Dead, Star Trek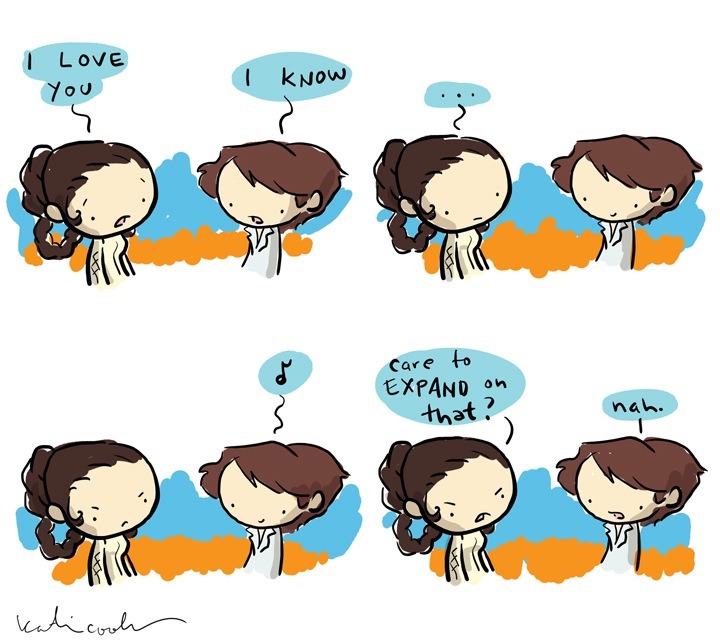 Page 2 is a compilation of stories and news tidbits, which for whatever reason, didn't make the front page of /Film. After the jump we've included 46 different items, fun images, videos, casting tidbits, articles of interest and more. It's like a mystery grab bag of movie web related goodness.
Header Photo: Katie Cook's "I Know" Star Wars comic
Robopocalypse author Daniel Wilson on The Two Stages of a Hollywood Soul-CrushingWhy "WarGames" Still Matters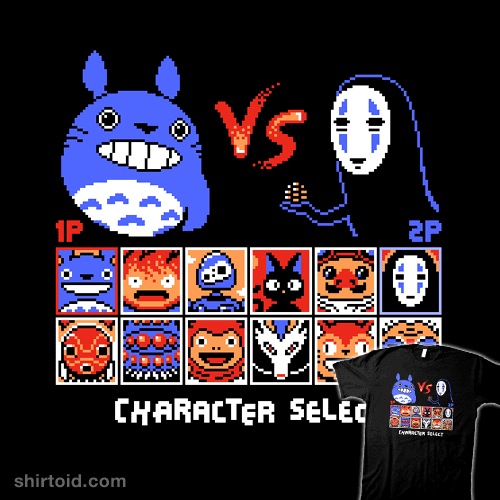 Spirit Fighter t-shirt
Unlike Netflix Subscribers, HBO Viewers Aren't Binge Viewers
Why Netflix Has 'No Motivation' to Release Ratings for 'House of Cards'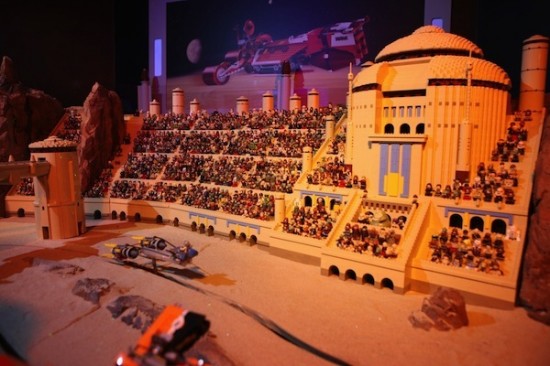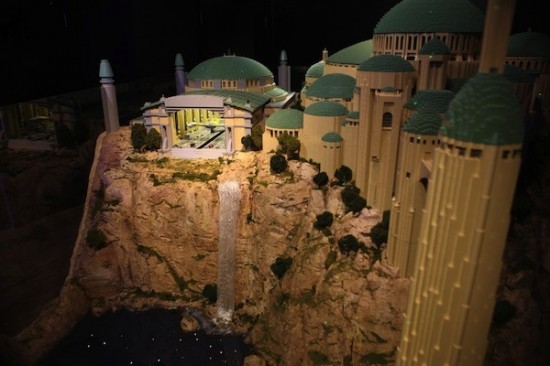 Incredible 250,000 Piece LEGO Star Wars Display
A Good Day to Read 'Die Hard' Criticism
'Ocean's Twelve' Is a Great Sequel About How Hard It Is to Make a Great Sequel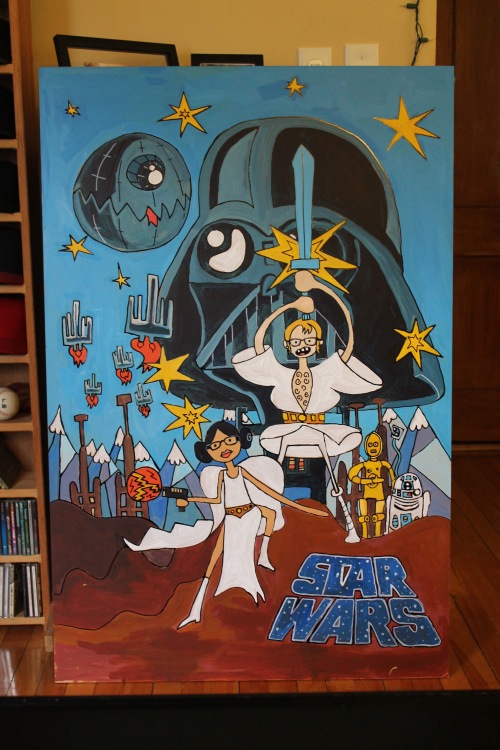 Adventure Time/Star Wars mash-upCharlie Ergen: Dish's Blockbuster Didn't Have "Guts" To Challenge Netflix
Help Fund Cowboys & Engines: A Steampunk FilmJohn Grisham's 'The Racketeer' Picked Up by Fox 2000, New Regency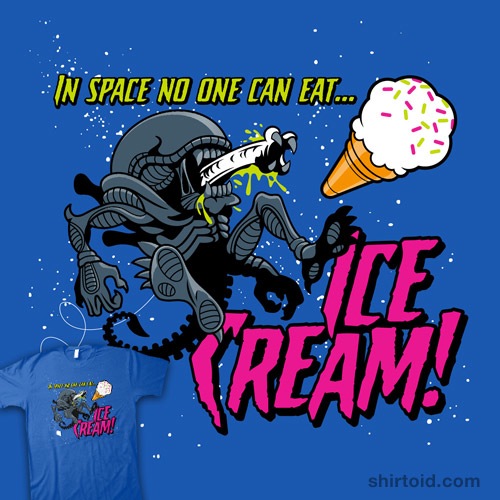 Space Ice Cream t-shirt
Let The Right One In print by Cuyler Smith
Black List Scribe Eric Kirsten to Pen Ineffable's 'Potential'
Rejected Pitches: Die Hard
DreamWorks' 'Shadow and Bone' Lands Writer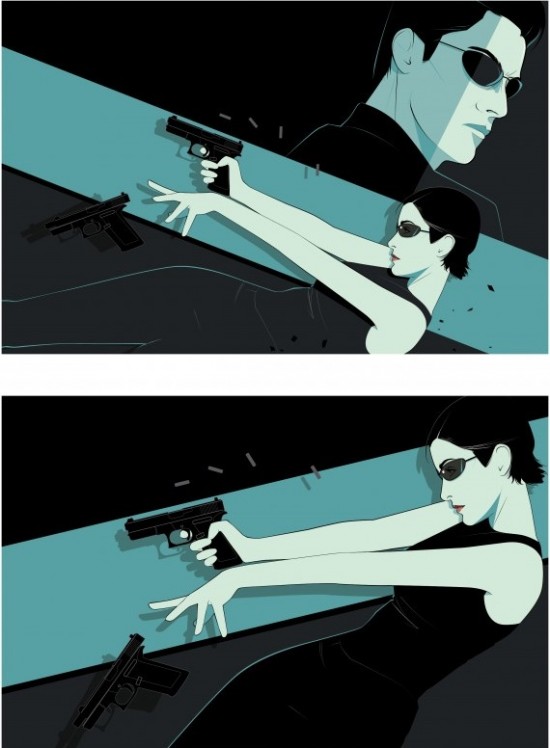 The Matrix (Regular Edition and Variant Edition) print by Craig Drake
Erotic Novel 'Beautiful Bastard' Getting Movie at Constantin Film
Joseph Gordon-Levitt Brings 500 Sunny Days to Sesame StreetNicolas Cage Joins Thriller 'Tokarev'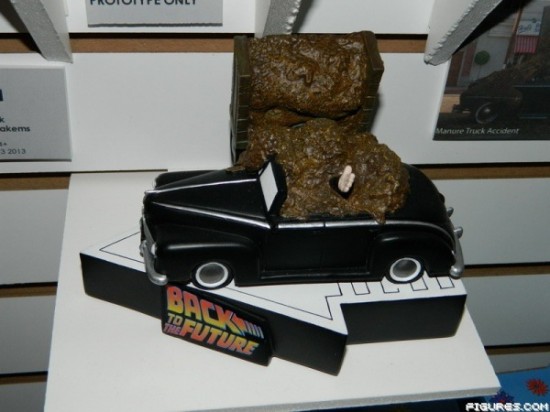 Ultimate BACK TO THE FUTURE Collectible: Biff's Manure Car
Universal Dates Mystery Illumination Movie for 2015
Key & Peele Take On The Entire DIE HARD Franchise
Netflix: 'House of Cards' Is Our Most Popular Show Right Now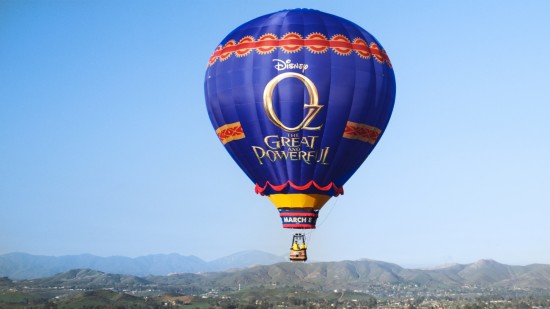 "Journey to Oz Balloon Tour" Lifts Off For Disney's OZ THE GREAT AND POWERFUL
Listen To Philip Glass' Chilling 'Duet' From Chan-wook Park's Stoker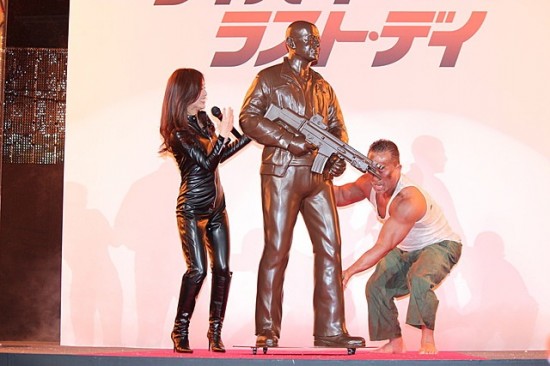 Japan Gets Bizarre Chocolate Bruce Willis For DIE HARD Promo
50 Steamiest Movie Kisses: 'Mr. & Mrs. Smith' To 'The Notebook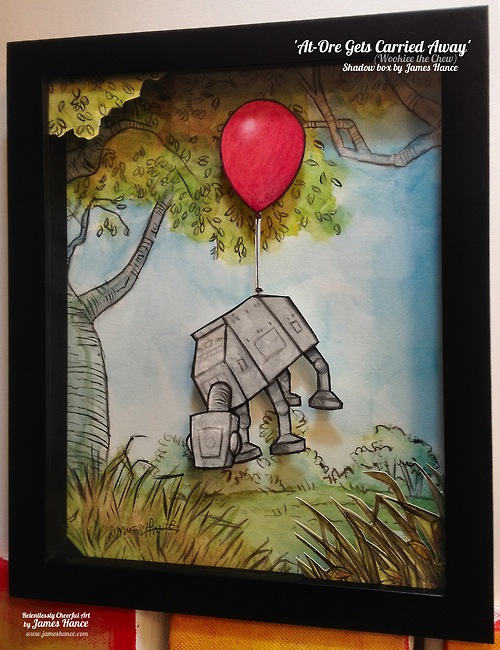 Wookie The Chew Shadow Box – 'At-Ore Gets Carried Away'
The top 10 shots of 2012
LET THE JIM HENSON CREATURE SHOP TEACH YOU HOW TO MAKE PUPPETS
10 Screenwriting Lessons You Can Learn From Swingers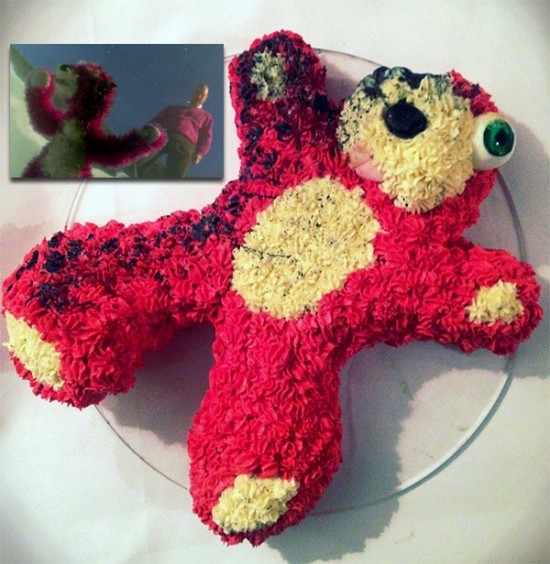 Breaking Bad Teddy Bear Birthday Cake
Bad Hair Days at Pixar
The Walking Dead Theme Song Performed by The Harp TwinsWe Imagine 'Star Wars' Romance Novels Because They're Inevitable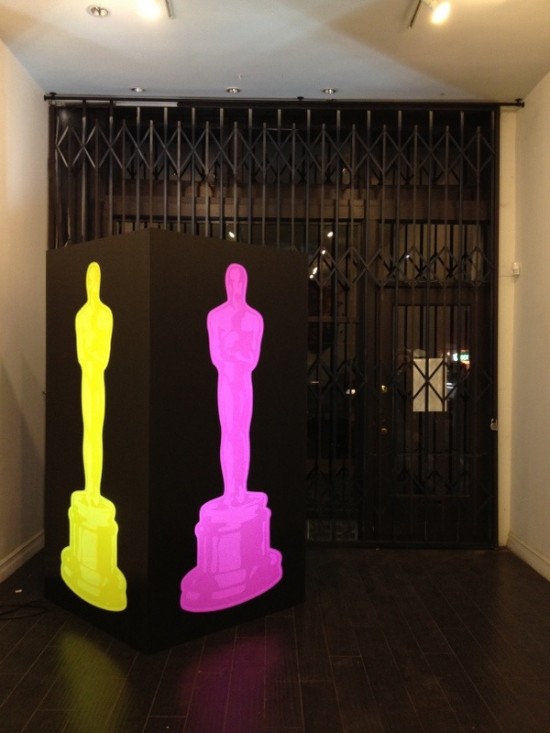 Another element of Gallery1988's "For Your Consideration" exhibitInterview with creators of "Escape from Tomorrow"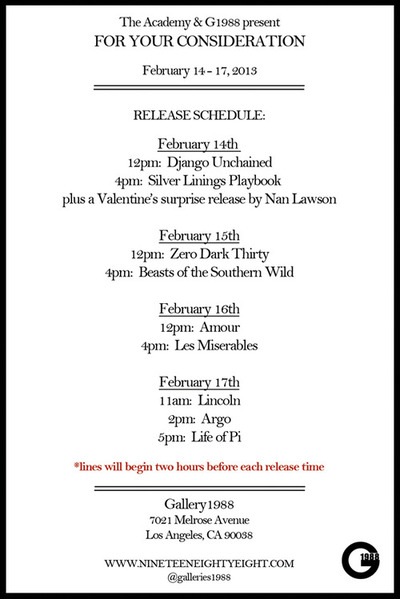 Here is the release schedule for the Best Picture nominee prints we created with The Academy at Gallery1988 7021 Melrose Ave.
Did You Know Hitchcock Thought 'Psycho' Was a Big Joke and Was Horrified People Took It Seriously?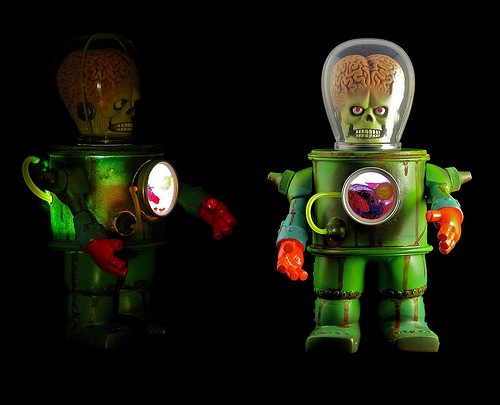 'Mars Attack Misfit Robot' by Plaseebo @ToyFair 2013
3 Scientific Advances Predicted by TV Shows
90s-Cartoons doin' the Harlem Shake (feat. Beavis and Butthead, Pinky and the Brain, Ren and Stimpy)
"Is that one thing?": 5 pop-culture life coaches who can't count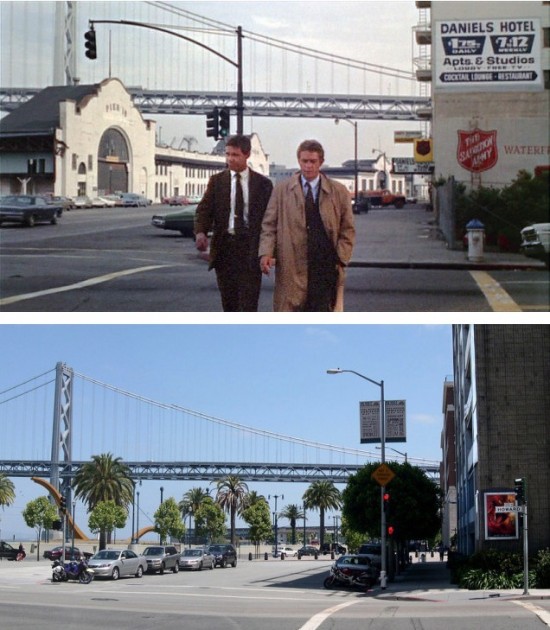 Reel SF, San Francisco Movie Locations Then & Now
Top 10 Greatest Giant Movie Monsters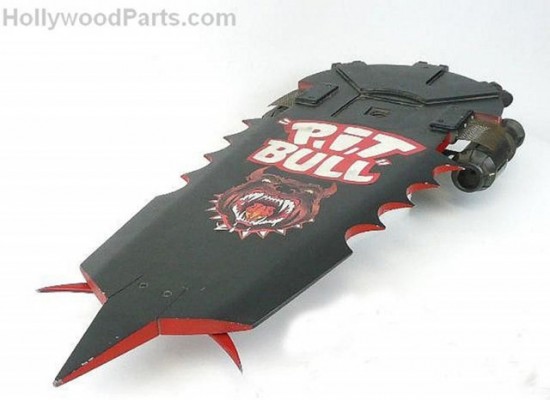 Griff's Hoverboard For Sale On eBay
What Netflix's 'House of Cards' Means for the Future of Television Without Television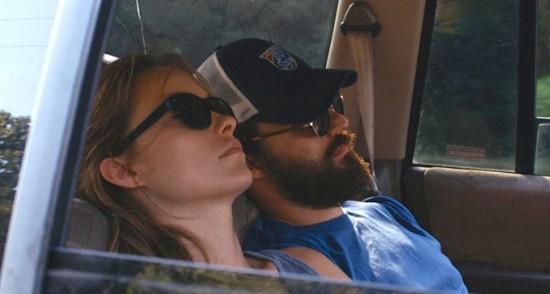 First Look: Olivia Wilde & Jake Johnson In Joe Swanberg's 'Drinking Buddies'The Five Most Tear-Jerking Tropes of TV Medical Dramas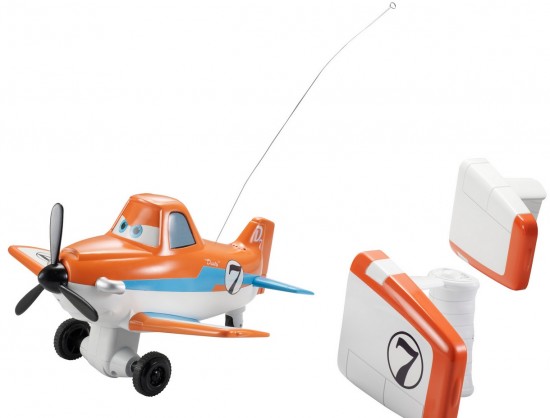 Toy Fair: Disney Planes Pilot Pals™ Dusty Crophopper Remote Control Plane.
The 5 Best (and 5 Lamest) Pop Culture Dinosaurs
"Adam and Dog" by Minkyu Lee
10 Most Incompetent Space Captains in the Universe
Supercut: Distracted People Getting Hit by BusesThe 10 Sundance Hits Most Likely To Be Next Year's Oscar Noms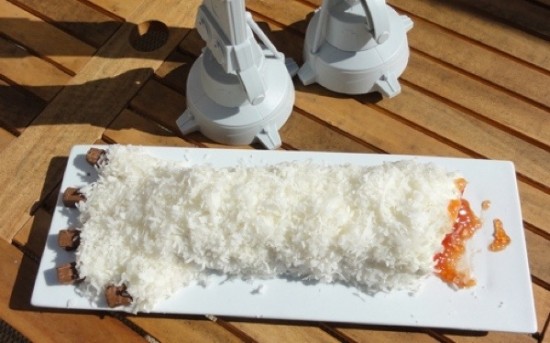 Five Star Wars Treats You Can Make With The Force
When Can I Watch the 'Die Hard' Movies with My Kids?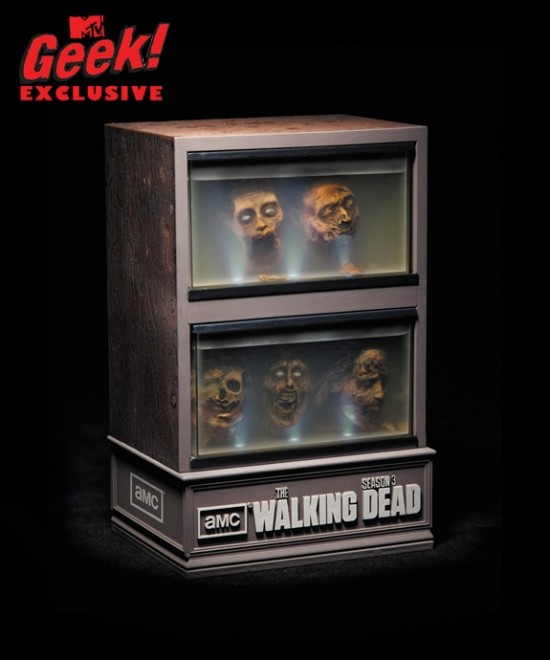 'The Walking Dead' Third Season Limited Edition Blu-Ray Case
10 Actors You Think Won For Something But Won For Something Else

Infographic: The Evolution of Star TrekThe 7 Most Impressive Hollywood Family Dynasties
If you have any interesting items that we might've missed that you think should go in /Film's Page 2 – email us!