David Lynch Short Film 'Idem Paris' Recalls The Industrial Tone Of His Debut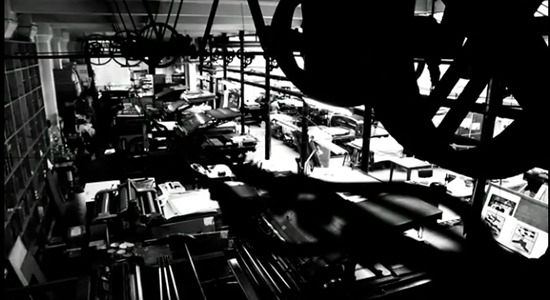 David Lynch got his filmmaking start with short films, and of late the short form seems to be what he's most interested in whenever he goes back to the moving image. One of his latest works is a short called Idem Paris. Like his early film shorts, it represents an intersection between the worlds of film and art, albeit in a different form.
Anyone looking for a narrative experience here is going to be disappointed, as the film is essentially a documentary, free of any narration, that watches lithographic printmakers at work in a facility in Paris.
But those who appreciate Lynch's affinity for tone may welcome this short. The high-contrast black and white images, the focus on specific machinery, and the clanking and hissing array of sounds within all call back to Lynch's early shorts, and his feature debut Eraserhead.
Lynch explains his fascination with the print shop:
Hervé Chandès from the Fondation Cartier brought me over to Idem and introduced me to Patrice Forest. I see this incredible place, and I get the opportunity to work there. And this was like a dream! It just opened up this brand-new world of the lithography and the magic of lithography, the magic of the stones. And it was a great, great thing! This thing of lithography, this channel of lithography opened up and a bunch of ideas came flowing out and it led to about a hundred lithographs.
I will say that Idem printing studio has a unique, very special mood, and it is so conducive to creating. Patrice has the greatest attitude for all the artists and he creates this space of freedom and this joy of creating. It's so beautiful! And I think the place is very important–in other words, the same stone could be moved to another place, and I think that the work that comes out would be different. It's a combination of the stone, the place, the people, this mood, and out comes these certain ideas.
Here's the short:
Thanks to Twitch for the heads-up on the short.
If you watch this and find that you want to know more about lithography, here's a more detailed explanation of the process: