VOTD: Zach Galifianakis' 'Between Two Ferns' Oscar Buzz Edition Part 2 With Bradley Cooper, Jessica Chastain, Sally Field And 'Lincoln' Surprise Guest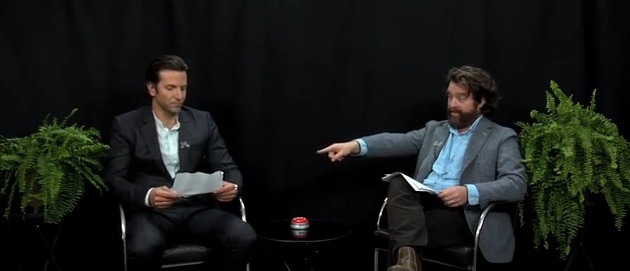 Zach Galifianakis' talk show Between Two Ferns made its triumphant return to Funny Or Die yesterday with a special Oscar Buzz Edition.In Part one of this special, which we posted yesterday, Galifianakis talked to Oscar contenders Jennifer Lawrence (Silver Lining Playbook), Anne Hathaway (Les Misérables), Christoph Waltz (Django Unchained), Naomi Watts (The Impossible) and Amy Adams (The Master).
Today we bring you Part 2 of the hilariously and awkwardly interview series, this time featuring Bradley Cooper (Silver Lining Playbook), Jessica Chastain (Zero Dark Thirty), Sally Field (Lincoln) and another special guest from Lincoln. Watch part two of the interview special after the jump.