Star Wars Bits: Joe Johnston Likes J.J. Abrams, Frank Oz Wants To Reprise Yoda, 'Star Wars Pinball' Announced, And More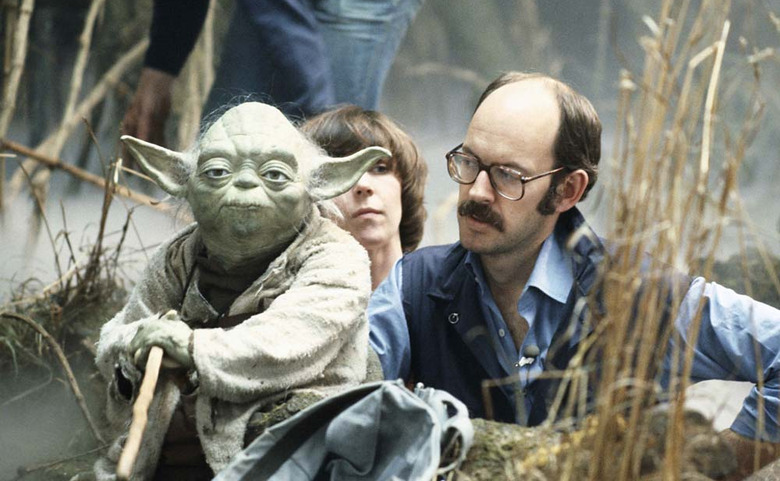 And you thought we had a lot to discuss when we thought Disney was just planning a new trilogy. Now that the studio's announced it's developing spinoffs as well, there's more rumor and speculation than ever before. After the jump:
Joe Johnston thinks J.J. Abrams is a perfect pick for the franchise,
Zen Studios announces a Star Wars Pinball game,
No, Walter Bishop is not the villain of Episode VII,
Frank Oz would "absolutely" like to play Yoda again.
and George Lucas could sell his 2% stake in Disney.
J.J. Abrams is the perfect choice to get the third trilogy off the ground. These films are big logistical nightmares to direct, like any $150 million plus project. They're like military operations in the attention to detail required while trying to retain a grasp of the big picture. J.J. has more than proven he can handle the pressure, plus it doesn't hurt to have a guy at the wheel who has produced, written, and created shows of his own. If anything he may be overqualified.
The man makes some very good points. Whatever else you think of the Abrams decision, he certainly knows his way around a big blockbuster. Still, here's hoping Johnston gets his own shot at the franchise when that Boba Fett standalone begins to pick up steam. [HuffPo]
Disney's plans for the Star Wars universe have given rise to all sorts of exciting rumors, and one particularly juicy one making the rounds is that Fringe star John Noble could be the villain of Episode VII. Too bad a conflicting report says it's all "bullshit."
Though the story was allegedly based on statements by Australian radio host Jo of Fox FM's Matt & Jo, the new story insists that Jo never said any such thing, and that the entire thing was fabricated by a fan. Sorry, Fringe fans. But hey, the film hasn't even really started casting yet, so it's not like he's been ruled out completely. Who knows? [Moviehole]
On the other hand, speculation that puppeteer / voice actor Frank Oz could reprise Yoda for his spinoff film probably has a little more truth to it, if only because Oz himself has acknowledged that he'd "absolutely" like to return. "He's in my heart," Oz said of the wizened Jedi master. "I know Yoda very deeply."
But even if — if — Oz plays Yoda again, he'll likely provide just the voice and not the movements.
I think it depends on the story, but I think at this point you can't go back to the puppet. The reason George [Lucas] did the CGI, which I supported, was that he wanted to tell a story that would have been hampered by the physical limitations of the puppet.
Makes sense, I suppose, but I'll miss the puppet Yoda all the same. And whatever form he takes, better Oz play him again than anyone else. [LAT]
Zen Studios is bringing the power of the Force to your virtual pinball table. The game developer has announced Star Wars Pinball, a new series that will be available as downloadable content on Zen Pinball 2 and Pinball FX2 or a standalone game on the Apple App Store and Google Play. The first three tables (of ten planned) will be themed around The Empire Strikes Back, Star Wars: The Clone Wars, the character Boba Fett. Watch the announcement trailer below.
The price and release date have yet to be revealed, but look for Star Wars Pinball to hit sometime this month. StarWars.com, Kotaku, and IGN have many more details.
When Disney purchased Lucasfilm for $4 billion last year, the deal was that George Lucas would get half in cash and half in Disney stock. Now a document filed by the studio indicates that Lucas' stock has been registered for possible sale. At $53.77 per, Lucas' 37,076,679 shares are worth a total of $1.99 billion.
But "possible" doesn't mean imminent, and sources insist the filing was just a formality. It might be better for Lucas to hold off for now anyway. They amount to a 2% stake in Disney, which makes him the second-largest shareholder after the Steve Jobs estate. The Mouse House's stock has gone up 11% since the Lucasfilm deal, and could keep climbing as Disney presses on with its new plans for the Star Wars franchise. Who knows how much more money Lucas stands to gain if the films do well? [Variety, TechCrunch]