'Room 237' Trailer: What Mysteries Still Live In The Overlook Hotel?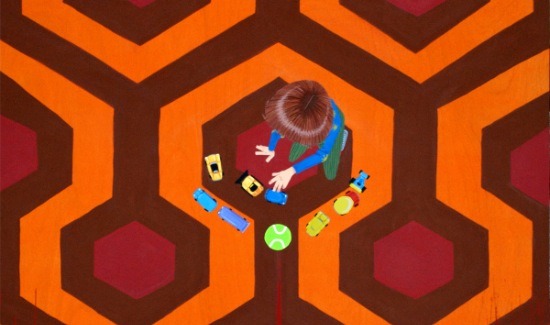 An audience favorite film at Sundance and Fantastic Fest 2012 was Room 237, the documentary from Rodney Ascher that attempts to detail and unpack the various secrets of Stanley Kubrick's The Shining. What messages did he code into the movie? (If any?) Is The Shining just a great horror movie, or does it really feature a hidden conversation about the genocide of Native Americans? That notion is just one of the theories in Room 237.
IFC picked up the film and will release it later this year as part of its IFC Midnight label. The first US trailer is out (the one we posted last year has been pulled) and it is an appropriately simple thing. It won't take you long to figure out where this one is going, especially if you're familiar with the teaser for The Shining, but that doesn't make the payoff any less entertaining when it happens.
Many people wondered how Room 237 could be released as a commercial venture, given the wealth of unapproved material used within. But it all falls under fair use, and the disclaimer at the beginning of this trailer, disavowing any formal relationship between the documentary and the subjects it depicts, may be all the legal gymnastics required.
Apple has the trailer. The film opens March 29 at the IFC Center and Elinor Bunim Monroe Film Center in New York City, with national dates to follow.  It will simultaneously be available on Cable VOD, iTunes and other digital outlets (Sundance Now, Amazon Streaming, XBOX and more).
After the box office failure of Barry Lyndon, Stanley Kubrick decided to embark on a project that might have more commercial appeal. The Shining, Stephen King's biggest critical and commercial success yet, seemed like a perfect vehicle. After an arduous production, Kubrick's film received a wide release in the summer of 1980; the reviews were mixed, but the box office, after a slow start, eventually picked up. End of story? Hardly. In the 30 years since the film's release, a considerable cult of Shining devotees has emerged, fans who claim to have decoded the film's secret messages addressing everything from the genocide of Native Americans to a range of government conspiracies. Rodney Ascher's wry and provocative Room 237 fuses fact and fiction through interviews with cultists and scholars, creating a kaleidoscopic deconstruction of Kubrick's still-controversial classic.