Rumor: Warner Bros. Wanted Ben Affleck To Play Batman In 'Justice League'?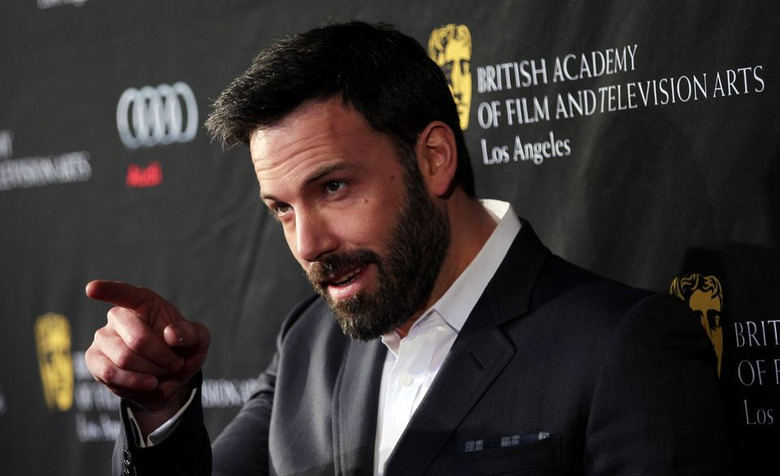 Nothing has done more for Ben Affleck's acting career in the post-Gigli era than his transformation into a respected filmmaker. Case in point: After the failure of Daredevil, it seemed unthinkable that Affleck could ever tackle a major superhero movie again. Now, however, a rumor indicates that Warner Bros. not only wanted him to direct Justice League, it also wanted him to star in the role of Batman. Hit the jump to keep reading.
Latino Review revealed the factoid in a tweet.
FUN & FABULOUS FANBOY FACT OF THE DAY: DID YA KNOW WHEN AFFLECK WAS APPROACHED TO DIRECT JUSTICE LEAGUE THEY ALSO WANTED HIM TO PLAY BATMAN?

— Umberto Gonzalez (@elmayimbe) February 8, 2013
El Mayimbe doesn't say where he got the intel, and the almost-casting hasn't officially been confirmed by anyone. That said, Latino Review has been solid with their Justice League scoops — remember, they were the first to reveal the villain and the superhero lineup — so I'm inclined to trust them.
Warner Bros.' apparent interest in Affleck for Batman seems a little surprising in light of last year's rumor that 26-year-old Armie Hammer was being eyed for the same part. At the time, it seemed the studio was looking for someone young enough to parlay the Justice League role into another Batman film series. But it's possible that the Hammer casting talk was never accurate to begin with, or simply that Warner Bros. has no idea what it wants to do anyway.
Whatever the case, it's looking more and more like Affleck dodged a bullet by turning down the Justice League job. (Though of course, he himself has never confirmed he was formally offered anything to begin with.) Yesterday, a scathing report claimed that Will Beall's script was such a disaster that Warner Bros. could throw it out and start fresh, or indeed just scrap the project entirely. Meanwhile, Affleck already has plenty of other, more promising options on the table, with the Dennis Lehane adaptation Live By Night lined up next.