Amazon's 'Zombieland' TV Series Casts Its Jesse Eisenberg And Abigail Breslin Replacements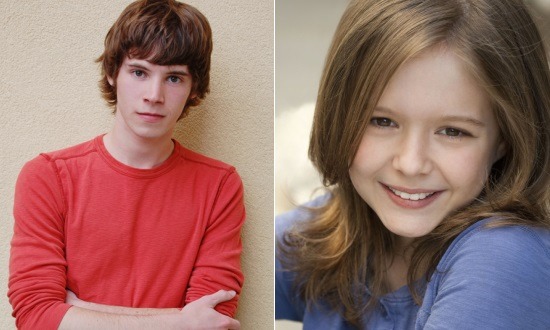 Zombieland succeeded in part because of its fantastic cast, which consisted of Jesse Eisenberg, Emma Stone, Woody Harrelson, and Abigail Breslin. That same star-studded cast turned out to be a roadblock when it came time to schedule and budget the sequel. Fortunately for writers/producers Rhett Reese and Paul Wernick, that should be less of an issue now that the proposed follow-up has morphed into a TV series.
A casting call for the Amazon Studios comedy pilot made the rounds not long ago, and now the first two leads have been found. Tyler Ross, last seen in the Sundance '13 drama Milkshake, has nabbed the Eisenberg role of "nerdy handsome" Columbus, while Izabela Vidovic will replace Breslin as young Little Rock. Hit the jump for more.
Columbus is much the same, except that he tracks down his grandma and grandpa (Bubbie and Peepaw) only to find them recently zombiefied. Also, Columbus is trying to deal with his newfound relationship with Wichita, after their first kiss. He has started calling her "Krista," her real name — but there are some problems, especially after she finds him reading a book about fatherhood. He tries to organize a romantic scavenger hunt for her in the IKEA they're camping out in, but it goes kind of horribly.
Little Rock seems actually kind of excited about meeting Columbus' grandparents, before they turn out to be zombies. And she shares some of her own backstory, about how her dad parked her at a school while he went off grifting on his own — and then yanked her out of school right before a dance that she was looking forward to.
Over the past few years, Ross has attracted praise as the lead of indies like The Wise Kids and Nate & Margaret, and he's had guest spots on Boss and NCIS. The young Vidovic has only been active for a couple of years now, but in that time has appeared on Raising Hope, Up All Night, and Harry's Law.
Zombieland is one of several original programs brewing at Amazon, and could very well become the streaming service's first scripted series. So far, it seems to be off to a promising start. Eli Craig (Tucker and Dale vs. Evil) is directing the pilot, from a script by Reese and Wernick. The latter two will also exectuve produce, along with Gavin Polone.