Sequel Bits: 'Red 2' Poster, 'Dead Snow: War Of The Dead,' 'Rambo V,' 'Smiley's People,' And More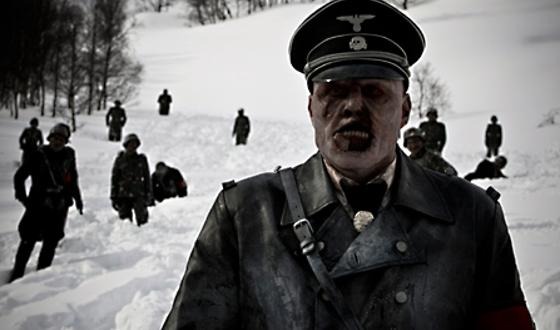 Tommy Wirkola's first US film, Hansel & Gretel: Witch Hunters, was no critical fave, but it has done over $100m worldwide so far. Now Wirkola is heading back to Norway to make a sequel to his breakout film, Dead Snow. The new one is Dead Snow: War of the Dead, which will follow "the sole survivor of a Nazi zombie attack who battles an even larger army of Zombies with the help of the Zombie Squad, a professional gang of zombie killers from the US."
The movie will be released in English and Norwegian versions, says ScreenDaily, and the film should shoot later this year. Wirkola said, "We have a script that I am super excited about, which is bigger, scarier, funnier, more action-filled and gorier than the previous one, and I can't wait to unleash another horde of undead Nazi zombies onto the world again."
After the break, you'll find the following:
The Tinker Tailor Soldier Spy sequel Smiley's Game moves forward,
Transformers visual effects supervisor returns for Transformers 4,
Rambo V and The Expendables 3 in the works at the European Film Market,
Rooney Mara denies that Daniel Craig will be cut from The Girl Who Played With Fire,
Summit debuts a new Red 2 poster,
and shots appear from Insidious 2 and Riddick.
We are working on Smiley's People with Working Title. It's still at the development stage – but, yes, the old team of Peter Straughan and Tomas Alfredson is back together. The same Tinker Tailor actors whose characters would reappear are well aware of what we're doing. We're hopeful for a 2014 shoot.
That's good news! StudioCanal is also doing another John Le Carré adaptation: Our Kind of Traitor, with Justin Kurzel (The Snowtown Murders) to direct with Mads Mikkelsen, Ralph Fiennes, and Ewan McGregor set to appear.
Remember the report that Daniel Craig might be written out of The Girl Who Played With Fire in order to make the Dragon Tattoo sequel more budget-friends? MTV spoke to Craig's co-star Rooney Mara, who denies that such a thing is an option. She said,
I've been talking a lot with [David Fincher] about the sequel, and I don't know where that rumor was started — but it would never be a possibility. He wouldn't be written out.
Still, there is no definite word on the second adaptation of Steig Larsson's Millennium trilogy from Sony and director David Fincher. We don't even know for certain that Fincher will return to direct.
Jeff White was Digital Production Supervisor on Transformers, then was promoted to Associate Visual Effects Supervisor on Revenge of the Fallen and Dark of the Moon. White moved up to Visual Effects Supervisor on The Avengers, and now he's taking that job on Transformers 4, too. That doesn't tell us much with about what the fourth film is going to feature, or offer any clarification about those statements saying everything will be redesigned for the film. We've just got this: speaking to Collider, White said,
I'm starting pre-production on Transformers 4, which has some really exciting stuff in it. And then, we'll see what the future holds. Certainly, if the opportunity came to work on the next Avengers, I'd definitely jump at it.
Sylvester Stallone has gone back and forth on the idea of reviving Rambo over the past few years, and now he seems to be on again. Moviehole reports that Rambo V sales posters have popped up all over Berlin for the European Film Market, and that Millennium is shopping rights for that along with The Expendables 3.
The latter is reportedly going to shoot this summer, but we'll see if that pans out. Stallone's last theatrical outing, Bullet to the Head, wasn't a hot ticket when it was released a couple weeks ago. It's not a great film — there's good action, and villain Jason Momoa is a lot of fun, but Stallone's banter doesn't really work. So we'll see if The Expendables 3 can capture some good energy.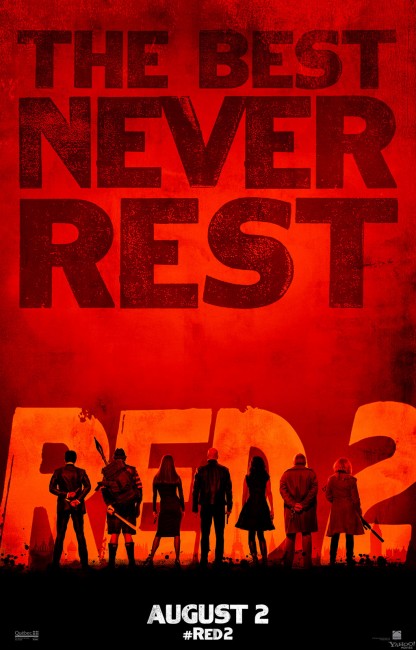 Here's the poster for Red 2, which puts a cadre of aging operatives (and a few new recruits) back into action under the direction of Dean Parisot (Galaxy Quest), from a script by Jon Hoeber and Erich Hoeber.
Bruce Willis, John Malkovich, Mary-Louise Parker, Helen Mirren, and Brian Cox return, while Anthony Hopkins, Catherine Zeta-Jones, Byung Hun Lee, and Neal McDonough show up as the new kids. Red 2 opens on August 2nd.
In RED 2, the high-octane action-comedy sequel to the worldwide sleeper hit, retired black-ops CIA agent Frank Moses reunites his unlikely team of elite operatives for a global quest to track down a missing portable nuclear device. To succeed, they'll need to survive an army of relentless assassins, ruthless terrorists and power-crazed government officials, all eager to get their hands on the next-generation weapon. The mission takes Frank and his motley crew to Paris, London and Moscow. Outgunned and outmanned, they have only their cunning wits, their old-school skills, and each other to rely on as they try to save the world—and stay alive in the process.
Finally here's a set of pics from one in-progress film, and one recently finished movie. The film shooting now is Insidious 2, and the pics we shared on social networks by co-creators James Wan and Leigh Whannell. And Vin Diesel has dropped a new Riddick photo on, of course, FaceBook. The house in the pic below, which is one of the Isidious 2 locations, was also the location for the wild, weird movie Spider Baby in the late '60s. Kinda neat.