Laika's 'The Boxtrolls' Coming In 2014; Ben Kingsley, Elle Fanning, Simon Pegg, And Isaac Hempstead-Wright Among Voice Cast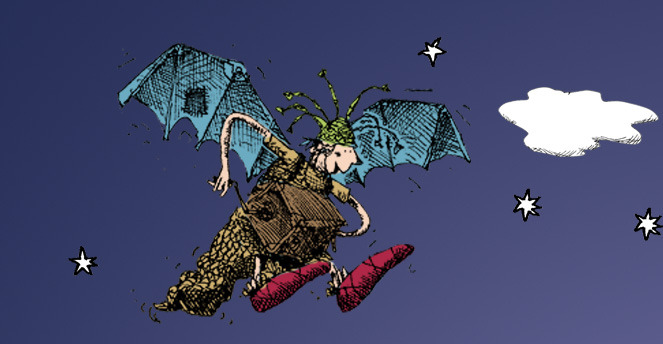 Animation house Laika only has two completed features to its name, but thanks to the strength of those two outings (Coraline and ParaNorman), it's already earned a reputation for unusually smart, creative family fare. Now they're joining forces with Focus Features a third time for The Boxtrolls, an adaptation of Alan Snow's book Here Be Monsters!
Open Season co-director Anthony Stacchi and Coraline/ParaNorman story artist Graham Annable are teaming to direct, with an excellent voice cast that includes Ben Kingsley, Toni Collette, Elle Fanning, Simon Pegg, Nick Frost, Richard Ayoade, Tracy Morgan, Jared Harris (Mad Men) and Isaac Hempstead-Wright (Game of Thrones). Hit the jump for more details.The Boxtrolls has been in development for a little while now; when ParaNorman was first announced a few years back, an adaptation of Here Be Monsters! was named among several other pending projects. The 3D stop-motion / CG hybrid has now entered production with a targeted release date of October 17, 2014. Here's a summary of the plot:
The Boxtrolls is a comedic fable that unfolds in Cheesebridge, a posh Victorian-era town obsessed with wealth, class, and the stinkiest of fine cheeses. Beneath its charming cobblestone streets dwell the Boxtrolls, foul monsters who crawl out of the sewers at night and steal what the townspeople hold most dear: their children and their cheeses. At least, that's the legend residents have always believed. In truth, the Boxtrolls are an underground cavern-dwelling community of quirky and lovable oddballs who wear recycled cardboard boxes the way turtles wear their shells. The Boxtrolls have raised an orphaned human boy, Eggs (voiced by Mr. Hempstead-Wright), since infancy as one of their dumpster-diving and mechanical junk-collecting own. When the Boxtrolls are targeted by villainous pest exterminator Archibald Snatcher (Mr. Kingsley), who is bent on eradicating them as his ticket to Cheesebridge society, the kindhearted band of tinkerers must turn to their adopted charge and adventurous rich girl Winnie (Ms. Fanning) to bridge two worlds amidst the winds of change – and cheese.
Or, as Laika CEO Travis Knight put it in his statement, "The Boxtrolls is a visually dazzling mash-up of gripping detective story, absurdist comedy, and steampunk adventure with a surprisingly wholesome heart. It's Dickens by way of Monty Python." Sounds just perfect for the clever folks at Laika.
Deadline posted what seems to be a bit of concept art from the film, which you can see below.