SXSW Announces Midnight And Short Programming; 'S-VHS,' 'The Lords Of Salem,' And 'You're Next' Scheduled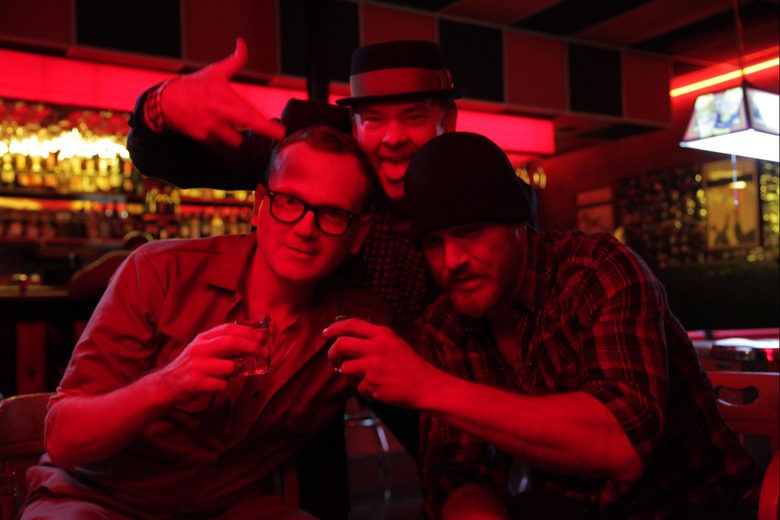 Austin's biggest media festival, SXSW, is coming up in about five weeks, and the film portion of the fest has unveiled a list of films that will play in the midnight and shorts categories. Running March 8-16, the film portion of SXSW has been growing into one of the country's premiere film festivals.
The biggest inclusions on the midnight side are Rob Zombie's The Lords of Salem (new trailer), Adam Wingard's You're Next (interview), and the very entertaining S-VHS (Sundance review). That horror sequel, incidentally, has evidently been renamed V/H/S/2, just to make the connection to last year's horror anthology V/H/S much more clear.
There's also the premiere of Xan Cassavetes' Kiss of the Damned, and Haunter, the new film from Vincenzo Natali (Splice). The image above is from Cheap Thrills, and shows how "Craig (Pat Healy) and Vince (Ethan Embry) begin their descent into hell with Colin (David Koechner)."
Info on the full midnight lineup is after the break. Hit the SXSW website for the complete shorts list.
MIDNIGHTERS
Scary, funny, sexy, controversial – provocative after-dark features for night owls and the terminally curious.
Big Ass Spider!
Director: Mike Mendez, Screenwriter: Gregory Gieras
When a giant alien spider escapes from a military lab and rampages across the city of Los Angeles, it is up to one clever exterminator and his security guard sidekick to kill the creature before the city is destroyed. Cast: Greg Grunberg, Lombardo Boyar, Clare Kramer, Ray Wise, Lin Shaye, Patrick Bauchau (World Premiere)
Cheap Thrills
Director: E.L. Katz, Screenwriters: Trent Haaga, David Chirchirillo
Recently fired and facing eviction, the married father of a newborn has his life turned upside down when he meets a wealthy couple who offer a path to financial security...but at a price.
Cast: Pat Healy, Ethan Embry, Sara Paxton, David Koechner, Amanda Fuller (World Premiere)
Haunter (Canada)
Director: Vincenzo Natali, Screenwriter: Brian King
Lisa Johnson is one day shy of her 16th birthday and will be forever. She and her family are doomed to repeat the fateful day before they were all killed in 1985. Cast: Abigail Breslin, Stephen McHattie, Peter Outerbridge, Michelle Nolden, David Hewlett (World Premiere)
Kiss of the Damned
Director/Screenwriter: Xan Cassavetes
Beautiful vampire Djuna tries to resist the advances of human screenwriter Paolo, but eventually gives in to their passion. When her sister Mimi comes to visit, Djuna's love story is threatened, and the whole vampire community becomes endangered...
Cast: Joséphine de la Baume, Milo Ventimiglia, Roxane Mesquida, Anna Mouglalis, Michael Rapaport, Riley Keough, Ching Valdes-Aran (U.S. Premiere)
The Lords of Salem
Director/Screenwriter: Rob Zombie
From the singular mind of horror maestro Rob Zombie comes a chilling plunge into a nightmare world where evil runs in the blood. Cast: Sheri Moon Zombie, Bruce Davison, Jeff Daniel Phillips, Ken Foree, Patricia Quinn (U.S. Premiere)
Plus One
Director: Dennis Iliadis, Screenwriter: Bill Gullo
When the party of the decade is disrupted by a supernatural phenomenon, the night soon descends in to chaos.  Cast: Rhys Wakefield, Logan Miller, Ashley Hinshaw, Natalie Hall (World Premiere)
The Rambler
Director/Screenwriter: Calvin Lee Reeder
After being released from prison, a man known as The Rambler stumbles upon a strange mystery as he attempts a dangerous journey through treacherous back roads and small towns en route to reconnecting with his long lost brother.
Cast: Dermot Mulroney, Lindsay Pulsipher, Natasha Lyonne, James Cady, Scott Sharot
V/H/S/2, aka S-VHS
Directors: Adam Wingard, Gareth Evans, Screenwriters: Simon Barrett, Timo Tjahjanto, Gareth Evans, Jamie Nash, Jason Eisener, John Davies
Searching for a missing student, two private investigators break into his abandoned house and find another collection of mysterious VHS tapes. In viewing the horrific contents of each cassette, they realize there may be terrifying motives behind the student's disappearance.
Cast: Adam Wingard, Lawrence Levine, L. C. Holt, Kelsy Abbott, Hannah Hughes
You're Next
Director: Adam Wingard, Screenwriter: Simon Barrett
A fresh twist on home-invasion horror. A gang of masked murderers descend upon a family reunion, and the victims seem trapped...until an unlikely guest proves to be the most talented killer of all.
Cast: Sharni Vinson, Nicholas Tucci, Wendy Glenn, AJ Bowen, Joe Swanberg