Cool Stuff: Tim Doyle's 'UnReal Estate II' Art Show Featuring 'Firefly,' 'Doctor Who,' 'Downton Abbey,' 'Deadwood' And More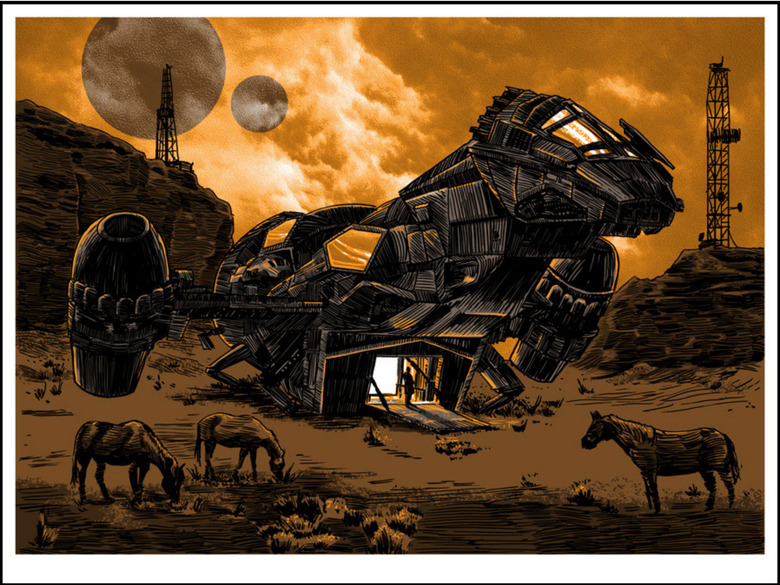 Location is essential to the medium of television. Unlike movies, which can use a location and move along, TV recycles the same places over and over to conserve time and money. The result is that places on television become characters themselves.
That was the idea behind Austin-based artist Tim Doyle's first solo art show, UnReal Estate, in early 2012. Now the sequel is upon us. UnReal Estate II opens Thursday February 7 at Spoke Art in San Francisco, CA. Just like last year, Doyle has immortalized some of your favorite locations from our favorite TV shows. A few examples include the ship Serenity from Firefly, the TARDIS in Doctor Who, the model home on Arrested Development, and Downton Abbey from, well, you know where.
Below we've got the entire show and will tell you how to see it in person as well as buy prints online.
The opening reception for UnReal Estate II is Thursday February 7th from 6-10 p.m at Spoke Art, 816 Sutter St. San Francisco, CA. That's the only place you can get the He-Man print, which will be given away to the first people in line. Anything that's left over will go on sale online at this link around 3 p.m. PST Friday February 8. Follow @Spoke_Art on Twitter for the official announcement.
The entire show will be on view until Saturday, February 23rd. Each print also has a black and white hand drawn original for varying prices (the final three are examples). The prints are all between 18x24 and 15-20 in editions around 150.
Which is your favorite?