Theme Park Bits: Is A 'Star Wars' Land Coming To DCA? Plus 'Big Thunder Mountain' Becomes TV Series, 'Incredibles' Ride In Consideration, 'AvatarLand' Speculation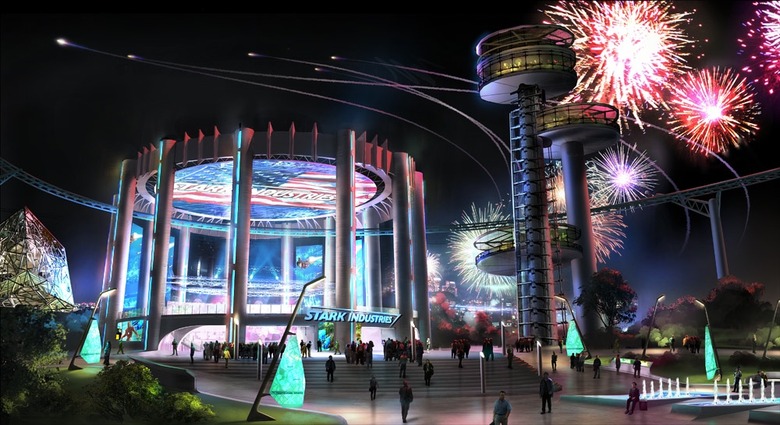 There's a lot of movie-themed news and speculation going on in the theme park world and we've got it all in one place. In this edition of Theme Park Bits, read about the following:
Is Disney planning a full Star Wars land at California Adventure?
The Big Thunder Mountain Railroad Ride is getting its own TV series
The Lord of the Rings term "Middle Earth" has been trademarked for use in an amusement park.
An Incredibles ride could be in the works
Development on Avatar Land is reportedly not going well.
The Marvel-themed Stark Expo has been stalled.
Imagineering legend Tony Baxter is leaving Disney.
Monday night, when Ain't It Cool News dropped the news of a possible Yoda Star Wars spin off movie, there were two pieces of juicy theme park gossip buried in the text. First is that Disney was thinking about an expansion at Disneyland for a world based upon Oz The Great And Powerful, but that has likely been shelved unless the movie is a big success. Second, the article says they're looking into launching a full Star Wars land at Disney's California Adventure. This is something that's long been rumored and speculated about but, knowing AICN has good sources inside LucasFilm, it seems like this might be moving forward.
ABC has ordered several new pilots including Big Thunder, which is based on the popular Disney ride Big Thunder Mountain Railroad, according to Variety. Written by Jason Fuchs and executive produced by Chris Morgan, the show will be about "a 19th century New York doctor and his family who are given a once-in-a-lifetime opportunity to relocate to a frontier mining town run by a powerful but mysterious tycoon."
Someone over on MiceChat noticed that a trademark for the phrase "Middle Earth" has been granted for use at an amusement park. This doesn't mean a Lord of the Rings land is coming but it's certainly a clue that someone wants it to happen. Definitely something to keep an eye on.
Blue Sky Disney reports that Walt Disney World is jealous of the success of Cars Land at Disney's California Adventure and are looking to expand the Pixar brand across their parks. One possibility is a huge, 4D ride based on The Incredibles. It's mostly hypothetical at this point but, in the future, it could end up as the center piece ride for an expanded Pixar Place at Disney's Hollywood Studios. Read more at the link.
While plans for a James Cameron themed Avatar Land are still in place, several things are pointing to it not going too well. Stitch Kingdom reports one of the attractions expected to be closed is now being upgraded. Also, respected Disney insider Al Lutz at MiceChat has already deemed it a failure. In his latest article, he refers to it "going nowhere fast" and as "sinking in alien quicksand." This goes along with an article a few months back where Lutz wrote about how the whole thing was a bad idea.
For some time, the large area in Disneyland's Tomorrowland called Innoventions was rumored to be revamped to a brand new ride/attraction themed around the Stark Expo from Iron Man 2. That was in the works but, according to MiceChat, those plans have "quietly been put on hold." The reason is Disney thinks a major revamp all at once is a better idea than a slow but steady improvement. Read more at that link.
Finally, Tony Baxter – an Imagineering legend who has been with Disney since 1965 – is leaving his job as Creative Executive at Disneyland to become just a part time adviser to the company. Read more at Jim Hill Media.