Chris Pratt To Star In Marvel's 'Guardians Of The Galaxy'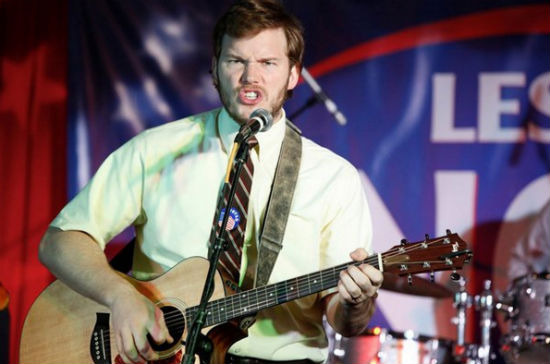 Robert Downey Jr., Chris Hemsworth, Chris Evans and now Chris Pratt. After months of rumors, short lists and more Marvel has found its next major superhero. Chris Pratt (Parks and Recreation, Zero Dark Thirty, Moneyball) has been cast as Peter Quill in Guardians of the Galaxy, the 2014 Marvel movie written and directed by James Gunn. 
Deadline broke the news of this casting. It is a surprising choice, as Pratt wasn't mentioned on any of the numerous short lists that included the likes of Joel Edgerton, Jack Huston, Jim Sturgess, Lee Pace, Eddie Redmayne, Zachary Levi, John Krasinski and several others.
Pratt, who can currently be seen on NBC's Parks and Recreation and in the Oscar-nominated Zero Dark Thirty, got his start on TV with stints on both Everwood and The OC. From there, he slowly began appearing in more and more comedic roles culminating in the role on Parks & Rec. He was also in Moneyball, opposite Brad Pitt. With films such as The Five-Year Engagement, he was pretty much on the brink of leading man status, but now he's been put over the top with this highly sought-after role.
Pratt's comic sensibility and physical presence make him a great choice for the role of Quill, who'll become the Star Lord, leader of the Guardians of the Galaxy. He's a Quill is a half-alien, half-human NASA astronaut who becomes the leader of the titular team which also includes Drax the Destroyer, Rocket Raccoon, and Gamora. Those roles have yet to be cast.
Gunn is currently on his way to London to start pre-production the film, which will be in 3D and released in August 2014. Rumor has it the film will tie in, some how, to Iron Man 3 so we might be seeing Pratt sooner rather than later.
So what do you all think of this casting? Are you surprised Pratt came out of nowhere?