Cool Stuff: Dave Perillo's 'Star Wars' Poster From Acme Archives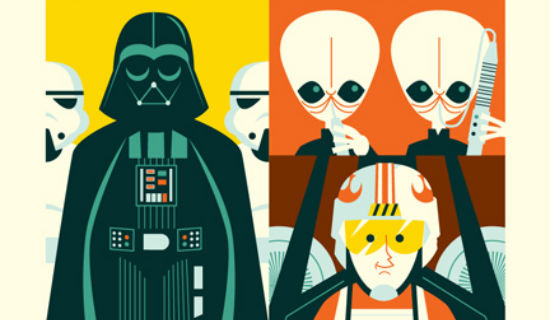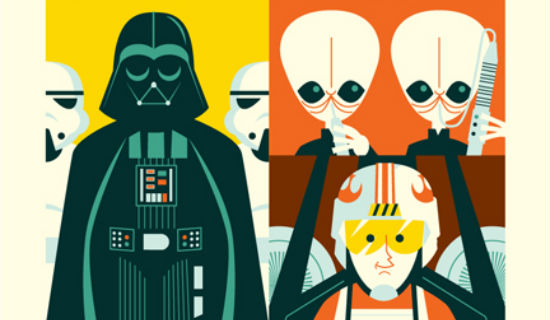 We may receive a commission on purchases made from links.
Anyone who follows Peter on Twitter (@Slashfilm) saw a lot of Dave Perillo this weekend. The Philadelphia-based artist, who has worked with Disney, Gallery 1988, Mondo and others, is a favorite around these parts and his work dominates a large section of Peter's apartment. It seems Peter might have to clear some additional wall space.
We're proud to exclusively reveal a brand new, officially licensed Star Wars screenprint by Dave Perillo. It'll be released by the Acme Archives on February 14 but you can see the full thing below, plus read an interview with the artist.
Here's Dave Perillo's Star Wars print by Acme Archives.

I always wondered how you spell "Utinni!"
The poster is a 12"x36" edition of 250, and will cost $50. It'll go on sale February 14 at a random time, which will be announced via the Acme Archives Twitter and Facebook accounts.
I emailed Perillo a few questions about the piece and here's what he had to say including the question you're all thinking:
/Film: When did you get the assignment to do a Star Wars piece?
Dave Perillo: I received a list from Acme with everything that was available to do art based off of, Star Wars was on there. Being a huge fan of Star Wars I jumped at the opportunity to do something that would be an officially licensed print.
How did you decide on how you were going to portray the film?
I've done quite a few pieces using the "grid/square" thing, it's a good way to portray a lot of different elements, since Star Wars has so many great characters and scenes it was a perfect way to fit a bunch together.
With it being such an epic and fan loved movie, does that present any unique challenges?
I'd say the biggest challenges is getting the likeness of the characters right with a very simplfied style. Also, making sure I don't leave out any of the fan favorite characters.
What are some of your favorite Star Wars art pieces, both old and new?
One of the original 1980 Empire Strikes Back posters was always a personal fave, great composition and it didn't spoil any of the new elements that appeared in the movie (Yoda, AT-AT, Bounty Hunters). (See it here.) Also, love the three posters by Olly Moss, very creative and well executed. (See them here.) And artist Greg Peltz victorian style portrait paintings are classic. (See those here.)
This feels like the first in a trilogy, might we see the second two parts?
I've got a good feeling about that.