'G.I. Joe: Retaliation' Viral Marketing Begins With Cobra Recruiting Video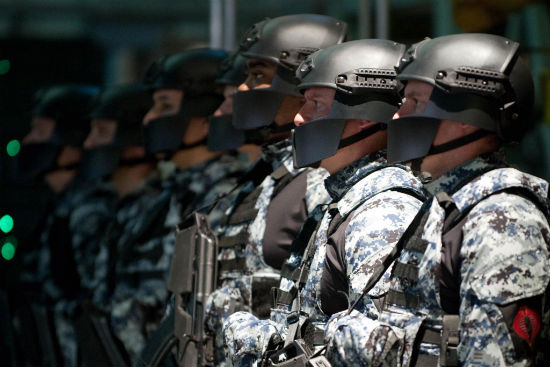 Every franchise needs its good guys and its bad guys. In the G.I. Joe universe, the bad guy is Cobra, a convert organization hell bent on world domination. They came pretty close in G.I. Joe: The Rise of Cobra and in next month's G.I. Joe Retaliation, they'll do just that. Directed by Jon M. Chu, the film will show what the members of G.I. Joe (Channing Tatum, Dwayne Johnson, Bruce Willis, etc.) will have to do to stop Cobra from taking over the world.
Sometimes, though, it's fun to play the bad guy and Paramount has just released a recruitment video for Cobra. The video sends you to a website where you can go to previously scheduled social events and prove your loyalty to Cobra. Check it all out below.
The video popped up on CobraSpecialForces.com
Head to the above website and you can find all kinds of events, like Tough Mudders, WWE events, Kid Rock concerts and more that will apparently have some connection to Cobra. Seems like an interesting way to promote G.I. Joe Retaliation, which opens March 29.
A follow-up to the 2009 release of G.I. JOE: RISE OF THE COBRA, which grossed over $300M worldwide, Paramount Pictures, MGM and Skydance Productions, in association with HASBRO and di Bonaventura Pictures, commences production on G.I. JOE: RETALIATION. In this sequel, the G.I. Joes are not only fighting their mortal enemy Cobra; they are forced to contend with threats from within the government that jeopardize their very existence. The film stars D.J. Cotrona, Byung-hun Lee, Ray Park, Adrianne Palicki, Jonathan Pryce, RZA, Ray Stevenson, Channing Tatum with Bruce Willis and Dwayne Johnson.