This Week In Trailers: Rewind This!, Licks, Village At The End Of The World, Broadway Idiot, F*ck For Forest, InAPPropriate Comedy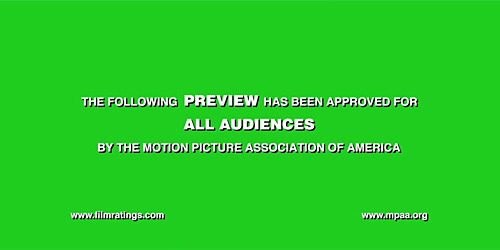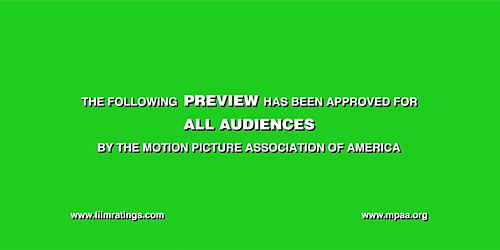 Trailers are an under-appreciated art form insofar that many times they're seen as vehicles for showing footage, explaining films away, or showing their hand about what moviegoers can expect. Foreign, domestic, independent, big budget: What better way to hone your skills as a thoughtful moviegoer than by deconstructing these little pieces of advertising? This week we get naked (for realsie), go way back to the salad days of VHS, show you the strength of street knowledge, see what it is perhaps the worst movie trailer yet this year, go to a very very remote place on this earth, and then see whether or not Green Day still has some gas in the tank.
Rewind This! Trailer
These are the kind of documentaries I live for.
Sure, you can have your Academy Award winning tear jerkers like Undefeated but last year was a grand year for such kitschy docs as Special When Lit and Beauty Day. They're the kind of movies that explore topics that aren't necessarily going to have the widest appeal but the filmmakers behind them were really passionate about the themes they wanted to explore.
This is no different.
Director Josh Johnson delivers on what promises to be something that would fit alongside anything put out by the people behind Everything is Terrible! as the trailer just tickles every receptor dedicated to the nostalgia of VHS ownership back in the day. The way the premise for the documentary is introduced and the way it goes through the high-level plusses that VHS brought a whole generation of viewers and filmmakers is masterfully done. With an eye on keeping things lo-fi in how it splices together talking heads and the movies that will be referenced, the trailer presents itself honesty and without any pretensions that this is definitive guide to the medium.
It's fun, it's breezy, and, without question, it's perhaps the one documentary I most want to see when it becomes available to the public.
Village at the End of the World Trailer
Slow down. Breathe.
There are times when it just serves you better to just sit silently and watch. As this trailer unfolds and an iceberg sinks into the sea, the music perfectly set to the motion of the ocean, there is the sense of harmony and tranquility.
I don't know what director Sarah Gavron had in mind when she went out to film this community literally at humanity's tip, but the stories that come out of this don't make me wonder where she's going as it does to give me pause. There's a shared idea in the notion that there's a place where the youth no longer want to be constrained by the old ways and ideas of their parents, families, and where the elders see that they are dying a slow cultural death.
It's no one's fault, to be sure, but even without a snappy premise or an idea that is so massive that it begs the question "Why has this never been filmed before" there is a heart that beats within it, within this trailer, that makes this one of those movies with a story to tell you and I. A story about a culture we're maybe not familiar with but one that deserves our attention if for a little while.
Broadway Idiot Trailer
We do love to tear down our heroes.
Director Doug Hamilton has taken on an interesting subject that is timely insofar that as it concerns Billie Joe Armstrong and the meltdown that spelled disaster for those who were hoping to catch the trio as they squashed any hopes of supporting the triptych of album releases that came out at the tail end of last year. Whether "substance abuse" is the new "exhaustion" when it comes to acting poorly in public or this is yet another manipulation of what's really afoot, there is no denying that the commercial success of American Idiot helped cement Green Day's status in pop rock.
Fake English accent or not (I still don't understand't why after all these years), the trailer is a fine example of how one piece of art, like an album, can transmogrify into something like a Broadway show. I will say that I'm disappointed, one of a few, in the opening. It's straight out of something I would expect out of VH1's Behind the Music but instead I'm seeing it in relation to Billie Joe giving his view on a provincial life he needed to get away from. The graphics on the screen are really hokey and what they imply are even more eye-rollingly cringe worthy. As well, that sound effect that comes in just after the minute mark? I am pleading, please, put a moratorium on using the scratch of a record. It's the tool of a hack and this story is pretty good all on its own.
I like how we're taken through the various stages of being for this production and get a nice behind-the-scenes look at what it takes to use an album for the basis of an entire musical. I'm fascinated by the work that goes into mounting such a, literally, production and want to know more about this. Yeah, there's some unevenness with how information is presented but it's the meat of the story that has me wanting to come back and revisit this story.
Licks Trailer
We haven't seen a movie like this for a little while.
Back in the day when John Singleton or the Hughes Brothers were making films that talked about social issues that mattered (also back when Ice Cube still carried the air of someone who really could be fearsome and not like now where he's carrying the funk of a shill who does Coors Light commercials) there was a closer marriage between art and commerce. They were able to tell the stories that they wanted to get out there and the studios were able to exploit narratives about thug life.
Fast forward through the superhero age and the landscape has been a wee barren with movies about what it's like to live in a nest of criminality. This trailer, though, brings back that same sense of what it means to be someone who is caught up in that culture with very little in the way of options to overcome it. There is a sadness in Jonathan Singer-Vine's trailer that I couldn't help but watch all the way through.
The violence is understated but present, the hardships are present but not exploited, but the real tug at the heartstrings is our protagonist who just appears emotionally absent. Psychologically adrift with no mooring in sight.
There is a value in having trailers try and sell the story before it sells the rat-ta-tat-tat and this one, regardless of how well the movie eventually plays out, gets its marketing message right.
InAPPropriate Comedy Trailer
Can we please have a frank an open discussion about what kind of damaging, incriminating information Slap Chop guru, and sometimes cannibal target,Vince Offer must have on Adrien Brody?
I just don't know where to even begin with this one, from the construction of the movie's title, to the God awful opening or the completely confusing premise that never quite delivers on any account. It would be too easy to say that the racial humor is beyond the pail or that the homosexual innuendos got old faster than the opening salvo but it honestly boggles the mind about how truly miserable this looks. I don't mean to dump on a movie that isn't out yet but from a trailer perspective this doesn't even explain itself and the marketing seems to have been crafted with the idea of taking random scenes and cobbling them all together.
I'm sure Armond White will call it the movie of the year but I feel bad that Brody needed to do this bad enough to get a paycheck. And, if you happen to see Brody on the street, would one of you be kind enough to toss him a buck or two? I'm sure he'll appreciate it.
F*ck For Forest Trailer (NSFW)
Well, OK then.
I do not know what to make of Michal Marczak's apparent ode to youthful hedonism, it certainly is a departure from his documentary that I swear looks like it plays like a full on drama, At the Edge of Russia, but there is definitely a lot of nudity. That much I'm sure of.
There isn't more, really, to be said after you read the movie's description:
Berlin's F*ck for Forest is on the world's most bizarre charities: based on the idea that sex can change the world, the NGO raises money for their environmental cause by selling home-made erotic films on the internet.
So, with that in mind, you need no more commentary from me other than to say I will definitely have to obtain this film when it becomes available just so I can at least verify whether or not this really does explore an organization who make pornos in order to change the world. You know, for research sake.
Nota bene: If you have any suggestions of trailers to possibly be included in this column, even have a trailer of your own to pitch, please let me know by sending me a note at Christopher_Stipp@yahoo.com or look me up via Twitter at @Stipp
In case you missed them, here are the other trailers we covered at /Film this week:
Somebody Up There Likes Me Trailer – Nick Offerman could sit at a table and read the ingredients for Chex Mix and I think I'd show up.
Like Someone in Love Trailer - The evocative way we are introduced to the story and characters is reason enough for me to want to know more.