'Star Trek Into Darkness' Super Bowl Spot: 'Our World Will Fall' - Plus Tickets On Sale For Early Screenings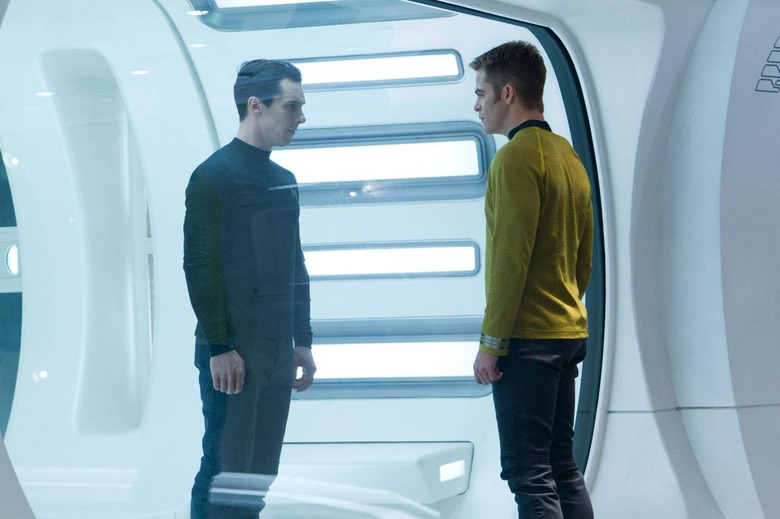 Kirk, Spock and the crew are back this Summer and Paramount has taken the occasion of the Super Bowl to remind the world of the film's upcoming release. The Star Trek Into Darkness Super Bowl commercial is now online, featuring a new look at J.J. Abrams' upcoming film, out May 17.
The film once again stars Chris Pine, Zachary Quinto, Karl Urban, Zoe Saldana, Anton Yelchin, Simon Pegg, John Cho and Bruce Greenwood along with new additions Alice Eve and Benedict Cumberbatch. The latter plays the mysterious villain John Harrison. Check out the spot, which features tons of new things to take in, below.
Watch other 2013 Super Bowl spots at these links: Iron Man 3, World War Z, The Lone Ranger, Oz: The Great and Powerful, Fast & Furious 6.
In addition, the new Star Trek App revealed tickets are now sale for IMAX 3D fan screenings of the film two days early, May 15. More details below.
The spot comes courtesy of Apple. Head there to watch it in HD.
He's better at everything. What does that mean? Pretty slick spot. Discuss it below.
Also – if you download the Star Trek App at this link, tickets are now on sale at select theaters for early screenings of the film at 8 p.m. May 15. As of now, it seems you need the app to get tickets. Here's the press release with more info:
Following the debut of the "STAR TREK INTO DARKNESS" TV spot in today's big game, users who downloaded the film's first-of-its kind movie app are now among the first people anywhere to unlock movie tickets for show times on Wednesday, May 15th at 8:00 p.m. – two days ahead of the film's scheduled release on Friday, May 17th.   Additionally, app users also received an exclusive look at an extended big game spot.
App users will continuously receive exciting "STAR TREK INTO DARKNESS" movie news, as well as exclusive content and offers, throughout the movie's theatrical and home entertainment releases.
The app's cutting edge technology allows users to delve deeper into the Star Trek universe by interacting directly with materials from the eagerly awaited film to auto-accomplish missions within the application.  Utilizing geo-location awareness software, image recognition technology, and audio scan functions, users can collect points, see content, and work their way through the Star Trek Academy.